Plasco tragedy photographers honored 
February 17, 2017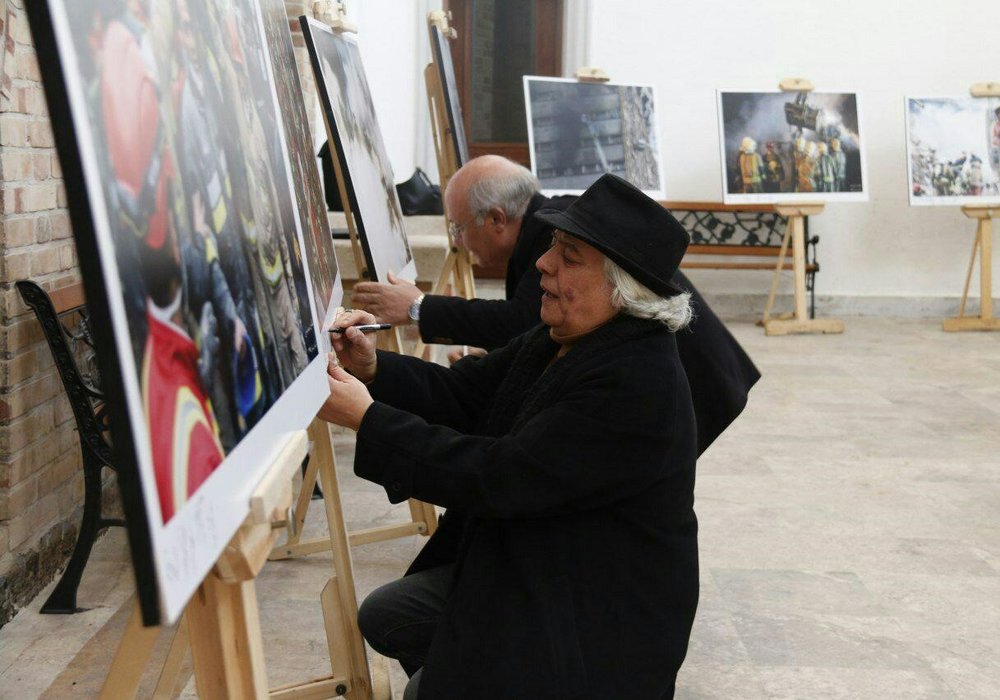 TEHRAN – The Iranian Society of Film Photographers honored a number of photojournalists who had made extraordinary efforts to fully cover the collapse of Plasco and events in the aftermath of the tragedy on Thursday, January 19.
An exhibition of works by the selected photographers was set up at the House of Cinema and the ceremony was attended by a great number of artists and photographers, the house announced on Friday.
Plasco, a 17-storey mega mall in downtown Tehran, collapsed to the ground three and a half hour after it caught fire on January 19, and sixteen firefighters and a number of citizens lost their lives in the tragic incident.
Speaking at the ceremony, the representative of the society Shahabeddin Adel said, "The Plasco building collapse was a great disaster and this ceremony is held to honor the name of the victims and to remember their sacrifice."
"I must emphasize that photographers are always known as the first individuals who appear at the scenes of incidents at the very first moment," he added.
"And at the Plasco building collapse, all the photographers willingly took a risk to record the events alongside the firefighters, despite the great danger. They stood beside the firemen and the rescuers within the fire and smoke to record the images as historical documents," Adel said.
He also mentioned that there were great number of photos and that they could only choose one from each participating photographer due to the lack of space.
The photos were later signed by the participating artists and the photographers themselves, and were donated to a number of fire stations across the capital Tehran.
Babak Borzuyeh, Satyar Emami, Ali Alizadeh, Javad Golzar, Hossein Tehrani, Adel Azizi, Mehdi Nasiri, Foad Ashtari and Meqdad Madadi were among the honorees.
Film producer Fereshteh Taerpur, also made a brief speech in honor of the victims and their families and announced that she plans to make use of a puppet of a firefighter in her new project, which is a film with puppet characters.
"We can teach our children and young adults how sensitive and how significant the job of the firemen is and those who have chosen this occupation have remarkable spirits," she concluded.
Photo: Director Sirus Alvand (front) and an unidentified artist autograph photos from the Plasco tragedy in an exhibition at the House of Cinema in Tehran on February 16, 2016.
RM/YAW