By Haniyeh Sadat Jafariyeh
Highlights of economy in presidential debates
May 17, 2017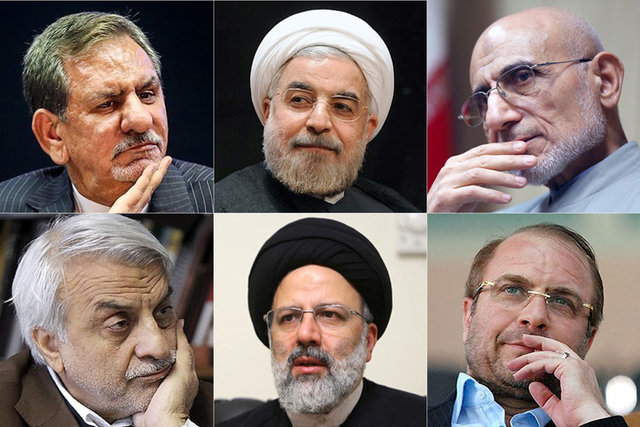 The six presidential candidates in Iran have put economic issues on the spotlight, most notably in the last of the three debates cast live on the national TV on May 15.
Among the main economic subjects it can be referred to unemployment, cash subsidies, tax evasion, smuggling goods, and resistance economy. However, each of the candidates focused on specific aspects and outlined his own economic viewpoints.

Hassan Rouhani, Es'haq Jahangiri
The incumbent president Hassan Rouhani, who is seeking a second four-year term, repeatedly underscored creation of new jobs for the country's young labor force as the main priority set by his administration since taking office in August 2013. Calling unemployment a "heavy burden" that his administration has been carrying during the past four years. He vowed to keep the priority on top in his second term, too. Considering the rise in Iran's oil revenues last year, he pledged that he will utilize oil income to create jobs benefiting from the National Development Fund.
In a bid to reduce Gini coefficient- a statistical measure of income and wealth distribution in a society - Rouhani announced that he will increase cash subsidies but only for low-income earners, as he believes that augmenting the amount of cash handouts for all will lead to a rampant inflation rate and will foster poverty.
Improving living standards in deprived rural areas and supporting the agriculture sector via promoting mechanization and modernizing machineries are among the other promises made by Rouhani.
Rouhani has highlighted the role of the private sector in turning the economy's wheels, underlining that he will set up a proper platform for the private to expand activities via improving business environment and divesting shares of state-run companies.
The moderate president has also put the modification of the banking system and the reinforcement of the capital market to fund economic projects on his agenda.
He said that he will struggle for realizing the goal of social justice via fighting rent-seekers who have been able to run lucrative businesses and have often gone unrestrained by the previous administrations. He, accordingly, promised to fight administrative corruption in the country.
Rouhani plans to boost sustainable trade ties with the world and easing foreign trade via modifying Iran's trade policies. In his last words during the televised debate, he promised normalization of relations with the West, greater foreign investments, and a revival of tourism.
Economic plans put forward by the incumbent first vice-president Es'haq Jahangiri are the most similar among the six candidates to those of Rouhani.
In his speeches, the centrist Jahangiri has emphasized that Iran's economy must get resistant against the potential foreign threats. He believes that the economy needs to be both inclusive and extrovert. Inclusive economy is defined as one where local capacities and capabilities are focused on and efficiently utilized.
Among these [capacities], he refers to geographical location, manpower, mineral resources and factories that must be fully taken advantage of. He is of the opinion that alongside inclusiveness, a resistant economy needs to be extrovert as well, meaning that a great economy like ours cannot and must not be confined within its borders. It has to link up with the world through dynamic interactions.
Preserving Iran's economic growth on positive trajectory, increasing government's revenues through levying taxes on the affluent and paying the income to the low-income earners, fighting smuggling of goods, creating jobs, supporting private sector activities, and improving business environment, foreign and domestic investments, production and exports of products and services, in Jahangiri's opinion, are prerequisites to Iran' economic development and on his agenda.
Eventually, Jahangiri left the race backing Rouhani on Tuesday.

Mostafa Hashemitaba
The former head of the Physical Education Organization and the National Olympic Committee, Mostafa Hashemitaba, has backed most of Rouhani's economic policies, specifically during the televised debates, but has repeatedly announced that he will not withdraw from the election in Rouhani's favor.
In his view, the economy should be constructed on production and providing facilities.
The industry and agriculture sectors are among his priorities and he plans to modernize them in his tenure. He also plans to attract investments to improve tourism.
"Export-oriented" economy with rooted industries is the answer to the problems of the country, Hashemitaba said.
He, in addition, pledged to combat administrative corruption and tax evasion.
On the way to correct the taxation system of the country, Hashemitaba promised to use a regulated system to monitor the financial transactions of people.
Ebrahim Raisi, Mohammad Baqer Qalibaf
The mayor of Tehran, Mohammad Baqer Qalibaf, and the current custodian and chairman of Astan Quds Razavi charity foundation, Ebrahim Raisi, are both principlist and criticize Rouhani's policies.
They blame Rouhani for a rise in unemployment rate from about 10.5 percent to above 12 percent and unfavorable living standards in the society, underlining that he has been unable to solve economic difficulties of ordinary people. They have claimed that Iran is facing an economic crisis, with rampant unemployment, recession and inflation. They classify the Iranian nation into two categories of rich and poor, with a huge gap between them and the rich in minority.
Both candidates have promised a sharp increase in monthly cash handout to the majority of people, even up to three times, reaching it to 2.5 million rials (around $66) from the current 455,000 rials (around $12) per month.
Raisi and Qalibaf have also made similar promises addressing the issue of unemployment. Raisi vowed to create 1.5 million jobs every year and push unemployment rate down to 8 percent. Qalibaf promised to generate 5 million jobs if elected. None of the candidates, however, presented specific plans to hit the targets.
The two candidates also expressed concern about the large volume of goods being smuggled into the country, which they say stands at $25 billion per annum.
The main economic promises made by Raisi, who is now the main rival of Rouhani and has named his future government "Government of Work and Munificence", include combating tax evasion, activating small and medium-size production units, amending administrative corruption, and finalizing the construction of the remained Mehr housing units- a large-scale construction program initiated in 2007 by the former president Mahmoud Ahmadinejad to provide two million low-income people with housing units through free land and cheap credits.
Eventually, Qalibaf withdrew his presidential candidacy on Monday in favor of Raisi.

Mostafa Mirsalim
Another principlist candidate Mostafa Mirsalim, who is a member of the Expediency Council, can also be regarded as one of Rouhani's criticizers.
He seriously believes that the current problems of the domestic economy and production as well as the high volume of smuggling are the result of mismanagement and inefficient utilization of the workforce.
In his regard, sanctions are not threats to Iran and the country can become self-sufficient and increase exports via proper management.
He said that his priority includes economic issues and focusing on endogenous capabilities as well as resistance economy. He promised to achieve endogenous growth in Iran through preventing from brain drain. He explained that his resistance economy model will use foreign expertise and domestic manpower.
Lamenting about the country's reliance on oil revenues, he pledged that his administration will look inside the country rather than outside to advance the economy.
By creating jobs, Mirsalim believes that he can emerge the economy out of recession.
He called other candidates' vow to increase cash handouts a "populist gambit."

Contradictory views
Economic stances and promises discussed by the six candidates suggest some contradictory views and statistical figures.
Raisi, Qalibaf, and Mirsalim believe that the implementation of the nuclear deal, signed between Iran and the six world powers in July 2015, has not had a great positive impact on Iran's economy, international banking relations, and quality of life for people. Economy, according to them, is suffering from recession and low-income earners in Iran are experiencing lives with lowest standards. The three candidates censure Rouhani for not succeeding in delivering job creation promises and improving lives of Iranians and failing what he had promised to reach in his first presidential term. The wheels of economy are not turning, they say.
Rouhain, Jahangiri, and Hashmitaba, on the other hand, refer to official statistics saying that that Iran has witnessed economic growth over the past four years and was successful in overcoming recession. They believe that recession merely exists in the housing but not in other economic sectors. They say that the nuclear deal implementation has opened gateways to international trade and led to attraction of foreign investments into the country. Iran's dependence on oil income has reduced, they say, adding that Iranians will see more results of sanctions removal in near future.
Interestingly, the data offered by candidates during televised debates about smuggling is contradictory. The principlist candidates put the annual value of goods being smuggled into the country at $25 billion, while Rouhani and Jahangiri said the data goes back to Iranian calendar year 1392 (2013-14) and the value now stands at around $12-13 billion.
All in all, Iranians will vote for the next president on Friday.
HJ/MG