Painter Iran Darrudi gets first Eternal Tile
May 19, 2017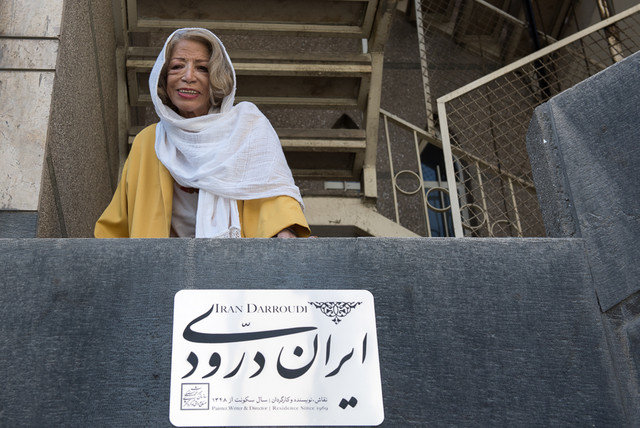 TEHRAN – The renowned Iranian surrealist painter Iran Darrudi received the first Eternal Tile, which was embedded on the wall of her house in Tehran on Wednesday, the Persian service of IRNA reported on Friday.
The tile was installed by the Cultural Heritage, Tourism, and Handicrafts Organization (CHTHO).
The tile bearing the name and titles of a celebrity is installed on the façade of his/her house. It also carries the year the artist began to live in the house.
The idea to install tile works on the houses of contemporary artists, literati and religious figures was initiated by the CHTHO Office for Inscription of Properties and Revitalization of Intangible and Natural Heritage.
"We aim to give identity to houses and put the spotlight on the value of different districts across the capital Tehran," director of the office Farhad Nazari said at the ceremony.
"This is a big project and will include contemporary influential figures in the cultural arena," he added.
The project has begun in Tehran and fifty figures have so far been recognized and fifty tile works are due to be installed, he remarked.
Darrudi for her part also said that she believes a special group has been gathered in the organization with Mohammadreza Kargar (the director of Iran's Museums and Historical Properties Office) at the top.
The Tehran Municipality has allocated a large area for the establishment of a museum to embrace works by Darrudi. Construction has been underway since September 2016 in Tehran's Yusefabad district, an expensive area in Tehran.
The 80-year-old artist said that she also wants her house to be turned into a museum. "I have been painting in this house for many years," she said. "Every part of this house and all its belongings have been prepared and designed based on my own personal taste".
"I also want people to come and visit this house, the place I have lived and painted, and tell themselves we saw the one who says she is one of the happiest in the world," she said.
Iran Darrudi was born in 1936. She studied art at Ecole Superier des Beaux-Arts in Paris, the history of art at the École du Louvre in Paris, stained glass at the Royal Academy of Brussels, and television direction and production at the RCA Institute in New York.
She is also a writer, a filmmaker and an art critic.
Darrudi's first solo exhibition was held in Miami in 1958 at the invitation of the Florida State Art Center.
An exhibition featuring 207 of Darrudi's masterpieces opened at the Tehran Museum of Contemporary Art in May 2008.
A selection of her works was shown at Tehran's Shirin Gallery in 2009.
Photo: The renowned Iranian surrealist painter Iran Darrudi is seen with an Eternal Tile on the wall of her house in Tehran on May 17, 2017. (IRNA)
RM/YAW