By Mahnaz Abdi
Rail development on track despite inefficiencies
June 13, 2017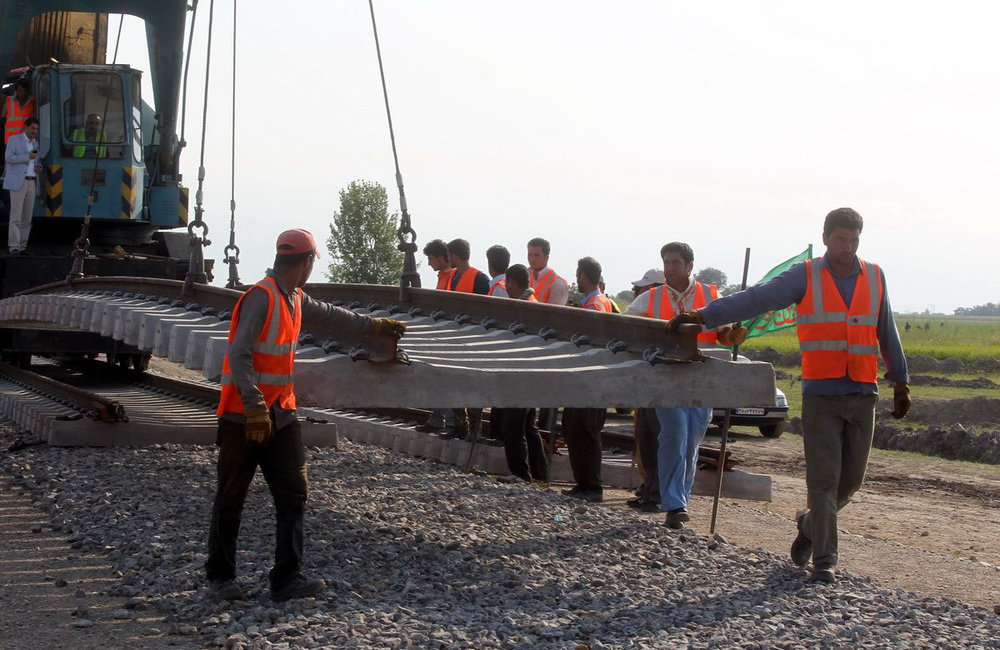 The development of railway sector is one of the macro policies of the Iranian government as it has been emphasized by the general policies of the Sixth Five-Year National Development Plan (2016-2021).
Advantages such as consuming less fuel and creating less pollution as well as high safety attaches priority to railway when compared to some other transportation systems, and makes its development economically viable.
Such development also reduces fuel consumption by one fifth-one seventh in the country, according to Saeid Mohammadzadeh, managing director of the Islamic Republic of Iran Railways (IRIR).
In mid-May, Transport Minister Abbas Akhoundi announced that the national railway network is projected to be expanded by 838 kilometers in the current Iranian calendar year (which ends on March 20, 2018).
When it comes to railway development, renovation of existing infrastructures comes also under the spotlight, as there are still some rail tracks in the country which have been built some 50 years ago, while they should be rebuilt and renovated each 20-30 years.
Mohammadzadeh says these railroads have not been rebuilt due to some economic hurdles such as sanctions in recent years.
"In order to be sure about safety in such rail tracks, we have adopted some strategies such as reducing speed as well as weight of cargos and number of passengers. Therefore to remove such limitation, we have put their renovation on agenda," the official has stated.
All the above mentioned factors make development and renovation of railway infrastructures a necessity, but this important issue faces a number of barriers.
Comprehensive plan, subsidies, technology required
Seyed Hassan Mousavinejad, the previous managing director of Raja Passenger Trains Company (an associate of the IRIR), is of the opinion that there are three main hurdles in development of railway infrastructures in the country. In a telephone conversation with the Tehran Times, the railway expert describes them as follows.
1- Lack of a comprehensive transportation plan
Such plan could specify our advantages and priorities in the railway sector and the fund could be allocated based on them.
For the time being, we have many railway projects remained unfinished throughout the country due to limited budget.
Average time of implementing railway projects is currently 10-12 years in the country, in a way that we can build 500-600 kilometers of railway in a 1.5-2 years period. Implementing the projects bade on their priority leads to fastest operation and optimal use of fund.
When 30 projects are underway without taking priority into consideration and focusing on fewer projects instead, the result will be longest implementation time, for example from two years to 10 years, and of course, when the time is longer more cost will be incurred.
2- Lack of subsidies
Railway transportation advantages lay more in national economy than business economy in almost all parts of the world; therefore the governments support it and allocate it subsidies.
Iranian government should offer subsidies to the railway sector in a way that it will lead to its development through making it cheaper for the consumer.
Railway transportation brings many national benefits, its development could reduce air pollution and also road casualties; therefore target-oriented planning should be made for offering subsidies to development of this sector.
3- Lagging behind the world's modern technology
We lag behind the world in terms of railway modern technology and to remove this distance we should take some fast actions both in service quality and in speed.
Decision making based on economic logic
Abbas Pourbasir, the former director of the railway division at Iran's Mapna Group Company who was also the ex deputy director of IRIR, was the other railway expert who in a telephone interview with the Tehran Times mentioned two major factors limiting railway infrastructures development in the country as follows.
1- Lack of an appropriate model of decision making
Unfortunately, we have not had a proper model of making economic decisions in railway sector over the 15-20 past years, in a way that in some cases we have made high investment in some parts that have not brought any noticeable result.
We should be clear that whether we want to make decisions based on political-social considerations or economic ones when it comes to developing railway to different parts of the country.
To tackle this problem, personal approaches of the decision makers, in the government, Majlis or any other organization, should be prevented and collective decision making should be adopted.
If you look at the map of railway development in recent years, you see that there is no a logical economic approach behind it.
2- Low budget and investment
Despite the good fact that we have created some good engineering and operation potential for railway development in the country over the past 15-16 years, in a way that sometimes we enjoyed really the capability of building 1000 kilometers of railways per annum, the low allocated budget has led to delay in this important issue.
Of course, the development of railway infrastructures requires huge investment all over the world, but due to the advantage of rail transportation the governments accept the costs and make investment in it.
The other issue is sanctions. We easily used foreign finance and investment before the sanctions, both for implementation of projects and purchase of parts, but the sanctions was another obstacle in securing required fund.
Besides the high engineering and implementation potential created in the country's railway sector over the past years, we have also achieved high management potential in this part and now that the sanctions have been lifted the railway sector is fully prepared to take the best advantage of foreign investment.
Optimal use of existing facilities top priority
But Majid Babaie, the secretary of Iran's Rail Transportation Companies Guild, believes that although development of railway infrastructures is important and fruitful in a way that more regions will join the national railway network, if the current infrastructures and available facilities are used in a better and more optimal way, better results will be achieved.
In a telephone conversation with the Tehran Times, the rail transportation expert said that promotion of infrastructures should not be considered as the first priority, because it requires high fund and also modern technical operation, "But if we put the optimal use of current structures the top priority and come to the development next, it will bring better results."
He also said that 30 percent of current network requires renovation, of which 10 percent is in a critical status, while he is of the opinion that renovation of these rail tracks should not be the first priority.
Elsewhere in his remarks, Babaie put the annual cargo and passenger transportation through railway at 40 million tons and 25 million persons, respectively.
The expert further complained that unfortunately development of railway to new areas is sometimes done based on lobbying in Majlis (Iranian parliament), while railway network should be developed to the regions that have the highest effect.
Although development of railway infrastructures has been expedited in the recent years, it would not see any big jump unless the allocated fund to this issue will be increased noticeably in the Sixth National Development Plan, he concluded.
Railway infrastructure development and renovation, despite all limitations related to planning, budget and technology seems necessary in Iran although some believe that it should not be considered the first priority.
Now, lifting of sanctions against the country provides some opportunities for attraction of foreign investment as well as technology, which besides the domestic technical and management capabilities achieved over the recent years it could lay the ground for fruitful measures in this due provided that appropriate strategies will be also adopted both in decision making and budget allocating.