Qatar says received 'verbal message' from Iran's Rouhani
June 18, 2017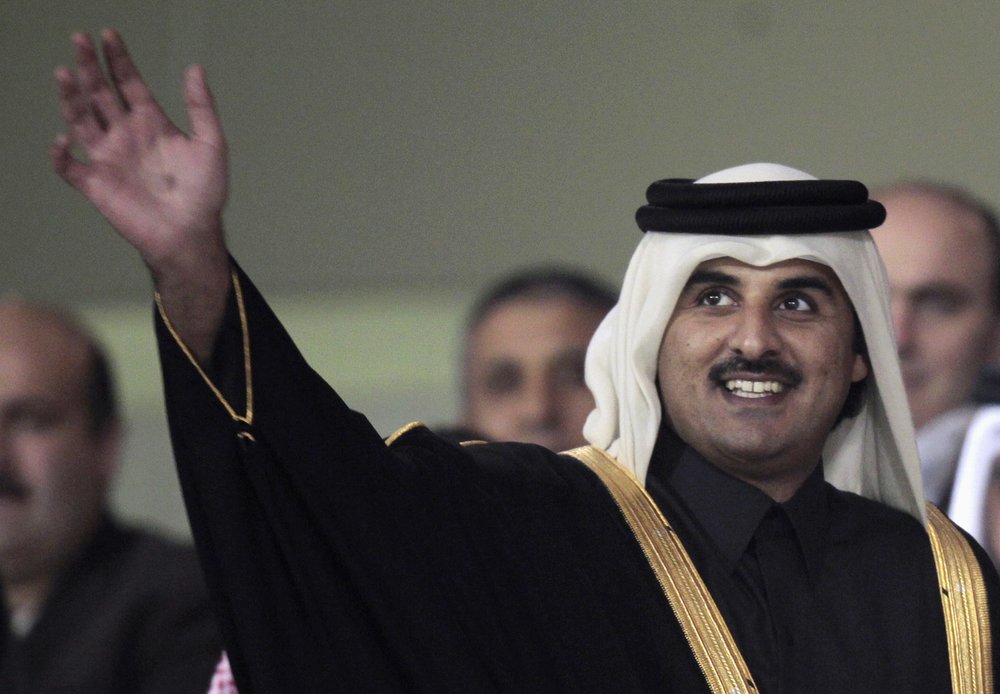 TEHRAN – The Qatari Foreign Ministry confirmed on Sunday it has received a verbal message from Iranian President Hassan Rouhani, giving no hint of the content. 
The official website of the ministry said: "HH the Emir Sheikh Tamim bin Hamad Al-Thani received Saturday a verbal message from HE President of Islamic Republic of Iran Dr. Hassan Rouhani.
"Iranian Deputy Foreign Minister for Arab-African Affairs Hossein Jaberi Ansari conveyed the message, during a meeting with HE the Foreign Minister Sheikh Mohammed bin Abdulrahman Al-Thani today."
Talking to ISNA news agency on Sunday, Jaberi Ansari said the unannounced visit should not be taken to mean that Iran is acting opportunistically.
"We have a long-term outlook. Reciprocal visits have been and are being made between Iran and regional countries," he said, adding, "The consultations aim to invite sides to practice restraint."
The Qatari emir and Rouhani exchanged views on bilateral and regional issues on May 28 in a phone call.
The message is the first since the Saudi-led siege of Qatar, a move which has brought Tehran and Doha closer to each other.
Saudi Arabia, along with the United Arab Emirates (UAE), Bahrain and Egypt, severed all diplomatic and trade relations with Qatar on June 5 for its ties with the Palestinian group Hamas and the Muslim Brotherhood.
The Palestinian movement Hamas said last week that a delegation headed by its leader Ismail Haniyeh will visit Iran in the near future as the Saudi-led squeeze on its main supporter Qatar is expected to exacerbate.
The delegation is scheduled to make visits to several other countries as well, the Hebrew language Walla quoted Osama Hamdan, a senior Hamad official, as saying.
Also, the diplomatic moves came a fortnight after the four Arab countries blocked Qatar-based media over the appearance of comments attributed to the Qatari emir that praised Iran.
The emir was quoted as saying: "Iran represents a regional and Islamic power that cannot be ignored and it is unwise to face up against it … It is a big power in the stabilization of the region."
Qatar said hackers had taken over the website of its state-run news agency and faked the comments.
In a separate development, Bahraini Foreign Minister Sheikh Khalid bin Ahmed al-Khalifa told the Saudi-owned Asharq al-Awsat newspaper that the conditions posed by the four countries for a resolution of the crisis were "crystal clear".
"Qatar has to redress its path and has to go back to all previous commitments, it has to stop media campaigns and has to distance itself from our number one enemy, Iran," he said.
The Saudi-led bloc of nations also cut off sea and air links with Qatar, ratcheting up pressure on the small country which is a major importer of food from Saudi Arabia and other neighboring countries through sea and its only land access to Saudi Arabia.
The political impasse has caused regional countries to align with each other differently.
While the Syrian crisis has driven a wedge between Tehran and Turkey since 2011, the rift between Arab monarchies have led them into an ad-hoc alliance that some believe represents the best chance to mend fences.
Turkey and Iran back Qatar and have links with the Muslim Brotherhood.
"Neighbors are permanent; geography can't be changed. Coercion is never the solution. Dialog is imperative, especially during blessed Ramadan," Iranian Foreign Minister Mohammad Javad tweeted, reacting to the development.
On June 7, Zarif made an unannounced visit to Turkey, holding talks with Turkish President Recep Tayyip Erdogan and his opposite number Mevlut Cavusoglu.
Iran sent the first food cargo to Qatar, according to Iranian media outlets, on June 8.
On the sidelines of the Oslo Forum in Norway last week, Zarif told former UN secretary General Kofi Annan that Iran continues to send food to the besieged Qatar.
In separate remarks, Zarif also called for establishment of a regional forum to resolve differences, which has become more necessary after tensions between Qatar and the Saudi-led group of countries that took action against Doha.
Also, the Turkish president voiced support for Qatar on Tuesday, saying he intends to "develop" ties with the embattled state hit by sanctions from Saudi Arabia and its allies.
"Let me say at the outset that we do not think the sanctions against Qatar are good," Erdogan said in a speech in Ankara.
"Turkey will continue and we will develop our ties with Qatar, as with all our friends who have supported us in the most difficult moments," he added in reference to last year's failed coup.
In a sign of support for the tiny Arab country, Turkey's parliament approved a legislation on Wednesday, allowing its troops to be deployed to a Turkish military base in Qatar.
AK/PA