Iran, Oman enjoy 'very close' ties: top diplomat
July 16, 2017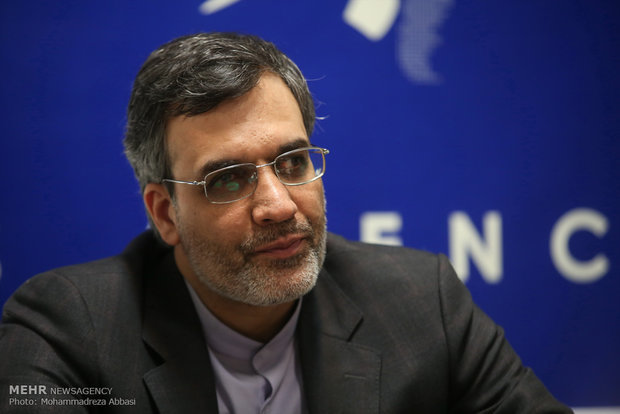 TEHRAN - Iranian Deputy Foreign Minister Hossein Jaberi Ansari has said that relations between Iran and Oman are "very close" and based on good neighborliness.
In an interview with ISNA published on Sunday, he said that recent visit by Omani Foreign Minister Yusuf bin Alawi bin Abdullah to Tehran was within the framework of constant consultations between the two countries.
Foreign Minister Bin Alawi visited Tehran on Wednesday for talks with President Hassan Rouhani and Foreign Minister Mohammad Javad Zarif.
Iran and Oman are separated by the narrow Strait of Hormuz.
Jaberi Ansari, Iran's point man for Arab affairs, said the two countries insisted on their common position to resolve problems among the countries in the Middle East region.
"Initiatives for a proper management of the regional developments" were also discussed, Ansari added.
Oman acted as an intermediary between Iran and the United States during the Barack Obama presidency. Oman relayed the message of dialogue from the U.S. to Iran to resolve the decade-old nuclear dispute between Tehran and Washington. Oman also helped release three U.S. hikers who had infiltrated into Iran in July 2009 while a tour of Iraq.
During the meeting with the Omani foreign minister, Rouhani said that the two countries have had "friendly" and "brotherly" relations in the past years "and the best must be made of these good relations to reinforce them".
The rift between Saudi Arabia and Qatar has made consultation between Tehran and Muscat more pressing.
Rouhani told Bin Allawi said that Tehran welcomes any attempt to end the conflicts in the region, renewing Tehran's opposition to the Saudi-led blockade of Qatar.
Rouhani said that threats and imposition of sanctions against Qatar are a "wrong approach".
"Threatening, pressing and imposing sanctions on a neighboring country like Qatar is a wrong approach and all should make efforts to end the tension in the region," Rouhani remarked.
On June 5 Saudi Arabia, the UAE, Egypt, and Bahrain cut diplomatic ties with Qatar and closed land, sea and air routes to the country as a punishment for supporting the Muslim Brotherhood, Hamas, and having good relationship with Iran. A few days later they set certain conditions to end the blockade including curtailing ties with Iran, closing Al-Jazeera network, removing Turkish troops from Qatar's soil, and ending contact with groups such as the Muslim Brotherhood.
NA/PA