Tehran greets Croatian president
May 17, 2016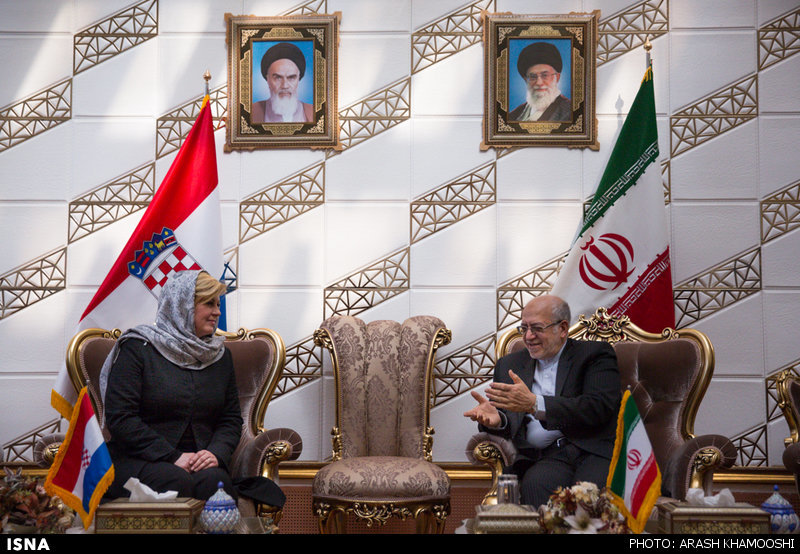 TEHRAN – Croatian President Kolinda Grabar-Kitarovic who arrived in Tehran on Tuesday afternoon for a three-day visit was welcomed at Imam Khomeini International Airport by Industries and Trade Minister Mohammad Reza Nematzadeh.
On Wednesday, Grabar-Kitarovic will be officially welcomed by President Hassan Rouhani at Saadabad presidential palace.
A number of agreements and memorandums of understanding will be signed between Iran and Croatia at the presence of Rouhani and Grabar-Kitarovic on Wednesday. Later the two presidents will hold a joint press conference.
Grabar-Kitarovic will also participate at the meetings arranged between economic officials and private sectors of the two countries.
She will also hold talks with some senior Iranian officials on Wednesday.
For Thursday, some cultural activities have been arranged for the female president. She leaves Tehran on the same day.
Grabar-Kitarovic, who become the first female president of Croatia in January 2015, visited Tehran upon an invitation by President Rouhani.
Grabar-Kitarovic's trip follows a series of visits to Iran by world leaders after the Islamic Republic and the great powers signed a landmark nuclear deal in July 2015. The nuclear agreement, called the Joint Comprehensive Plan of Action (JCPOA), went into effect on January 16.
The Croatian president's visit comes two weeks after the female Korean President Park Geun-hye's trip to Tehran.
PA/PA