By Marjan Golpira
Iran shows restraint with Saudi Arabia on Hajj 
May 24, 2016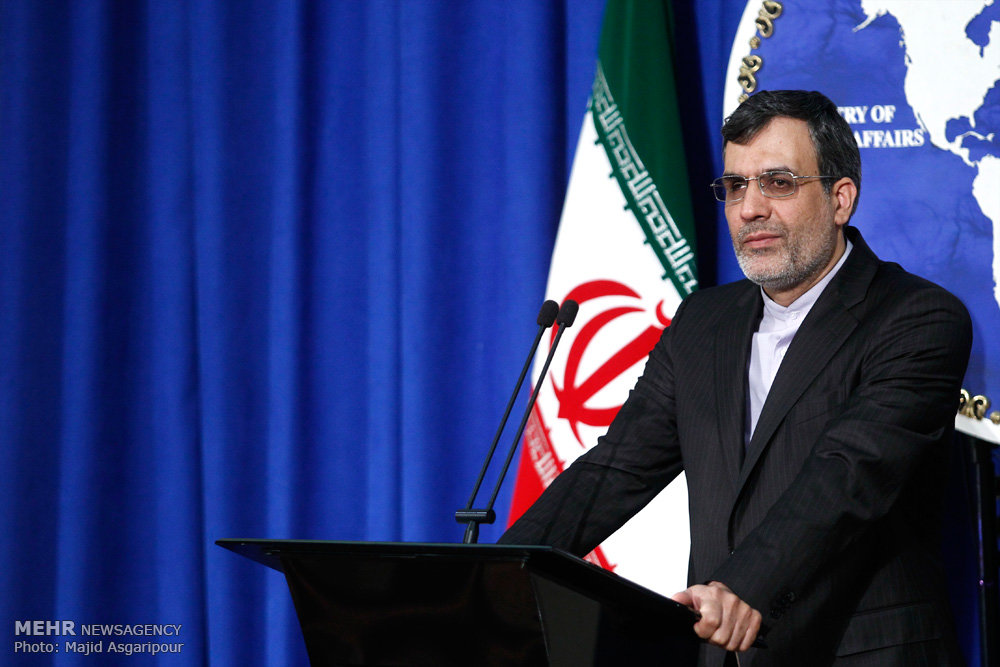 TEHRAN – The Iranian foreign ministry has said Iran will exercise restraint with Saudi Arabia on the issue of this year's Hajj ritual. 
Making the remark in his weekly press conference on Monday, Iranian foreign ministry spokesman said that the subject of Hajj is being looked into as it should by Iran, but unfortunately, Saudi Arabia continues to sabotage this year's Hajj ritual for Iranians.
"The Saudi government refuses to provide security and transportation and facilitate visas issuance for our pilgrims."
Pointing to Riyadh's policy, Hossein Jaberi-Ansari said Saudis have adopted a foreign policy which has resulted in escalation of conflict and tension in the region.
However, Jaberi-Ansari noted, Tehran is after a principled and consistent policy to help promote regional cooperation, peace, and stability.
"We are not after intensifying tensions in the region."
Iran dismisses Taliban leader passing through its border to Pakistan
Elsewhere, the spokesman rejected reports on Afghan Taliban Leader Mullah Akhtar Mansour crossing Iranian borders to enter Pakistan.
Jaberi-Ansari said, "Related authorities have rejected that such people have passed through Iran's borders on such dates and entered Pakistani soil."
Mullah Akhtar Mansour, who was using a Pakistani passport with the name Muhammad Wali, was killed in a U.S. drone strike in Pakistan, according to multiple sources.
Prime Minister Nawaz Sharif of Pakistan has condemned the U.S. for violating Pakistan sovereignty during the attack.
On whether Iran helped locate the Taliban leader, the official said, "Iran supports any measures in line with restoring stability in Afghanistan."
Indian prime minister in Iran to boost economic ties
As his speech unfolded, Jaberi-Ansari hinted at the two-day visit by the Indian prime minister to Iran, calling it "an important trip" because of historical relations between the two countries and the geopolitical location of India in the globe.
Indian Prime Minister Narendra Modi arrived in Tehran at the head of a large delegation on Sunday. He is the very first Indian prime minister to visit Iran in 15 years.
Pointing to 14 memoranda of understanding (MOUs) inked between Iran and India, Jaberi-Ansari said the trip aims at strengthening economic ties between the two countries.
The Iranian official then said before the sanctions regime, Iran was the second largest supplier of crude oil to India, adding that after the implementation of the Joint Comprehensive Plan of Action (JCPOA), Iran looks forward to restoring economic ties with India, inter alia, in energy and oil sectors.
Commenting on the Tehran Times question on when and how India plans to pay off its oil dues to Iran, Jaberi-Ansari said, "India will pay its entire oil debt back to Iran in installments, hopefully by the end of this year, 2016."
India owes Iran $6.4 billion for oil imports out of which 750 million dollars was cleared over the past two days, ahead of Indian Prime Minister Narendra Modi's trip to Tehran.
Due to the crippling sanctions regime on Iran over its nuclear program, Indians could not clear their oil debts to Iran for four years.
Afghan president in Iran to pen trilateral agreement on Chabahar port
While the Indian prime minister is in Iran, Afghan President Ashraf Ghani Ahmadzai arrived in Tehran on Monday to ink a trilateral accord on Chabahar Port.
The foreign ministry spokesman explained that there will be trilateral meetings between Iranian president, Indian prime minister, and the president of Afghanistan to hold discussion "centered on Chabahar port" which plays a role in trade between the three countries.
Chabahar port, a seaport in southeastern Iran which lies in the Gulf of Oman, allows Indian goods to reach Afghanistan via the Iranian port of Chabahar without crossing Pakistan's territory.
On Russia's proposal for holding quadrilateral peace talks between Iran, Russia, Afghanistan, and India, the senior official said Tehran welcomes any initiative which makes inroads into peace and tranquility in Afghanistan.
"If Afghanistan and other effective states wish to take Russia's proposal into consideration, Iran will welcome it."
Foreign Minister Zarif to travel to Europe next week
Iranian Foreign Minister Mohammad Javad Zarif is due to travel to Poland, Sweden, Latvia, and Finland next week, the spokesman reported.
There will be diplomatic talks as well as exchanges of views on expanding ties between the countries, he expressed, adding, "Iran is prepared to expand relations with countries willing to interact with it."