Behruz Gharibpur's next opera puppet show centers on Omar Khayyam
May 29, 2016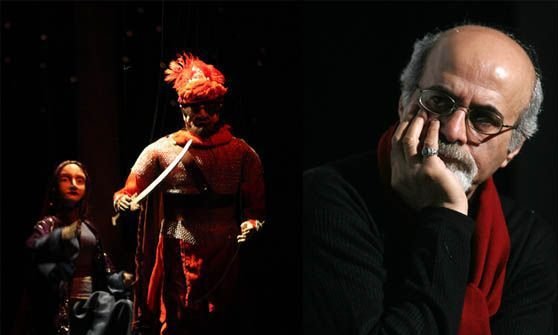 TEHRAN – The director of the Aran Puppet Theater Group, Behruz Gharibpur, has focused on the life story of the Persian mathematician, astronomer and poet Omar Khayyam (1048-1131) in his opera puppet show, which is scheduled to be performed in Tehran in the near future.
"I was waiting for a good opportunity to invite (vocalist) Homayun Shajarian to cooperate. I told Homayun that when I was writing the role of Khayyam, I was thinking of his voice and the power of his singing," Gharibpur told the Persian service of MNA on Sunday.
"Homayun had previously collaborated with the troupe in the 'Rumi' opera, playing the role of Shams. However, he did not want to do a rerun of this in the next project and now he knows that this role of Khayyam will be a new challenge," Gharibpur said.
"And now that Homayun has accepted the role of Khayyam, all the members of the troupe are happy, and consider it a great honor," he added.
Gharibpur also praised Homayun for his integrity and said, "Homayun considers the opera a cultural project to help pay respect to the art and cultural luminaries of the country and he does not pay much attention to its financial incentive.
"And I must do my best to compensate him for his high integrity. He can turn into a good symbol for the youth as an artist," he added.
Musician Amir Behzad is collaborating in the "Khayyam" project while a combination of old members from Aran and several new members will help stage the opera, Gharibpur said, adding, "The puppets are also in the production stage."
Gharibpur has previously staged the puppet shows "Hafez", "Rumi" and "Macbeth", all of which have been warmly received in Iran and international events.
RM/YAW
END