Iran, Russia and Turkey meet on Syria in Moscow
December 20, 2016 - 18:28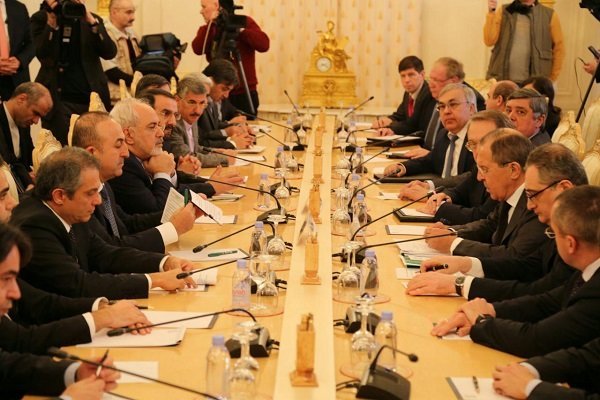 TEHRAN – Iranian, Russian and Turkish foreign ministers held a trilateral meeting in Moscow on Tuesday to discuss the crisis in Syria.
Iranian Foreign Minister Mohammad Javad Zarif said that fighting terrorism in Syria or anywhere else must go unabated.
"Today's trilateral meeting is important for future of Syria. We are on the belief that the Syrian crisis should be resolved politically and there is no other option," he explained.
Sergey Lavrov, the Russian foreign minister, said that the trilateral meeting is aimed to help settle the conflict in Syria and alleviate the sufferings of the Syrian people and also send humanitarian aid to them.
Turkish Foreign Minister Mevlut Cavusoglu said the three countries' cooperation led to good results in Aleppo.
Zarif and Cavusoglu also expressed condolences over death of Andrei Karlov, Russia's ambassador to Turkey, in a gun attack in Ankara.
Ambassador Karlov died of gunshot wounds after being attacked by a Turkish "off-duty" police officer on Monday at an art gallery in the Turkish capital Ankara.
NA/PA