Zarif: Trump's move 'a great gift to extremists'
January 30, 2017 - 11:27
Terrorist threat from Iran nationals 'sounds more like a joke', Larijani says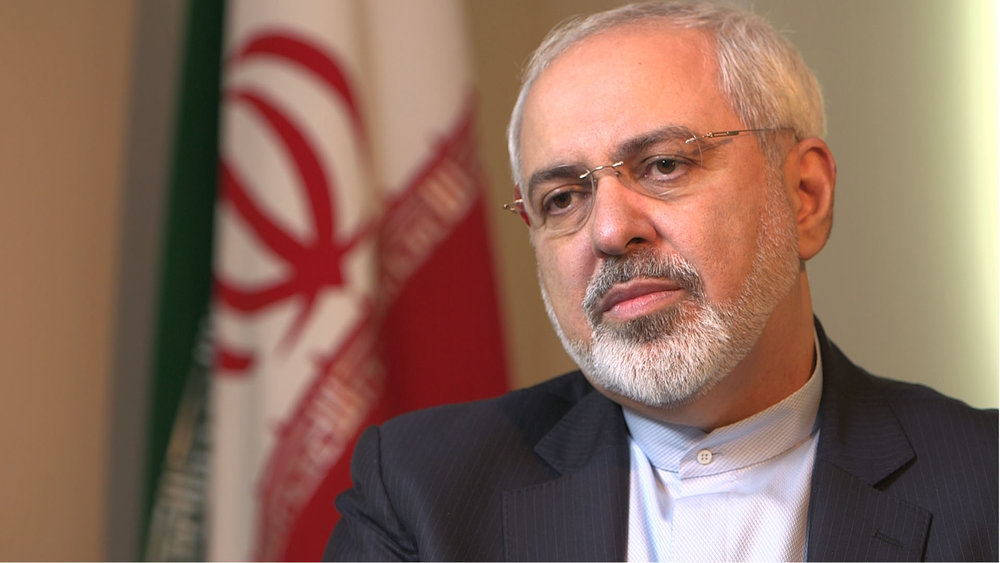 TEHRAN - Foreign Minister Javad Zarif has called U.S. President Donald Trump's decision in banning visa for some Muslim nations including Iran "a great gift to extremists".
Zarif said this discriminatory behavior will only aid terrorist recruitment and Iran will take "reciprocal measures".
He said that Tehran's decision to ban entry of Americans "is not retroactive", and that all visitors "with valid Iranian visa will be gladly welcomed".
Trump signed executive order on Friday limiting immigration and imposing visa bans on citizens of seven Middle Eastern and African countries, including Iran Iraq, Syria, Sudan, Libya, Yemen and Somalia, from entering the U.S. for 90 days. The same order also suspends the U.S. Refugee Admissions Program for 120 days.
Before signing the order at the Pentagon, Trump said, "We only want to admit those who will support our country and love deeply our people." He added, "We will never forget the lessons of 9/11". He claimed the move is aimed at keeping radicals and terrorists out of the U.S.
Worth noting is that the 19 hijackers implicated in the Sept. 11, 2001, terrorist attacks came from Egypt, Lebanon, Saudi Arabia and the United Arab Emirates. None of those countries are subject to the travel ban.
On Sunday, Iranian Parliament Speaker Ali Larijani slammed the travel ban and said concerns about terror threats from the Islamic Republic's nationals "sounds more like a joke". Larijani also said the move shows the U.S. is "even afraid of its own shadow."
During the 90-day period, the Trump administration will assess if the foreign governments on the list are providing enough information in 60 days about their citizens seeking visas to enable the U.S. to assess whether they pose a terrorism risk. In case the information is not forwarded the citizens will be barred from entering the U.S.
With historically tense U.S.-Iran ties and absence of diplomatic relations, such information sharing mechanism between the two governments will be hard to forge.
Meanwhile, a top Trump National Security Adviser, Michael Flynn, relayed to the media by Canada's Washington embassy that Canadian citizens with Iranian origin will not be impacted by the travel ban, reported the Toronto-based newspaper The Star.
The policy also does not affect dual-citizen Canadian students and business people living in the U.S. The restrictions do not apply to citizens of France and Australia, announced Department of Homeland Security.
Reactions
Angry protests against Trump's immigration policies were held on Sunday across the U.S. after hundreds of demonstrators converted on airports the day before. Protests were scheduled in Washington, Orlando, Boston, Philadelphia, Atlanta, Seattle, and Chicago, mostly at the airports, CNN reported.
On Saturday a U.S. federal judge ruled that authorities could not deport citizens of the seven countries who had already arrived in the U.S. with valid visas, or who were on transit. The ruling was made after the American Civil Liberties Union brought a challenge on behalf of two Iraqis detained at John F Kennedy airport in New York on Friday night, hours after Trump issued his executive order.
The Washington-based non-profit organization National Iranian American Council issued a statement in reaction to the ban: "Donald Trump is making good on the most shameful and discriminatory promises he made on the campaign trail… He called for a Muslim ban and is now taking the first steps to implement one. This will not stand. The American people are better than this."
The organization called the reported executive order a "fundamental challenge to what America represents," and said "Donald Trump appears intent on throwing that America away and taking us down a slippery slope towards a dark future."
Green card holders overseas seeking to return to U.S. will have to apply for a waiver to travel back, reported CNN, quoting sources familiar with the matter. It said the applications will be dealt with "expeditiously" and on a case-by-case basis.
With over a million Iranian diaspora the ban will be "very difficult for Iranian community living in the U.S. and difficult for people that live in Iran", AFP quoted travel specialist Mike Amiri said. He added the ban hampers family visits and unifications.
In 2015, according to the Department of Homeland Security, a total of 35,266 nonimmigrant visas were granted to Iranians to enter the United States, compared with 21,381 for Iraq; 16,010 for Syria; 5,549 for Yemen; 4,792 for Sudan; 2,879 for Libya and 359 for Somalia.
Farhad Besharati, also a travel agent was quoted as saying that the suspension of visas will hurt Iran-U.S. business ties as 90 percent of the business comes from travelling to and from Iran.
Hassan Shwerid, a member of Iraqi Parliament's foreign affairs committee in a statement read to Reuters asked the Iraqi government "to reciprocate to the decision taken by the U.S. administration". He added, "Iraq is in the frontline of the war on terrorism" and it is "unfair that Iraqis are treated in this way."
Yemen's Houthi Ansarullah movement also lashed out at Trump's decision. "All attempts to classify Yemen and its citizens as a probable source for terrorism and extremism are illegal and illegitimate," reported Yemen's Saba Net new agency.
Analysts believe that the travel ban goes to show the cruelness of the Trump's policy on refugees from war-torn areas – especially cruel to those whose family members have been separated and are awaiting reunification in the U.S.
CAPTION: Protesters gather at New York's JFK airport to demonstrate against U.S. President Donald Trump's executive order. (BRYAN R. SMITH / AFP/GETTY IMAGES)