U.S. warplanes among those barred from flying over Syria's 'safe zones'
Iran, Turkey and Russia agree on Syria safe zones
May 5, 2017 - 21:3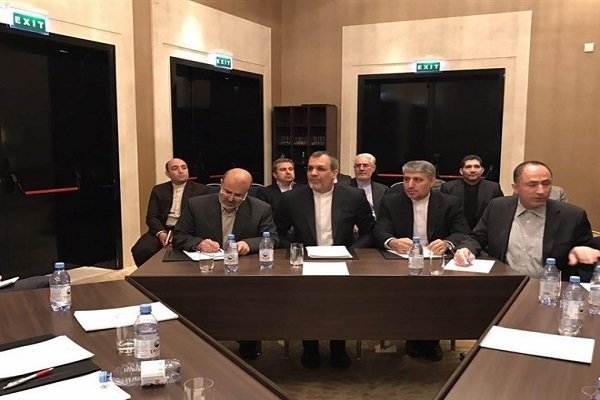 Iran, Turkey and Russia signed on Thursday a document on creating safe zones in Syria.
The document was signed at the end of the fourth round of the Syria peace talks in Astana, Kazakhstan.
Iranian Deputy Foreign Minister Hossein Jaberi Ansari, Russian President's Special Envoy on Syria Alexander Lavrentyev and Turkish Deputy Foreign Minister for the Middle East and Africa Sedat Onal signed the document.
"The document signed by the guarantor countries in Astana can lead to substantial changes in Syria," Fars news agency quoted Jaberi Ansari as saying.
Kazakh Foreign Ministry issued a statement on Friday according to which "the four security zones, which include Idlib province and part of the provinces of Latakia, Hama and Aleppo, the area to the north of Homs, Eastern Ghouta, as well as Deraa and Quneitra provinces in southern Syria".
Kazakh Foreign Minister Kairat Abdrakhmanov said that next Syria peace talks would be held in Astana in mid-July.
According to TASS, Lavrentyev said that the de-escalation zones in Syria will be closed to the U.S.-led coalition's aviation.
"The case is that in the de-escalation zones the work of aviation, especially the coalition forces, is absolutely not envisaged, with or without notification," he said.
The Russian envoy added, "The only place where the coalition's aviation can operate is certainly on targets of the Islamic State (also called ISIL/ISIS or Daesh)."
UN Special Envoy for Syria Staffan de Mistura hailed on Thursday the safe zones plan as a step in the right direction towards real cessation of hostilities in Syria.
"Today in Astana I think we have been able to witness an important promising positive step in the right direction in the process of de-escalation of the conflict," Press TV quoted him as saying.
Iran, Turkey and Russia brokered Astana talks on Syria and the first three rounds of the talks were held on January 23-24, February 15-16 and March 14-15.