Iranian diplomat meets UN Syria envoy in Astana
July 4, 2017 - 20:50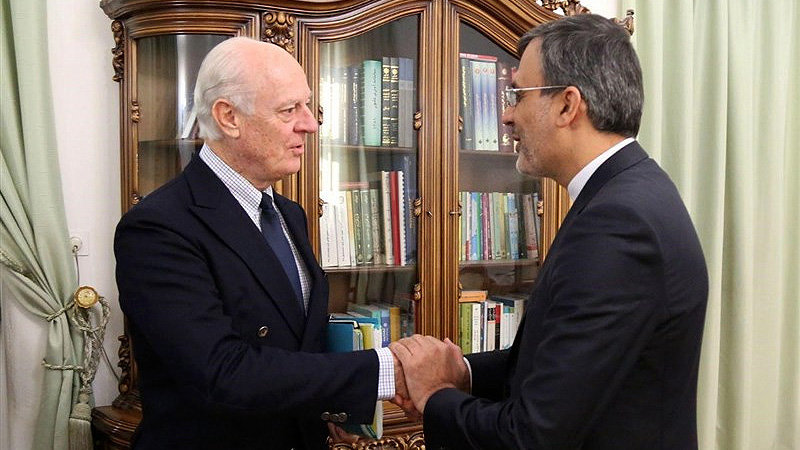 TEHRAN – Iran's deputy foreign minister for Arab affairs and UN Special Envoy for Syria Staffan de Mistura met on Tuesday in Astana, Kazakhstan.
Hossein Jaberi Ansari and the UN envoy discussed the latest developments in Syria.
Jaberi Ansari highlighted the importance of the UN role in helping the inter-Syrian talks and reducing tension in Syria.
De Mistura said that the UN supports Iran, Turkey and Russia in the Astana talks.
An Iranian delegation, headed by Jaberi Ansari, arrived in Astana on Monday to partake in the fifth round of talks in pursuit of peace in Syria.
Iran, Turkey and Russia brokered the Astana talks on Syria and the first three rounds of the talks were held on January 23-24, February 15-16 and March 14-15.
The fourth round of the talks was held in May during which a document on creating de-escalation zones in Syria was signed.
The Astana talks have brought representatives from the Syrian government and opposition groups to the negotiating table in order to find a solution to the Syrian conflict, which broke out in March 2011.
Jaberi Ansari also met with Aleksandr Lavrentyev, the Russian negotiator at the talks, and Syria's Ambassador to the UN Bashar Jaafari.
Jaafari leads the Syrian government in the talks with the opposition in Astana.
NA/PA