Iranian foundation to hold End of Daesh Art Competition 
November 29, 2017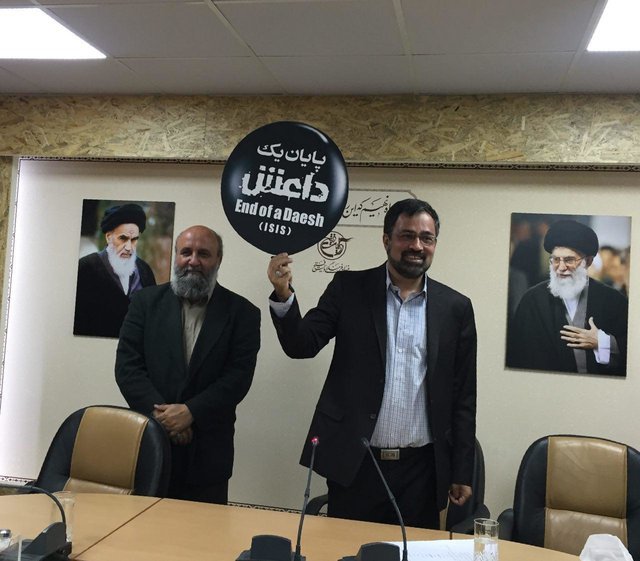 TEHRAN – Ravayat-e Fat'h Foundation, a Tehran-based cultural center, plans to hold the End of Daesh Art Competition.
The contest will be held in the categories of cartoon, caricature and poster, the secretary of the contest, Masud Shojaei-Tabatabai, said in a press conference at the foundation on Wednesday.
Major General Qassem Soleimani, the commander of Iran's Quds Force, declared the end of Daesh (ISIS) last week.
The liberation of Mosul in Iraq and Aleppo in Syria are the main themes of the cartoon category.
In the caricature category, artists should focus on figures such as U.S. President Donald Trump and Israeli Prime Minister Benjamin Netanyahu, Shojaei-Tabatabai said.
Beside Tehran galleries, walls across the city will be adorned with huge copies of the award-winning works at the competition, he noted.
The applicants can submit their works to the secretariat of the contest before January 5, 2018.
Artists Silvano Melo from Brazil and Alexander Faldin from Russia along with Mohammad-Hossein Nirumand, Masud Nejabati and Mohammadreza Doostmohammadi from Iran will select entries to the contest.
Photo: Masud Shojaei-Tabatabai (R) holds a placard saying "End of Daesh" during a press conference held by Ravayat-e Fat'h Foundation in Tehran on November 29, 2017 to brief the media about the End of Daesh Art Competition.
RM/MMS/YAW