Five short stories competing in Jalal Literary Awards
December 31, 2017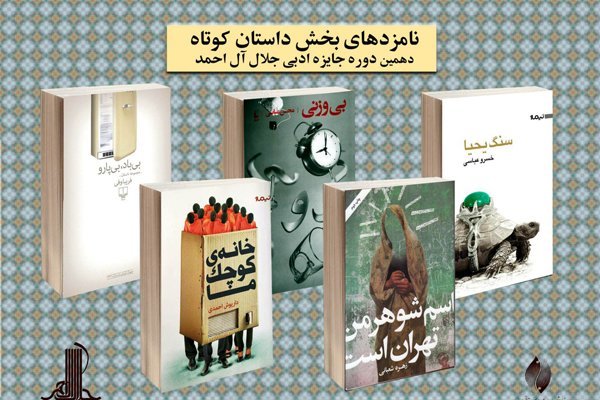 TEHRAN -- Five short stories are competing in the 10th Jalal Al-e Ahmad Literary Awards, the organizers announced on Sunday.
"My Husband's Name Is Tehran" by Zohreh Shabani, "Without Wind, Without Shovel" by Fariba Vafi and "Weightlessness" by Mohsen Abbasi are among the nominees.
"Our Little House" by Dariush Ahmadi and "Yahya Stone" by Khosro Abbasi have also been nominated for the award.
The winners of the Jalal Al-e Ahmad Literary Awards, Iran's most lucrative literary prize, will be announced during a ceremony at Tehran's Vahdat Hall on January 6.
Photo: Front covers of five short stories competing in the 10th Jalal Al-e Ahmad Literary Awards
RM/MMS/YAW