Tehran exhibit to hang drawings of cultural elites 
February 14, 2018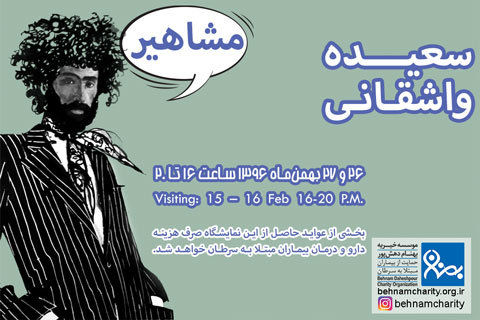 TEHRAN – An exhibition of drawings featuring Iranian cultural elites will open at the art gallery of the Behnam Daheshpur Charity Organization in Tehran tomorrow.
Eighteen drawings by Saeideh Vasheqani will be showcased at the two-day exhibit.
"I mean to put the spotlight on the position and value of great Iranian poets, writers and actors who have turned into great personalities through their works," Vasheqani said in a press release published by the organization.
"I started the project two years ago and began with the image of legendary wrestler Gholamreza Takhti, then I thought I would add the figure of actor Fardin. I liked the work and when I showed the completed drawing to others, they liked it as well," she added.
"Most of the figures are those whom I personally like, both themselves and their works," she added.
The gallery is located at 13 Marmari Alley, off Masjedi Alley, Jabarian St. in the Farmanieh neighborhood.
Photo: A poster for exhibition of Iranian elites by Saeideh Vasheqani
RM/MMS/YAW