By Farzad Farhadi
Saudis cave to Trump demands to pump more oil
July 5, 2018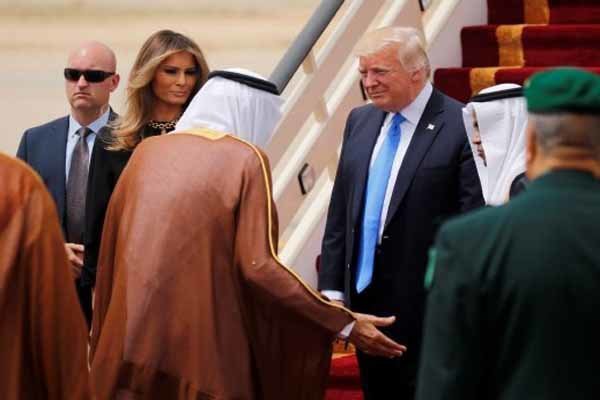 TEHRAN - The hostile moves of the United States against Iran are going on in all dimensions, in particular the economic one.
A senior State Department official said that Washington is stepping up pressure on all countries, including India and China, to completely stop buying oil from Iran by November 4 with no exceptions. Indian and Chinese companies will be subject to sanctions if they engage in those sectors of the economy where sanctions were imposed prior to 2015.
Washington simultaneously called on its allies in the Middle East, especially Saudi Arabia, to offset shortages of oil in the oil market.
This U.S. action raised the price of oil to $78 a barrel. In addition, U.S. sanctions on Venezuela and clashes in Libya and Nigeria also contributed to elevating the oil price.
But the interesting point is that the Saudis are ready to compensate for oil shortages. U.S. President Donald Trump on Saturday said Saudi Arabia's King Salman had agreed to his request to increase oil output.
Saudi Aramco is pumping 10 million barrels a day and has the capacity to produce 2 million more, according to Saudi Aramco CEO Amin Nasser.
Referring to anti-Iran moves, Ray al-Youm was quoted: "U.S. President Donald Trump announces next November's impending sanctions against Iran, the most prominent of which are oil sanctions. But only a few European and Asian countries have adhered to it, and most have opposed them, particularly China, India and Russia.
Turkish authorities were the first to downplay sanctions, when Ibrahim Colin, spokesman for Turkish President Erdo?an, said that Turkey does not accept the U.S. threat and it will not adhere to U.S. sanctions on banning oil imports from Iran and it will act according to its economy's interests.
It is still unclear that other Asian and Europe will do the same thing as Turkey and continue to import oil from Iran. China has ranked first with 600,000 barrels per day, followed by India with 450,000 barrels per day and South Korea with 250,000 barrels per day, followed by Turkey with 200,000 barrels per day. The four European countries that buy oil from Iran are Italy with 180,000 barrels per day, France with 110,000 barrels per day, Greece with 100,000 barrels per day, and Spain with 70,000 barrels per day.
China has expressed concern about these threats. Will America continue to maintain wide trade relations with China? It is still too early to answer this question.The United States has used its Arab allies, especially Saudi Arabia, to offset oil imports from Iran, and the Saudi minister of economics, Khalid al-Fatih, announced his country's readiness in this regard, especially with its oil export power.
European countries, in particular France, Italy and Germany, have committed themselves to continuing to adhere to the Joint Comprehensive Plan of Action (JCPOA) even after America's exit from it and to import oil from Iran, and also suggested using the Euro to pay for imports. But fearing U.S. sanctions, big European companies have begun to pull out of Iranian markets.
Trump is skilled at destabilizing the world and U.S. sanctions are proof of it. But using blackmail does not make sense, and some countries resent it. Turkey may lead an uprising against the U.S.
What are Trump's goals in asking the Saudis to increase production? Analysts said that U.S. President Donald Trump pursues strategic goals at a critical juncture for his political future by lowering oil prices. Higher prices could well bring on a recession in the U.S., which would damage GOP chances in the upcoming elections this fall for the U.S. Congress.
But the other goal in the eyes of the experts is to harm Iran financially. Trump is looking to put the most severe financial sanctions on Tehran. In this regard, Trump has asked Saudi Arabia to raise its oil production to help both his future and that of the Republicans.
Riyadh has agreed with Donald Trump's request to increase oil production.
Arab world analyst, Abdel Bari Atwan, said: "The scenario that was set against Iraq has now been fully replicated over the course of 15 years, in which Saudi Arabia and other Persian Gulf states have played a key role. This was happening before the 1990 war and continued to the 2003 Iraq war. Interestingly, the price of oil did not rise in these two wars. Trump has turned to threats against countries and companies that oppose his actions on oil purchases from Iran. Any country or company that opposes Trump's request will be blacklisted and American markets will be closed to it."
"Iran currently produce 2.8 million barrels per day, with China purchasing 600,000 and India 400,000, equivalent to half of Iran's oil exports, while the rest are exported to Turkey, Japan, South Korea, France, Italy, and Spain. The injection of two million additional barrels by Saudis is roughly equivalent to Iran's exports. Likely, Trump will push on other Persian Gulf states, such as the UAE and Kuwait, for more than 100,000 barrels to stay below $80," Atwan said. He believes that Saudi Arabia compliance with Trump's demand means Saudi Arabia's oil production will reach 12 million barrels per day and the cancellation of the OPEC agreement, which would lead to the collapse of the organization or, at least, major divisions.
"We do not know what the reaction of Russia and other OPEC member countries will be regarding the violation of the agreement by Saudi Arabia. But what is certain is the stage of political and economic instability that we see in the world leading to polarization and coalitions that are not in the interest of the United States and its Arab allies led by the Saudis," he said.
By agreeing to Trump's demand, the Saudis are targeting both Saudi citizens and other nations dependent on oil revenues.