Artworks on Ashura on display in Tehran exhibit 
September 21, 2018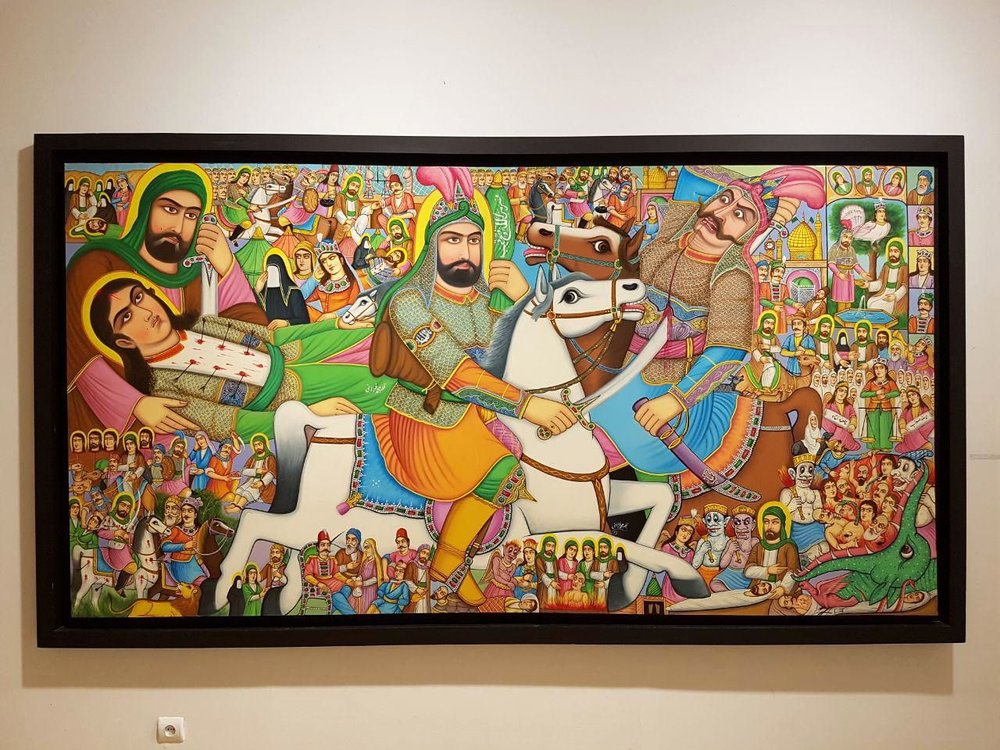 TEHRAN – The Iranian Artists Forum (IAF) in Tehran is playing host to an exhibition titled "Sign" displaying artworks by veteran Iranian artists on the theme of Ashura, the day upon which Imam Hussein (AS) and his companions were martyred in Karbala in 680 CE.
With the help of symbols and signs, the artists have reflected their love towards the third Imam of the Shia through their paintings, sculptures and photos.
"Elegy of Water", a painting by Hossein Khosrojerdi, depicts Hazrat Abbas (AS), brother of Imam Hussein (AS) whose hands are filled with water but he refuses to drink.
A painting by Abdolhamid Qadirian depicts Zoljanah, the wounded horse of Imam Hussein (AS) walking through the burning tents.
The exhibition also showcases a huge painting by Nasser Palangi named "Shroud of Blood". It illustrates a white shroud over a beheaded body, referring to Imam Hussein (AS) who was brutally beheaded at the battle of Karbala.
Other artworks belong to Zabihollah Mohammadi, Mojtaba Musavi, Kurosh Golnari and Alireza Adambskan to name a few.
The exhibit will be running until September 25, at the Forum located on Musavi St., Taleqani Ave.
Photo: A teahouse painting by Mohammad Farahani is on display in an exhibition at the Iranian Artists Forum in Tehran.
RM/MMS/YAW