By Syed Zafar Mehdi
Nikki Hailey calls it quits, Twitter says 'good riddance'
October 10, 2018 - 22:20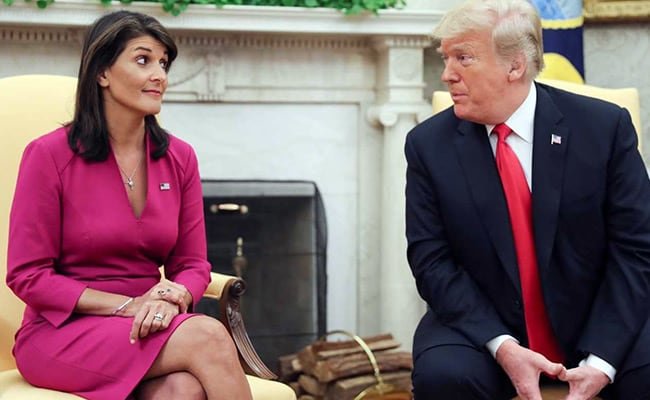 TEHRAN - The 'smart and cunning' U.S. envoy to the UN Nikki Hailey announced on Tuesday that she will be stepping down from her chair at the end of the year, a decision that has generated palpable buzz in the political circles and over social media.
While political pundits believe the daughter of Indian immigrants and the former governor of South Carolina had 'timed' her decision perfectly, according to reports, Hailey had a clash with national security advisor John Bolton before calling it quits.
Interestingly, her resignation came a day after an ethics watchdog called for an investigation into her acceptance of free flights on private jets.
Although she refuted reports that she has set her eyes on the Oval office, observers believe there is still time till 2020 and circumstances might force her to change her mind and run for the top office. Some reports even suggest that Hailey was behind the New York Times 'anonymous column' that shook the White House and exposed the dirty underbelly of American politics.
Meanwhile, her resignation has generated tremendous buzz on Twitter, with Twitterati weighing the pros and cons of her decision. While some Twitter users saw her challenging Donald Trump in the 20120 presidential polls, some others believe that her 'horrible' stint as the US envoy to UN has left a deep stain on her political career.
While a Twitter user Laura Guerrero called her a "fraud", another Twitter user Betsy Hoffman said she "lost all credibility" when she praised Jared and Ivanka, adding that the Trump-Hailey duo had "ruined our standing in the world". Pertinently, after resigning from her UN post, Hailey called Jared Kusher "Trump's hidden genius", which drew scornful laughter from Twitter users.
A Twitter user Ras Mubarak termed her "one of the hawks in Trump administration", and said her place was not in the UN. "Good riddance. Embarrassment to public diplomacy," he wrote. Another Twitter user Kamesha Williams said Hailey wasn't "the golden woman". "She stood by as Trump put babies in cages. She is an opportunist," she tweeted.
A Twitter user 'Vasperillio' questioned those who call Hailey a "moderate". "If Nikki Hailey is what passes for a moderate in Trumpland then America and Americans are screwed," he tweeted. Another user 'Einsjamneutron' called her a "poisonous person with appalling displays of arrogance and bullying."
Abby Martin, host of Empire Files, called her "neocon lapdog" that "treated the world with contempt, blamed the oppressed, pushed regime change for "human rights" while endorsing Israeli massacres and Saudi genocide. Her belligerence made the U.S. less respected and more dangerous for everyone living under the boot of empire".
Ben Rhodes, the author of 'The World as it is: Memoir of the Obama', said Hailey's tenure at the UN was marked by "an assault on the UN and multilateralism, a historic collapse of American standing, and a cruel disregard for human rights."
A Twitter user Shafique Uqaila said Hailey's departure from the UN is expected to "make this dear world of ours safer than it was during her presence in the UN". Pertinently, the U.S. withdrew from the UN Human Rights Council and made mockery of International Criminal Court during her tenure.
There was a bit of sarcasm as well. A Twitter user Jack Bahjat asked how many people were left in the Trump cabinet. "I think at the end Trump will resign too," he tweeted. A user by the name 'Danny' said there are many vacancies in the Trump cabinet now, with both Hailey and Sarah Huckabee Sanders done at the year's end. "No wonder Trump hires family. Only people who can tolerate him."
It remains to be seen who replaces Hailey. But, the damage is done.