By Huda Z
What Iranian flood victims have to say to the Supreme Leader 
April 30, 2019 - 11:15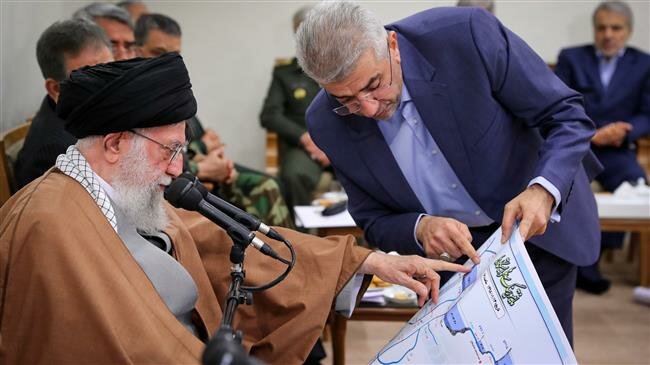 TEHRAN - About a month ago, devastating floods hit a number of provinces in north and west of Iran, killing at least 70 people, rendering thousands homeless, flattening residential properties, destroying farmland and cutting off access to remote villages.  
The deluge was unprecedented and came unannounced. Disaster management authorities in flood-prone areas seemed unprepared for it, perhaps not expecting a normal seasonal rainfall to turn into a catastrophic natural calamity.
Over the past several weeks, people across the country, despite crippling sanctions and adverse economic condition, have been pooling money for the flood victims. As per rough estimates, the damage caused by this year's flood accounts to almost USD 2.5 billion.
Some regional countries did come forward with offers of help but the U.S. sanctions prevented the international community to send cash assistance to the Iranian Red Crescent Society (IRCS) to respond to the crisis, which Foreign Minister Javad Zarif aptly termed as 'economic terrorism'.
"Even though certain countries and organizations have announced their readiness to offer cash contributions, given the inhumane U.S. sanctions against Iran, there is no channel for cash aids to be sent to IRCS as of this date," IRCS said in a statement.
In a situation where no international aid organizations could possibly come forward for assistance, the Iranian Revolutionary Guards Corps (IRGC), which functions under the command of the Supreme Leader and was recently labeled a "terrorist" organization by the Trump administration, filled the gap in manpower, aided by the IRCS and the army.
IRGC volunteers could be seen at Friday congregational prayer centers across the country and in public events collecting funds for those affected by the floods. They were also actively involved in relief and rehabilitation work in flood-hit areas, evacuating people and providing them food and shelter.
Although local media did an admirable job by covering the stories of indomitable resilience displayed by survivors and the vital role played by IRGC volunteers to help them, the mainstream Western media was missing because the theme here did not suit their anti-Iran and anti-IRGC narrative.
Some 'citizen journalists' using their smartphones filled the information gap by bringing to light important stories of survival against odds. They interviewed people in flood-affected areas and the videos were shared widely over social media.
In one such interview, which became viral on Facebook and Twitter, a middle-aged woman, possibly from Khuzestan, speaks about her ordeal, and while struggling to hold back her tears wants to send a message to the Supreme Leader.
"Deliver this (message) to my dear (Supreme) leader," she is heard saying. "And tell him that we resisted despite all difficulties and we will continue to stand (firm). We are standing till the last drop of our blood, and we will sacrifice our lives for him. Tell him to pray for us."
This woman claims that her house was submerged in flood water but she saw it as a natural disaster and thanked God nonetheless. She also thanks to the IRGC and IRCS for their support in dealing with the crisis.
"I thank the volunteers of the Red Crescent, the IRGC, and the army. All of those who came here (for help)," she says in a single breath, visibly overwhelmed by emotions.
A man from Lorestan province, in his mid-forties, also appeared in one video interview, full of remorse and guilt. He said he used to ridicule and humiliate the Supreme Leader, but the reality had finally dawned on him, after what he saw IRGC and others doing on the instructions of the Leader.
"Really, I am ashamed (today)," he says. "I have ridiculed him and shown disrespect to him... if it was not for my [Supreme] Leader, our alleys and roads would never have been cleared."
He acknowledges the fact that the Supreme Leader relieved the IRGC of other responsibilities in the wake of floods, and instructed them to provide helping hand to the flood victims.
"Till we have Syed Ali, the IRGC and the army, we don't need the [services of the parliamentary] government," he says, with a sense of gratitude.
Huda Z is an Iran-based student and documentary filmmaker