Jailed Iranian prof. released from US after one year: FM
December 7, 2019 - 16:8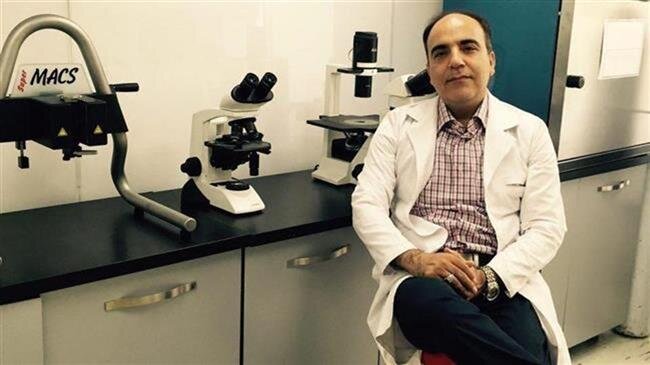 TEHRAN – The United States has released Massoud Soleimani, an Iranian scientist who was arrested last year by the U.S.for allegedly violating American trade sanctions against Iran. 
Soleimani flew along with Foreign Minister Zarif from Zurich to Tehran on Saturday.
He was released in a prisoner exchange through mediation efforts by Switzerland.
On Saturday, Iran also freed an American graduate student who had been imprisoned in Tehran for more than three years on charges of being a spy.
Xiyue Wang was flown in a Swiss government airplane from Tehran to Zurich, where he was met by Brian H. Hook, the U.S. State Department's special representative for Iran, according to two senior United States officials.
The White House confirmed the prisoner swap early on Saturday with a statement from President Trump, at a moment of high tensions between Tehran and Washington.
Zarif said he was happy that Soleimani and Xiyue are joining their families.
"Glad that Professor Massoud Soleimani and Mr. Xiyue Wang will be joining their families shortly. Many thanks to all engaged, particularly the Swiss government," Zarif tweeted on Saturday.
Masoud Soleimani, a 49-year-old stem cell scientist, left Iran on sabbatical last year, but was arrested upon arrival in Chicago and transferred to prison in Atlanta, Georgia for unspecified reasons.
On May 22, Iran's science minister said the United States has set a trap for Iranian scientists, enabling their entry into the country before arresting them.
Mansour Gholami said the U.S. has identified a number of Iranian professors, who have conducted research in certain areas, published relevant scientific articles and ordered and bought laboratory equipment.
"They issue visas for Iranian professors and arrest them upon their arrival in the U.S.," he said. "This is a type of game they play to lure Iranian professors there."
He also ruled out the possibility that those targeted in the scheme might have been in violation of Washington's sanctions.
Soleimani's brother had said the only accusation facing him was that two of his students were arrested while departing the United States three years ago because they were carrying five vials of growth hormone.
This is while such material is readily available on the market and not subject to sanctions, he explained.
The two students were charged in a court and released after posting bail because they held U.S. citizenship.
Soleimani was "definitely" being held hostage by the U.S. administration, his brother said.
"How can a researcher and a physician, who does not have any criminal record and boasts numerous articles published in international circles, be placed in detention?" he asked.
Trump has imposed the harshest ever sanctions against Iran since he pulled the United States out of the 2015 Iran nuclear deal.
Trump's administration has even threatened to penalize any country or company that does business with Iran.
Under the nuclear accord, officially called the Joint Comprehensive Plan of Action (JCPOA), Iran agreed to put limits on its nuclear activities in exchange for termination of economic and financial sanctions.
MH/PA