By Mohammad sarfi
Gen. Soleimani's name sent shivers down the enemies' spine
January 3, 2023 - 11:49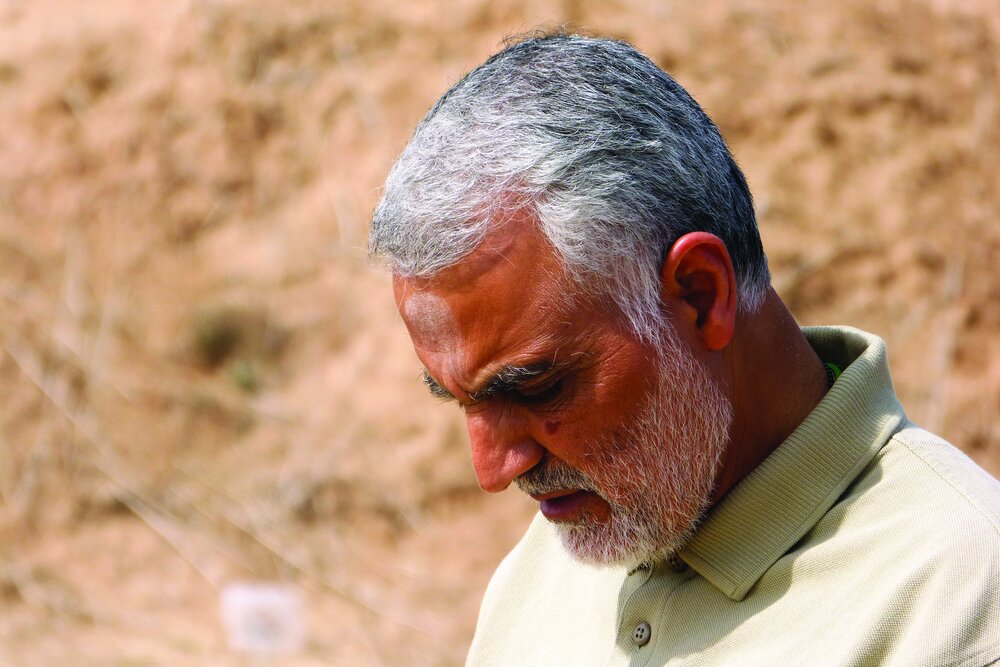 TEHRAN- People acquire proficiency in the job over time, especially when they have been engaged in that profession for a long time. Among the professions, being a military man entails a harsh and tough nature and it is natural for military servicemen to be tough as they deal with fire, gunpowder and blood. They spend a part of their lives on the war fronts and witness dismembered bodies and experience horror and death more than others.
Qassem Soleimani spent two thirds of his life in such an atmosphere. Before the start of the Sacred Defense (Iraq's imposed war against Iran in the 1980s), as a member of the Islamic Revolution Guards Corps (IRGC), he went to the west of the country to fight the counter-revolutionaries who had made that area insecure. With the start of the imposed war, he spent eight years on the battlefield where he lost many of his friends and comrades. During the war, Soleimani was wounded many times. His abdomen and hand were injured during the Bostan and Tariq al-Quds operations due to mortar explosions. Several times, he was also about to be martyred or become a captive.
After the war ended in 1988, Soleimani went to the southeast of the country to fight against armed criminals and drug trafficking gangs and spent 9 years there.
He then was appointed as the commander of the Quds Force - one of five branches of the IRGC specializing in unconventional warfare and military intelligence operations. General Soleimani did great and lasting work in Quds Force. He founded an Islamic corps, a unit that was not limited to borders and acted beyond nationality, ethnicity, language and even religion.
Gen. Soleimani was a strategist and extremely compassionate.In one of his speeches, Leader of the Islamic Revolution Ayatollah Seyyed Ali Khamenei dubbed the Quds Force as "Combatants without Borders".
"The Quds Force is a human institution with great and clear human motives… They are 'Combatants without Borders'. They are present wherever needed. They protect the dignity of the oppressed people and the holy places and sanctuaries. They also repel the threat of war and terror against our own country and help Gaza and Palestine. They also create security for us," Ayatollah Khamenei stated.
Being commander of the Quds Force was a turning point for manifestation of General Soleimani's military ability and talent. His American opponents acknowledged that Soleimani, by thwarting the $7 trillion project in the region, founded a new Middle East.
He turned Iraq occupied by the American aggressors into hell for them. Also, when ISIL forces were near Baghdad, he personally commanded the battle against them and saved the capital of Iran's western neighbor from certain collapse.
And when the multinational terrorists were near the gates of Bashar al-Assad's presidential palace in Damascus and even the few supporters of Syria thought that Assad's era was over, Soleimani was the one who did not allow this key link in the chain of Resistance to break.
Finally, Soleimani and his combatants without borders managed to terminate the ISIL domination over Muslim lands from Pakistan and Afghanistan to Iraq, Syria and Lebanon and freed the West Asian region from the nightmare of this cancerous tumor (ISIL).
But his most important achievement and measure were confronting the Zionists. He strengthened Hezbollah's power as it succeeded to end the myth of the invincibility of the Israeli army. He personally traveled to Gaza many times and taught the Palestinian combatants that the only key to returning to the homeland and raising the Palestinian flag in the occupied Quds is becoming strong and resistant. He taught them that secret meetings for compromise and peace agreements will result in nothing but humiliation.
Soleimani's footsteps have also been noticed in Latin America - Washington's backyard where its people considered him as Che Guevara.
Americans acknowledged that Soleimani, by thwarting the $7 trillion project in the region, founded a new Middle East.
"The Shadow Commander", "Avenger", "A man more successful than the US", "Iran's Che Guevara" … were among the titles that Western media gave him.
But the characteristics of such a commander whose name sent shivers down the enemies' spine, sent back the then CIA head's letter. His military management and his impressiveness are well-known to his forces. He has another quality, too.
He also enjoyed a gentle spirit. His behavior toward with his family and others, particularly with the martyrs' children, resembled a person who had never fought in a war. Soleimani's interaction with the son of martyr Mehdi Maghfouri, one of the fighters in the Iran-Iraq war, can be given as an example that was also mentioned by the Leader of the Islamic Revolution with tears in his eyes last year.
Martyr Maghfouri, a warrior in the 41st Sarallah Division who was martyred in the Karbala 4 Operation, had three children. One of them was Fatemeh who then was three years old. Fatemeh married Ali Tahami (son of martyr Tahami) and they have two children: Zeinab and Hossein. Father (Ali) is on a mission and Zeinab needs surgery. Hajj Qassem became aware of this issue and rushed to the hospital. The operation ended successfully and the mother thanked him.
He stayed in the hospital until the girl regained consciousness after surgery. He acted like a father to Fatemeh and a grandfather to Zeinab. "I sent your father instead of myself and now I am here instead of him," said Hajj Qassem.
In part of his will, General Soleimani addressed God like a mystic and said, "I bent and hugged my knees in long trenches. And, I ran, jumped, crept, wept, laughed and made others laugh, cried and made others cry, and fell and picked myself up in defense of your religion… My Creator, my Beloved and my Love, I love You. I have seen and felt You many times. I cannot remain separate from You any longer. It is enough. It is enough. Accept me, but only when I am worthy of You."
In a letter to his daughter, he expresses a thought-provoking sentence. He said, "This is the first time I confess; I never wanted to be a military man… You know I cannot even see beheading of a chicken. If I hold a weapon in my hand, it is just for standing against murderers, not to kill people."
Yes! He was a commander who wanted war only for peace and did not seek to conquer lands. Rather, he sought the liberation and freedom of humans.
Although he was the commander of the Quds Force and the Resistance Front, he did not neglect the details. When he used the house of an Iraqi in Al-Bukamal, on the Iraq-Syria border, as a command center, he left a letter to the owner of the house.
"Dear and respected family,
I am your brother Qassem Soleimani. You definitely know me. We have helped the Sunni people all over the world a lot. I am a Shia and you are a Sunni. But in a way, I am Sunni too because we also believe in the Prophet Muhammad (PBUH) and try to practice in His Eminence's path. And you are also Shia in a way because you love the Ahl al-Bayt (peace be upon them). I am religious and when I saw the Quran and Sahih al-Bukhari and other books in your house, I realized that you are a religious person.
First of all, I apologize and hope you will forgive us for using your house without permission. Secondly, if your house is damaged, we are ready to pay for it. If you think that we should pay money for the unauthorized use of your house, this is my phone number in Iran. Please contact us and I am ready to fulfill any request from you."
That's why the Leader of the Islamic Revolution insists on the recognition and promotion of the school of Martyr Soleimani. A man who, while being a strategist, is extremely compassionate. He is not afraid of the arrogant and bloodthirsty villains and terrorists in the world, but he is like an orphaned child before God, a person of supplication and humility.
Meeting with the most powerful personalities in the world does not make him forget even the old women and men of his hometown.
The unique and inexhaustible love of the people of Iran and the beyond for him is rooted in these characteristics. U.S. Senator Chris Murphy in this regard said, "Soleimani, as a martyr, can be far more dangerous for the U.S. Now we should ask whether Qassem Soleimani is more dangerous as a martyr than he was alive."