Iranian, Iraqi FMs speak over phone
February 12, 2023 - 18:11
FM Fuad Hussein says 'we seek to reduce tension between Saudi and Iran'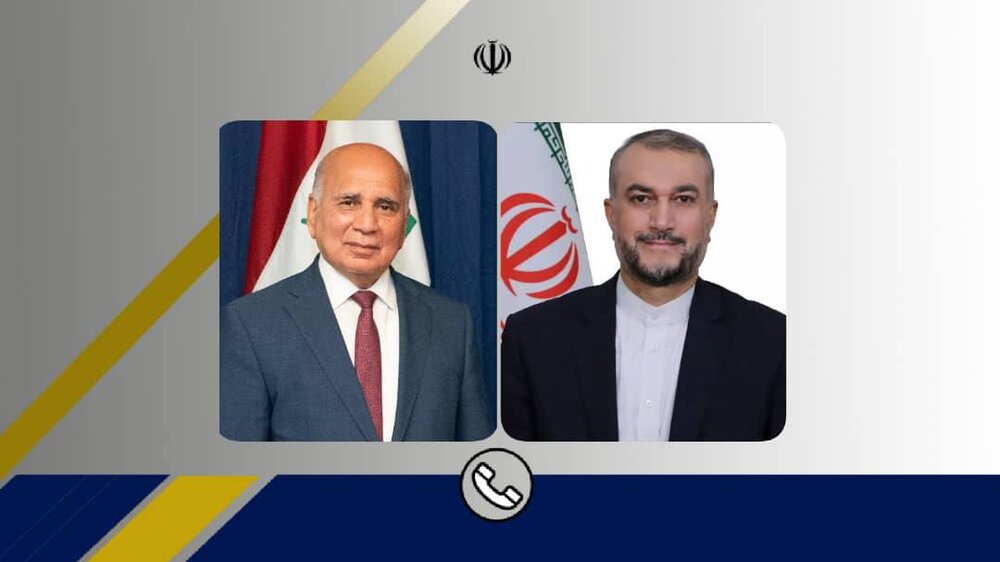 TEHRAN- Iranian Foreign Minister Hossein Amir Abdollahian and Iraqi Foreign Minister Fuad Hussein held phone talks late on Saturday, reviewing the latest situation in bilateral ties and exchanging views on regional and international issues.
The sanctions-related actions were also discussed in consultation between the two parties.
The top Iraqi diplomat also invited Amir Abdollahian to visit Baghdad.
Iraq has strong cultural and religious links with Iran. Additionally, the two nations share linguistic, ethnic, and historical affinities.
Iraq and Iran also have 1,258 km land border and 351 km water border.
Along with facing similar dangers, Iran and Iraq also have shared economic and security objectives.
Given the numerous cultural and religious similarities, improving connections between the two states has long been a priority for both governments.
According to Tasnim, Foreign Minister Hussein also said Iraq is seeking to bring the views of Iran and other countries closer together.
Iraq has so far held five rounds of talks between Iran Saudi Arabia.
"We seek to reduce the tension between Saudi and Iran through negotiations in Baghdad because the security of the region concerns us all. We are seeking to create understanding between Iran and other countries," Tasnim quoted him as saying.
He added, "We are part of this region and have strong ties with neighbors. Our policy is based on creating a balance."
The foreign minister also said his country is against use of the Iraqi soil for attack on other countries.
Tehran has long been complaining that militant separatist Kurdish groups use northern Iraq for hide and seek operations in west and northwestern Iran.