Flood damages centuries-old bridge in West Azarbaijan
March 12, 2023 - 21:0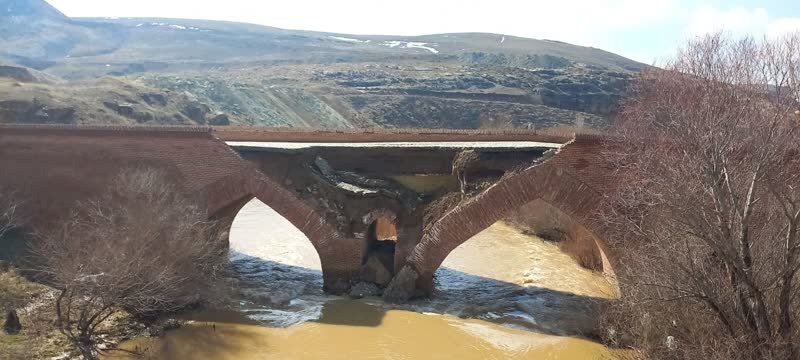 TEHRAN –A Safavid era (1501-1736) arch bridge in Takab county of West Azarbaijan province has been damaged due to heavy rain and flash flood, the deputy provincial tourism chief has said.
Heavy rains over the past few days have caused the northern side of Saruq historical bridge to collapse, Davud Farazi explained on Sunday.
The bridge, which has been inscribed on the national heritage list, is planned to be restored to its former glory as soon as possible, the official added.
An arch bridge carries loads primarily by compression, which exerts on the foundation both vertical and horizontal forces. Arch foundations must therefore prevent both vertical settling and horizontal sliding. Despite the more complicated foundation design, the structure itself normally requires less material than a beam bridge of the same span.
Arch bridges can be classified into deck arch bridges (featuring arches below the deck) and through arch bridges (those with arches above the deck, generally tied arches). In all arch bridges, structural difficulty can be found in the minimization of the misalignment of the arch axis and the line of thrust, as well as sufficient bending and buckling resistance. General design recommendations focus principally on the arch-to-span ratio, the arch and deck slenderness, and the number of hangers or piers.
Recent innovative arch bridges include high-speed railway (HSR) bridges, concrete-filled steel tubular and precast concrete arches, high-performance concrete or ultra-high-performance concrete arches, and steel-concrete composite arches, and feature innovative erection methods. Recent research has been dedicated to the shape and magnitude of equivalent geometric imperfections, fatigue detailing, erection methods, reduction of the arch's self-weight, and new materials for arches, hangers, and ties.
West Azarbaijan embraces a variety of lush natural sceneries, cultural heritage sites, and museums including the UNESCO sites of Takht-e Soleyman and Qareh Klise (St. Thaddeus Monastery), Teppe Hasanlu and the ruined Bastam Citadel.
The region was home to several ancient civilizations. According to Britannica, it was conquered by Alexander the Great in the 4th century BC and was named Atropatene after one of Alexander's generals, Atropates, who established a small kingdom there. Ultimately, the area returned to Persian (Iranian) rule under the Sasanians in the 3rd century CE.
ABU/AFM