Adaptation of "Animal Farm" on stage at Tehran theater
April 2, 2023 - 14:51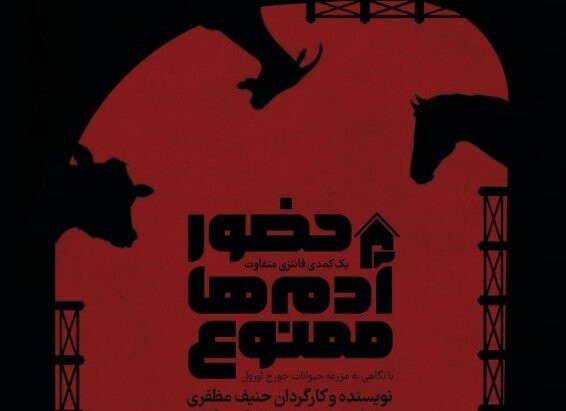 TEHRAN – A theatrical adaptation of George Orwell's allegorical novel "Animal Farm" is on stage at Tehran's Neauphle-le-Chateau Theater.
The play is being staged under the title "No Entry for All Mankind" by director and writer Hanif Mozaffari.
He also plays a role in the play starring Tofiq Heidari, Ali Olyai, Ali Karimi, Kiarash Asgari, Morteza Rezai, Ali Kazempur and Ehsan Moqaddam.
Several Persian translations of "Animal Farm" and Orwell's other book "1984" have been published in Iran.
A farm is taken over by its overworked, mistreated animals. With flaming idealism and stirring slogans, they set out to create a paradise of progress, justice and equality.
Thus the stage is set for one of the most telling satiric fables ever penned, a razor-edged fairy tale for grown-ups that records the evolution from revolution against tyranny to totalitarianism just as terrible.
When "Animal Farm" was first published, Stalinist Russia was seen as its target. Today it is devastatingly clear that wherever and whenever freedom is attacked, under whatever banner, the cutting clarity and savage comedy of George Orwell's masterpiece have a meaning and message still ferociously fresh.
Orwell, a democratic socialist, was a critic of Joseph Stalin and hostile to Moscow-directed Stalinism, an attitude that was critically shaped by his experiences during the Barcelona May Days conflicts between the POUM and Stalinist forces during the Spanish Civil War.
Orwell wrote the book between November 1943 and February 1944, when the United Kingdom was in its wartime alliance with the Soviet Union against Nazi Germany, and the British intelligentsia held Stalin in high esteem, a phenomenon Orwell hated.
The manuscript was initially rejected by several British and American publishers, including one of Orwell's own, Victor Gollancz, which delayed its publication.
It became a great commercial success when it did appear partly because international relations were transformed as the wartime alliance gave way to the Cold War.
Photo: A poster for the play "No Entry for All Mankind".
MMS/YAW