Zarif asks Rouhani to name CENTCOM as terrorist organization
April 8, 2019 - 19:47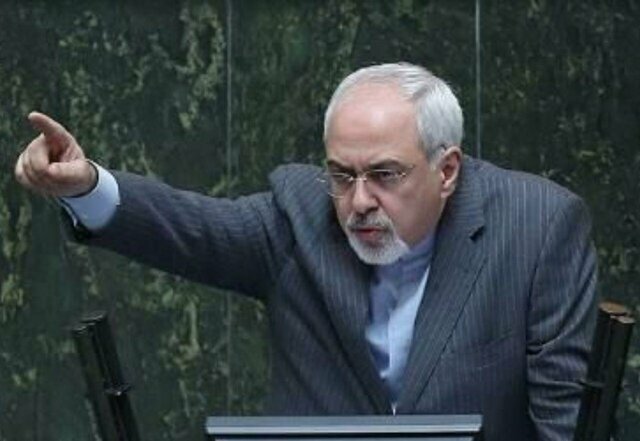 TEHRAN – Foreign Minister Mohammad Javad Zarif in a letter late on Monday asked President Hassan Rouhani, as head of Iran's Supreme National Security Council, to put United States Central Command (CENTCOM) forces in West Asia on the list of terrorist groups of the Islamic Republic of Iran.
In a statement, Foreign Ministry spokesman Bahram Qassemi said Zarif's request was based on the law to deal with U.S. human rights violations and provocative and terrorist acts in the region, ISNA reported.
It came minutes after U.S. President Donald Trump announced the U.S. will formally designate Iran's Islamic Revolution Guard Corps (IRGC) as a foreign terrorist organization.
"This unprecedented step, led by the Department of State, recognizes the reality that Iran is not only a State Sponsor of Terrorism, but that the IRGC actively participates in, finances, and promotes terrorism as a tool of statecraft," Trump said in a statement, according to CNN.
Iranian officials warned in recent days against the move, saying if the U.S. went ahead with the designation, Tehran would retaliate by designating the U.S. military as a terrorist organization.
Earlier on Monday, Zarif warned the United States that Iran will take retaliatory action if the U.S. designates the IRGC a terrorist organization, Mehr reported.
He made the remarks at a meeting of the Majlis National Security and Foreign Policy Committee, said Ali Najafi Khoshroudi, the spokesman of the committee.
The foreign minister "condemned the possible U.S. measure and emphasized that such measure would create lots of dangers," Khoshroudi said.
"Although Iran has not been and will not be seeking tension, but should the U.S. decide to implement the move, Iran will take reciprocal action," Khoshroudi quoted Zarif as saying.
Ahmad Amir-Abadi, a member of the Majlis presiding board, also said the parliament would designate all U.S. bases in the region as terrorist bases should the U.S. go on with such move.
"If America implements such measure, the Majlis will pass a two-urgency bill, labeling all American bases in the region as terrorist bases, and the IRGC will be permitted to deal with these bases in a similar way to Daesh terrorist bases," Amir-Abadi stated.
He further added that the Iranian armed forces and the IRGC are a red line for the Iranian nation.
MH/PA