Soheila, nominee for EBC*L award, proof of Iranian women's capability
October 31, 2016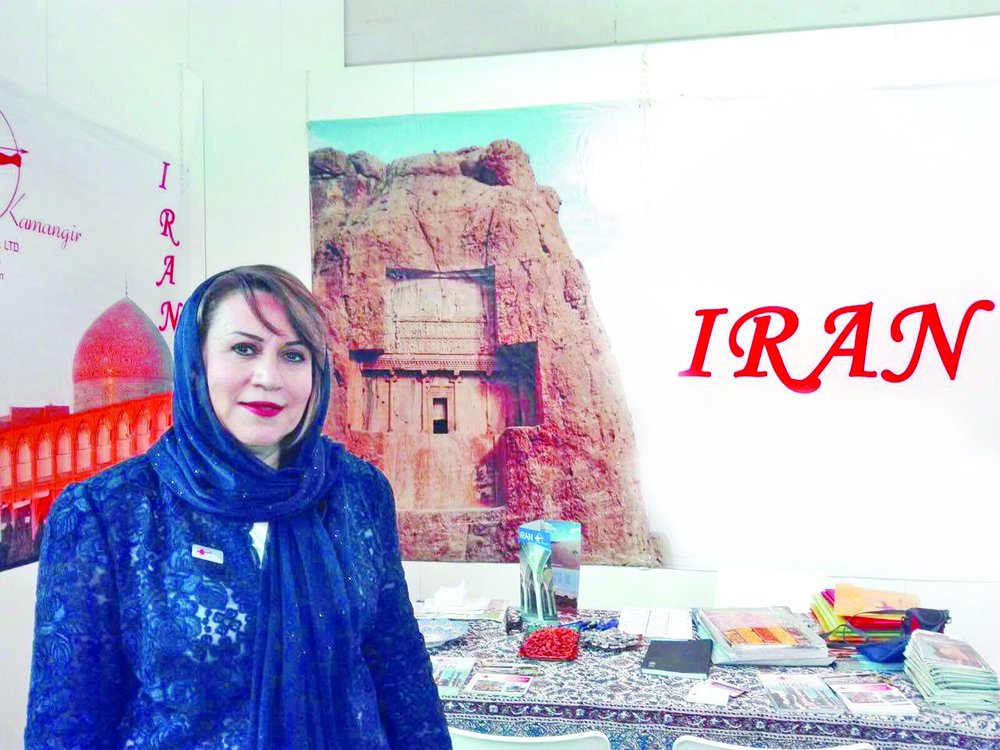 TEHRAN – The female Iranian businesswoman, Soheila Pirmoradian, symbolizes the competence of Iranian women who inherit a rich heritage and ancient civilization.
Soheila is amongst selectees who will be honored with (European Business Competence* License) EBC*L Women Entrepreneur Awards, during a ceremony scheduled to be held in Paris on November 3.
Iran should be judged from the ancient times, when, according to inscriptions found at Persepolis, the ceremonial capital of the Achaemenid Empire (550–330 BC), pregnant working women used to paid more, the entrepreneur said.
This is an inalienable right of women, however, many European countries are still dealing with it.
Soheila, having 15 years of working experience as a tour guide, officially started her work as a tour operator four years ago by establishing a travel agency in Tehran.
"I tried to change the viewpoint of foreign tourists about Iranian women and they came to know that Iranian women, inheriting a rich historical background, are different from Arab women," she said.
During the early years of her work as a tour guide, Soheila faced tourists who could not believe that a female tour guide is working in Iran.
Foreign tourists got surprised facing a female Iranian tour guide, Soheila told the Tehran Times.
"I praise the culture, civilization, beauty and integrity of Iran with all my heart," said the nominee for EBC*L Prize.
There is no difference between a man and a woman expect for their willpower, said Soheila who has always been supported by her mother and her sister.
Women's success depends on their own capabilities and not giving up in face of difficulties during their lifetime, she stressed.
"Being a woman didn't restrict me to find my way in the whole life. I tolerated great hardships when I left my little son here to study in Italy.
"During six years of living in Italy I cried every night missing my only son," she said with tears in her eyes. "I believe that blasphemy lies in hopelessness."
"When I left my son, I believed that I am trying to make a better future for him and fortunately it happened," she explained.
"I never wanted to give my son the feeling of sin by sacrificing myself for the sake of him," Soheila added. "I decided to tolerate the pain of loneliness but to get a good result."
"I have never waited for any men [to help me] in my entire life," Soheila said.
Citing an example, she said when she wanted to decorate her pavilion in a tourism exhibition, the decorator was late and she herself did the job.
Every women should try to empower herself, asserted the entrepreneur who is the holder of fine arts and midwifery degrees.
Holding a university degree or having a simple job should not satisfy a woman, she added.
Empowerment is not merely translated as economic growth because sometimes social progress satisfies a woman, Soheila stressed.
Earning money does not give people satisfaction when the earner doesn't feel that she/he has made something valuable for herself/himself or for others, the businesswoman stated.
The effort to make something valuable pleases a human more than the amount of money that she/he earns, Soheila remarked.
"I believe that winning this prize (EBC*L) is the result of good jobs that I have done not for the sake of money but only for the sake of God," she said.
For every foreign tourist who visits the country, 11 direct jobs and more than one hundred indirect jobs are created and this is something more than merely making money, she pointed out.
Soheila sees no difference between men and women working in tourism industry, however she believes women are more concerned about their job.
In 1993 Soheila returned to her homeland and began studying Italian language professionally.
She has translated some works of Imam Khomeini, the founder of the Islamic Revolution, into Italian. She has also translated letters of some Italian people to Imam Khomeini at the time of the Islamic Revolution in 1979.
Thanks to her proficiency in Italian language, Soheila worked in a travel agency for marketing and tour operation for three years, then she started her career as a tour guide, which was her favorite job.
She worked as a tour guide for 15 years. However she participated in many Italian tourism exhibitions as a freelance tour guide and tour marketer.
Ten years ago she received her own travel agency license but she still wanted to work as a tour guide. She believed that her small laptop can be as useful as a large office of a travel agency.
Since the beginning of the current Iranian calendar year (March 2016), around 2,000 tourists have traveled to Iran through her travel agency, mainly from Italy and France.
Although her travel agency is newly established, the reason that she has been selected for the EBC*L prize is that she has showed a colorful presence in different tourism exhibitions.
Soheila participated in a tourism exhibition in Naples, Italy, in March 2016, where she was greatly welcomed in her own pavilion by Luigi De Magistris, the mayor of Naples.
She believes that the nuclear deal signed last year between Iran and the West has created a good trust for both sides: Iranian tourism companies and European tourists.
Soheila led a group of specialists interested in studying the situation of religious minorities in Muslim countries in the Middle East about 8 years ago.
The group visited many churches in different parts of Iran. They also visited live ancient synagogues in downtown Isfahan.
"Entrepreneurship helps to reduce unemployment predicament in the society, and I believe that good performance in each career creates more jobs," remarked Soheila, who runs a travel agency with 9 female and one male employees.
Azim Fazlipour, the EBC*L CEO for Persian language countries, said in August that following the removal of anti-Iran sanctions, the EBC*L management has decided to present the prestigious prize to several female Iranian entrepreneurs.
The EBC*L considers several indicators for presenting prizes to different companies including entrepreneurship, innovation, branding, development of domestic industries, development of crafts, customer satisfaction, compliance with environmental and human values and social responsibility.
According to the Global Entrepreneurship Monitor report, the rate of entrepreneurship in Iran among women between the ages 18 to 64 fluctuated from 4 to 6 percent between 2008 and 2012.
Based on the Fifth Socio-Economic Development Plan of Iran (2010-2015), the rate of female entrepreneurs has increased from 7.1 percent in 2010 to 8.4 percent in 2015.
NM/