Top Iranian scholar Manuchehr Sotudeh dies at 103
April 9, 2016 - 18:50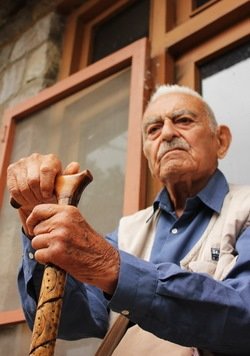 TEHRAN – Prominent Iranian scholar Manuchehr Sotudeh who was mostly famous for his studies on Iran, died of pneumonia on Friday. He was 103.
"The great Iranologist died at 11 p.m. on Friday at Taleqani Hospital in the northern Iranian city of Chalus," journalist Ali Dehbashi, who is also an old friend of Sotudeh, said in a press release on Saturday.
Born in 1913 in Tehran, Sotudeh studied Persian language and literature and got his Ph.D. from the University of Tehran.
"From Astara to Astarabad", which focuses on the intriguing mixture of history of the northern part of Iran, is among the master's noteworthy credits. Gilaki, Semnani and Kermani dictionaries, and correcting the books on the history of Gilan are among his other works.
Sotudeh has written 52 books and 268 articles on different subjects during his lengthy career.
Based on his personal will, his body will be buried in the northern city of Salman Shahr beside the body of Sadeq Kia, the former director of the Academy of Persian Language and Literature.
Sotudeh was an old friend of historian scholar, manuscript expert and tourist Iraj Afshar, the son of scholar Mahmud Afshar, one of the founders of Tehran's Dar-ul-Fonun School.
A memorial service will be held in Tehran at the Mahmud Afshar Foundation located at No.12, Arefnasab St., in the Zaferanieh neighborhood on Wednesday.
Photo: Iranian scholar Manuchehr Sotudeh in an undated photo
RM/YAW
END