India ready to invest $20b in Iran's Chabahar port
April 9, 2016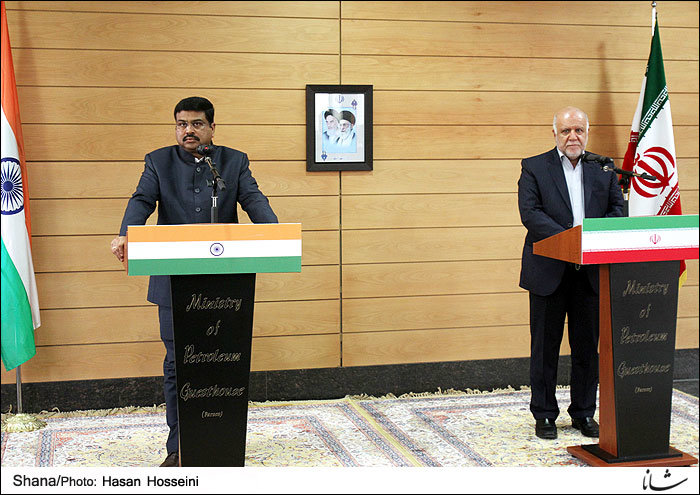 TEHRAN - India is ready to invest $20 billion in energy and industrial projects in the Iranian southern port of Chabahar, Indian Minister of Petroleum and Natural Gas Dharmendra Pradhan said in a news conference after a meeting with his Iranian counterpart Bijan Namdar Zangeneh in Tehran on Saturday.
India is negotiating this project to facilitate the growing trade and investment with Iran and other countries in the region, notably Afghanistan.
Pradhan admitted that his country aims to expand its bilateral relations with Iran in various fields, including energy and industry, in addition to importing crude oil, the Shana news agency reported.
The Indian minister added that, during the meeting, the two sides could finally sign a memorandum of understanding to jointly cooperate on developing Farzad-B gas field, collaborating in refinery projects, Iran's exports of crude oil and oil products to India, and cooperation in petrochemical industry.
"We are holding talks with Iranian officials on setting a proper timetable for putting in practice the determined project in Farzad-B gas field, which would be a time-consuming procedure," Pradhan noted.
Referring to his Saturday morning meeting with the Governor of Central Bank of Iran Valiollah Seif, the Indian minister announced that New Delhi will pay its oil arrears to Iran in the near future.
As reported, Pradhan will also meet Secretary of Iran's Free Trade, Industrial and Special Economic Zones Council Akbar Torkan in Chabahar Port on Sunday to discuss setting up complexes in the port.
Iran exporting 350,000 bpd of oil to India, hopes for more
The Iranian oil minister, for his part, put Iran's daily volume of crude oil exports to India at 350,000 barrels per day (bpd) and expressed hope that the amount will boost after the total removal of international sanctions against Iran.
Iran had asked Indian firms to submit a new development plan for the Farzad-B field which they discovered in 2008, winning the right to develop it.
In 2014, Iran had to put the field in the list of projects for tender after the Indians dragged their feet on its development under the U.S. pressure.
India, however, began pushing rigorously for their development rights to be reinstated after a July 2015 nuclear deal with Tehran created concerns in New Delhi that European firms could clinch the contract.
Farzad-B gas field is estimated to hold 21.68 trillion cubic feet (tcf) of gas in place, of which 12.8 tcf is recoverable.
According to the Iran-India contract, India was supposed to increase the production of Farzad-B gas field to 2.2 billion cubic feet, a target which it failed to meet due to sanctions on Iran's energy sector.
HJ/MA