Major companies expanding presence in Iran's oil sector
May 6, 2016 - 18:45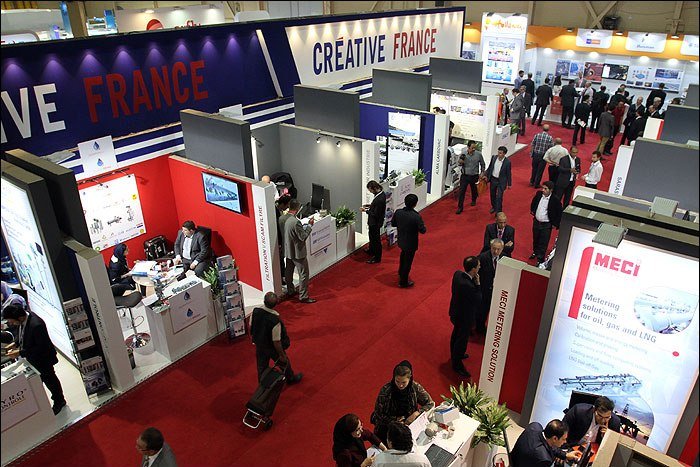 TEHRAN- Renowned international companies from 38 countries across the globe are participating in the 21st International Oil, Gas, Refining and Petrochemical Exhibition of Iran (Iran Oil Show 2016), which is being held at Tehran Permanent International Fairground from May 5 to 8.
On the sidelines of the oil show and in their meetings with Iranian senior officials, representatives of the foreign companies have sought avenues to have a share in Iranian lucrative oil sector via making joint venture and signing MOUs.
'BP to open representative office in Iran'
British Petroleum (BP), one of the world's seven giant oil and gas companies, has voiced readiness to invest in Iranian projects, Deputy Oil Minister as well as Managing Director of National Iranian Oil Company (NIOC) Rokneddin Javadi said after his meeting with the British company's representative in Tehran.
As Shana news agency quoted Javadi on Friday, BP seeks new gateways of cooperation and is aimed at transferring data and knowledge to the Islamic Republic.
Iranian, Italian companies endorse industrial MOU
Society of Iranian Petroleum Industry Equipment Manufacturers hammered out a memorandum of understanding (MOU) on industrial cooperation with Italian Valves and Taps Constructor Association on the sidelines of the said oil show.
Addressing a meeting of the two countries' officials before signing the MOU, Reza Khayamian, the head of the Iranian association, expressed hope that the MOU will be put into action as soon as possible, Shana reported on Friday.
Maurizio Brancaleoni, the head of the Italian association, for his part thanked Iranian officials and hoped that bilateral industrial cooperation would grow dramatically in near future.
Iranian, S. Korean institutes ink deal
Also, Research Institute of Petroleum Industry of Iran and Korea Institute of Geoscience and Mineral Resources (KIGAM) inked a cooperation agreement on Thursday.
French company seeks Iranian partner
The managing director of France's IPC PIPING, an international supplier of piping solutions for oil, gas, chemical and petrochemical industries, said that his company has attended the oil show in a hope for finding an Iranian partner, Shana reported on Friday.
Referring to Iran's access to Worldwide Interbank Financial Telecommunication (SWIFT) after the implementation of its nuclear deal with the P5+1, the French industrialist said that a proper ground is set for further ties with Iran.
Omani minister lauds Iranian oil industry
"The oil show comprehensively presents Iran's capacities in oil industry," Omani Oil and Gas Minister Mohammed bin Hamad Al Rumhy told Shana on the sidelines of the oil show, "I am astonished by the country's technology, capabilities and self-sufficiency in this industry".
"Famous international companies namely Gazprom, Lukoil, Sulzer, Lincoln Electric, and FUCHS are the definite participants of the oil show, while some Italian companies are conducting negotiations to confirm their presence in the show," according to Director of Iranian Oil Ministry's Public Relations Department Akbar Ne'matollahi.
Ne'matollahi underscored that transfer of technological know-how into the country is the focal point of the oil show.
New oil investment contract to be ready by July
Iran's new oil industry investment contract for international oil firms will be ready by July, NIOC chief Javadi said, Reuters wrote on Friday.
"The new contracts will be ready in June, July ... We welcome investors from all countries," IRNA reported Javadi as saying.
Iran aims to sweeten the terms it offers on oil development contracts to attract foreign investors deterred by years of sanctions.
"Hopefully we will have oil tenders with new oil contracts in July," Javadi said. "Iran's doors are open to all investors."
Iran now aims to return its oil production to pre-sanctions levels.
"Iran's oil exports are expected to increase in the coming days to 2.2 million barrels per day (bpd)," Javadi said.
Iran's output has risen to 3.7 million bpd.
HJ/MA