By Maryam Qarehgozlou
All intl. environmental MOUs brought into effect: Ebtekar
May 30, 2016 - 9:27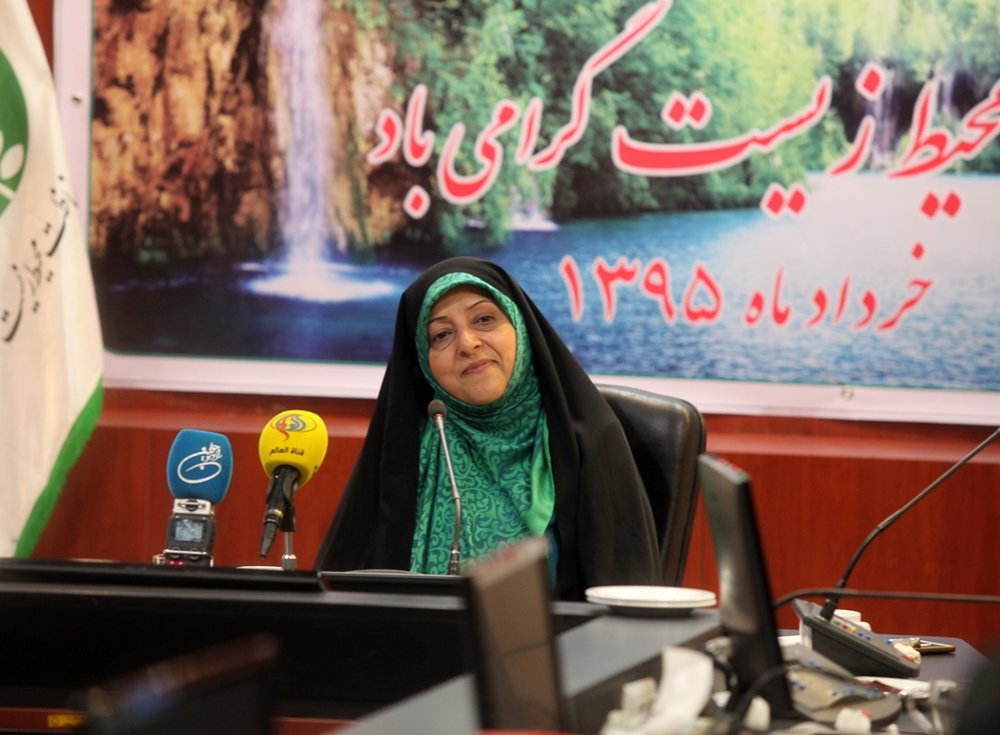 TEHRAN — All international environmental memorandums of understandings inked so far have been brought into effect, chief of Iran's Department of Environment (DoE) said here on Sunday.
Masoumeh Ebtekar made the remarks in a press conference held on the occasion of the World Environment Day, June 5.
Signing MOU with Austrian Raiffeisen Bank in line with boosting Iran's National Environment Fund, China's $3 million contribution for provision of greenhouse emission control devices, and Italy's $3 million contribution spent on air pollution mitigation equipment are of the agreements which are put in action, Ebtekar explained.
Iran's wetlands restoration programs are triumphant
Commenting on the effective measures DoE so far taken to tackle environmental predicaments over the current administration, Ebtekar gave full credit to the ongoing wetlands' restoration programs for the partial revival of them.
"The truth is that Iran's precipitation pattern has not changed dramatically and if it wasn't for the measures taken by DoE for the wetlands such as Hamoun, Hour-al Azim and Urmia they wouldn't be now partially revived," she highlighted.
Water transferring plans required to undergo environmental assessment
"In order to move forward with any proposed water transferring plans we first need to ensure that the environmental implications of decisions are taken into account before implementing it," the DoE chief said.
"First we need to make sure that the water right of the wetlands remains intact and then we can think of adopting such plans," she added.
She went on to say that "provincial water transferring is of no use unless we go out of option and be forced to do so to supply potable water for a region."
"Depending on the situation we cannot fully agree or disagree with such a plan but first we need to take other options such as recycling or reforming farming patterns into consideration before moving onto more environmentally invasive alternatives," she suggested.
Production of genetically modified food stuff not legally approved by DoE
Inquiring about the genetically modified food stuff in Iran Ebtekar said that production of genetically modified food stuff is not legally approved by DoE.
Should they get required documents for mass production they need to observe Biosafety Protocol, she said.
The Biosafety Protocol makes clear that products from new technologies must be based on the precautionary principle and allow developing nations to balance public health against economic benefits.
She further explained that in case such products shipped to Iran they need to be labeled to inform the consumers about their genetically altered organisms.
Economic exploitation of forest resources in Iran is illicit
Ebtekar stressed that according to a law passed in January 2015 any economic exploitation of the forest resources in Iran is prohibited save broken or damaged trees.
She argued that "despite some beneficiaries attempts to legitimize such unfair exploitation we cannot afford to lose more forests and we can easily import woods using Persian Gulf or Caspian Sea ports."
"As much trees as we plant they never turn into the natural forests we have right now as the forest are million years old and possess a unique and complex ecosystem," she warned.
Tehran's sand and gravel factories an obstacle for air pollution mitigation
Mentioning DoE's effective measures to minimize air pollution in the metropolises of Iran Ebtekar regretted that sand and gravel mines in the suburb area of Tehran are of the main sources of air pollution.
"Based on the permits such mines have obtained over the past administration we cannot take any legal actions against them," she lamented, adding "a wind blow can easily bring all the dust and pollution they cause to Tehran."
"We have made great accomplishment in reducing air pollution so far as the number of clean days in Isfahan has tripled although it is not in a good condition regarding its annual precipitations," she said.
However, she said, "dust particle coming from border countries such as Iraq and also these mines is not in our control."
Cyber police help to minimize animal abuse, poaching
As some have the audacity to share their pictures while abusing animals or poaching them in siocial medias the DoE chief noted that with the help of the cyber police these criminals will face legal consequences.
Bees are vulnerable to insecticide
On the subject of the insecticides Ebtekar felt repentant for the bees which are absolutely vulnerable to such toxic substances, particularly neonicotinoid.
"60 percent of the agricultural products depend on the pollination process by the bees," she said, stating, "Provided they die it would be almost impossible for farmers to cultivate their products."
"We are planning on promoting beekeeping, enhance awareness about the important role of the bees and insects in general in the environment and the negative outcomes of their extinction."
MQ/MG