"Lions and Bulls from Ancient Persia" on display in Italy
June 24, 2016 - 19:21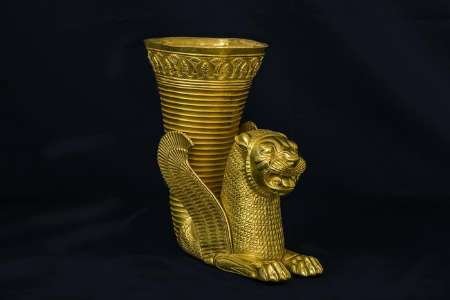 TEHRAN – An exhibition of 39 ancient Iranian artifacts opened on Friday at the Archaeological Museum of Aquileia in Italy.
Entitled "Lions and Bulls from Ancient Persia to Aquileia", the exhibition will run until September 30.
The selected artifacts are dated back to Achaemenid Empire (550 BC–330 BC) to Sassanid Era (224 to 651 CE), the head of the National Museum of Iran Jebreal Nokandeh said in a press release on Thursday.
All the items are in the shape of lions and bulls and the exhibition focuses on the relation between these two ancient Persian symbols, he explained.
The artifacts were discovered from Iran's famous archaeological sites like Persepolis, Susa, Pasargadae, Kordestan and Ammarlu district in Rudbar, Nokandeh added.
The selected items are comprised of statues, rhytons, plates, daggers, cuffs, scale weight made of stone, metal, plaster, clay and lapis lazuli, he explained.
Aquileia, located in Italy's far northeast near the border with Slovenia, was chosen because "the city has always been considered the doorway between Rome and the Orient," said Italian ambassador Antonio Zanardi Landi, president of the Aquileia Foundation.
The exhibition is sponsored by the Aquileia Foundation in collaboration with the Museums of Friuli Venezia Giulia, the National Museum of Iran and the Iranian Cultural Heritage Handcrafts and Tourism Organization.
The exhibition is a follow-up of "A Statue for Peace: The Penelope Sculptures, From Persepolis to Rome" showcase, which was held at the National Museum of Iran in September 2015.
The exhibition featured four statutes of Penelope, the faithful wife of Odysseus Penelope who waits twenty years for the final return of her husband Trojan War, from the collections of the National Museum of Iran and two Italian museums.
SB/