Tehran museum to exhibit newly recovered relics from Italy
January 2, 2017 - 18:19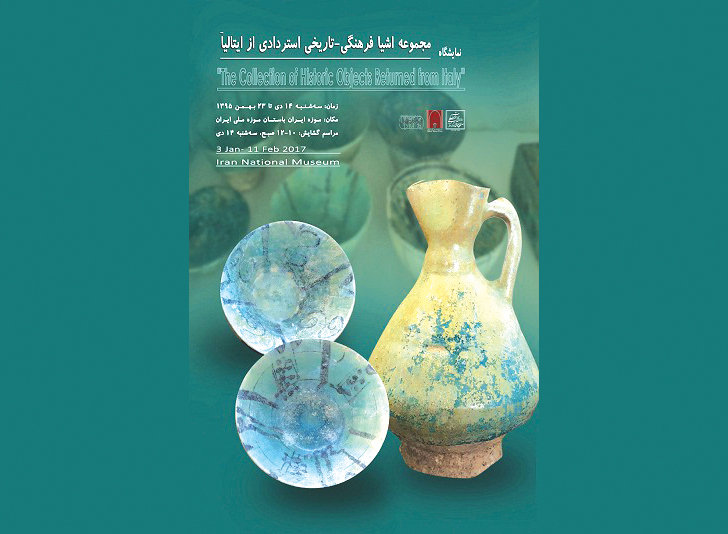 TEHRAN – An exhibition of historical relics recently recovered from Italy will open to the public this morning at the National Museum of Iran in downtown Tehran.
Part of a larger group smuggled into Italy in 2008, the artifacts were initially delivered to the Iranian Embassy in Rome following years of hard-fought legal battle with the Italian art authorities.
An Iranian legal team managed to win back the stolen artifacts following a restitution order by an appellate court in the northern Italian city of Milan.
The police forces in Monza seized the looted relics together with several other collections in June 2008 after an Italian antiquities dealer of Pakistani origins shipped them from Bangkok to Italy, the National Museum of Iran Director Jebreil Nokandeh said in November 2016.
In a similar move, a number of other Iranian artifacts smuggled to the European country over the past decade, found their way back home in July 2015.
In May 2016, Cultural Heritage, Tourism, and Handicrafts Organization publicized a call for assistance, asking Iranians abroad to inform the organization in case of tracing smuggled artifacts and antiquities of Iranian heritage.
The showcase titled "The Collection of Historic Objects Returned from Italy" will be held under the auspices of Cultural Heritage, Tourism and Handicraft Organization.
An array of early-Islamic era earthenware and jewelries is centerpiece of the exhibit that will be running through February 11.
AFM/MG