By Mehdi Sepahvand
Iran's rite of house cleaning before Noruz
March 18, 2017 - 12:50
As the Noruz approaches, Iranians make attempt to renew their living environment. This is done by cleaning their houses spick and span in what is called "khooneh tekooni". Iranians spend the few weeks to the New Year doing this. They remove the carpets, wash them, mop the floor, the walls, furniture, and everything else.
Traditionally, Iranians would also break a clay vase as a symbol of leaving the old and going for the new in anticipation of the New Year. They would also rub their copper utensils white. By doing these things, the Iranians believed, they removed the old spirit and the bad phantoms and unrestful spirits from the house.
People in Iran start preparing for Noruz with a major spring-cleaning of their house and the purchase of new clothes to wear for the New Year, as well the purchase of flowers.
In association with the "rebirth of nature", extensive spring cleaning is a national tradition observed by almost every household in Iran. This is also extended to personal attire, and it is customary to buy at least one set of new clothes.
A rural woman in northern Mazandaran Province hits a rug using a stick to remove dust from it as Noruz, the Iranian New Year, starting on March 21, is approaching. In preparation for Noruz, nationwide Iranians spring-clean every nook and cranny of their homes. The debris is swept away, carpets and curtains are washed, silverware is polished, and windows cleaned to a sparkle. The spring cleaning, known as Khouneh Tekouni in Persian, is proceeded by decorating the house with fragrant plants such as daffodils, hyacinths and roses. Mizan/ Behrouz Khosravi
On the day of Noruz, they dress in their new and best clothes. They decorate the doors and windows with garlands of roses and jasmines. Flowers are known for their delicate nature and need of care where you can find only in a well-kept house.
Some experts believe the house cleaning is a tradition passed down by Zoroastrianism. Javad Ensafi, researcher, in a book titled "Navid e Bahar" says:
Cleaning the house is yet another ritual with Iranians in anticipation of the New Year. Even in some villages they used to whitewash their houses and make everything new.
Throwing out old furniture and breaking old utensils were other things they did to prepare for the New Year in what they believed would ward off bad spirits and omens. Science was later to find that the cracks in utensils and equipment were the perfect place for microbes to grow.
The ancient Iranians believed that Satan and bad spirits resided in the dark corners of the house. That was a reason they cleaned the house through before Noruz. They then attended to their own bodies, shaving, getting a haircut, doing their nails, and wearing new clothes.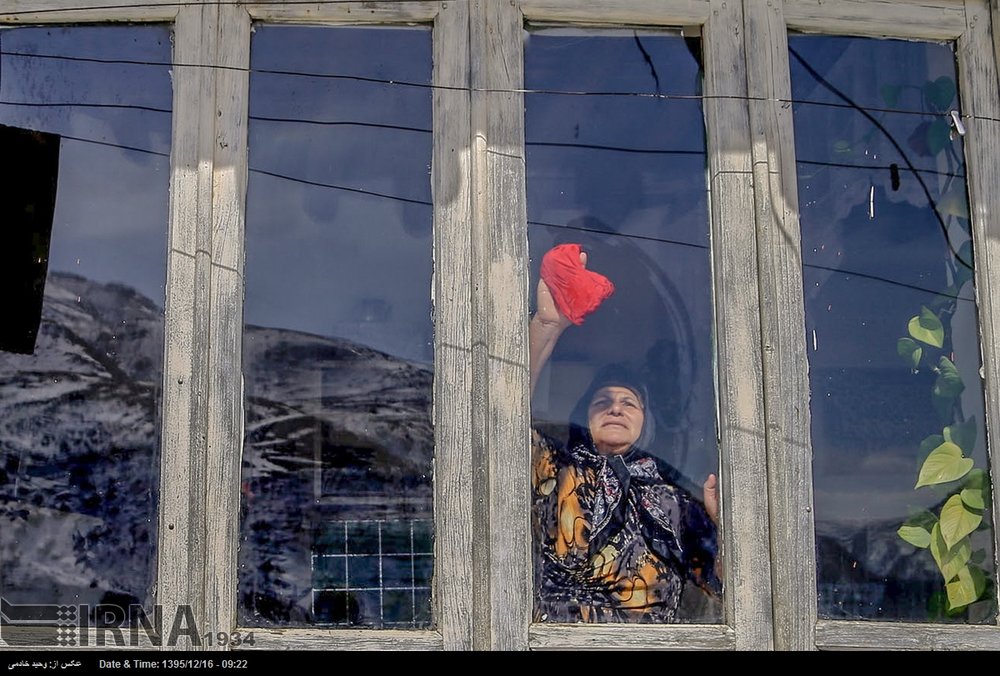 A woman in Esfidan village, the northeastern province of North Khorasan, is cleaning the window as part of a tradition known as Khaneh Tekani, or spring cleaning. People do the tradition in the region just a couple of days before Noruz, the New Year holidays starting on March 21. IRNA/ Vahdi Khademi
They also believed that putting their spring clothes, kept in the winter in the drawer, was necessary. This was later found by scientists to be effective in disinfecting clothes.
Iranians would also tap dust out of their carpets before washing them. Scientists have found that the silica that gathers inside the carpet would affect its color if mixed with water during washing.

The most important lesson to be drawn from the "khooneh tekooni" ritual of Iranians is that they had found what would cause health problems if they did not clean their houses and living environment periodically. The cleaning ritual, therefore, provided a basis for a much needed health routine.