By Simon A Waldman
Why Turkey needs Europe more than Europe needs Turkey
May 29, 2017 - 3:15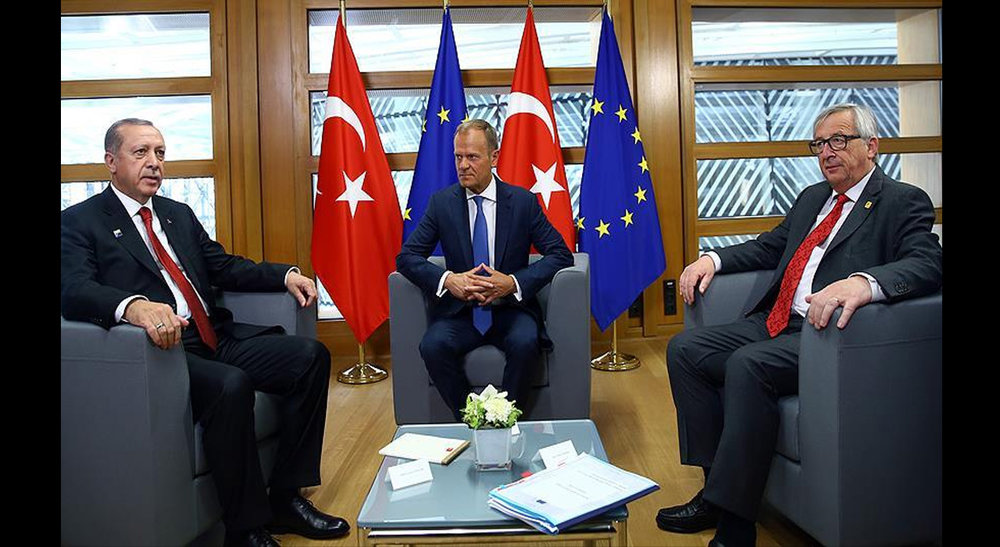 Following the ghastly attack in Manchester on 22 May, it is unsurprising that terrorism topped the agenda at last week's NATO summit as the alliance pledged to join the anti-Islamic State (ISIL) coalition.
In attendance was U.S. President Donald Trump, making sweet with the organization after previously disparaging it on the campaign trial.
However, another important development took place on the sidelines of the summit. Jean-Claude Juncker, the president of the European Commission, together with Donald Tusk, the president of the European Council, met Turkish President Recep Tayyip Erdogan, in an attempt to diffuse diplomatic tensions between Ankara and Brussels.
Apparently, the men discussed human rights, the 2016 migrant deal and agreed on the need to cooperate in future.
Never has the gap between Turkey and the EU been so wide. This was highlighted in March when Erdogan aimed some below-the-belt barbs at Germany and Holland along the lines that they behave like Nazis. This was because Berlin and the Hague prevented Turkish politicians from campaigning in those countries ahead of a controversial April referendum to grant Erdogan more powers.

The Turkish president narrowly won his vote, which was described by an EU observer as unfree and unfair. Turkey will now introduce constitutional changes, giving Erdogan additional authoritarian powers. Brussels has to deal with the inconvenient truth that Turkey is no longer a democracy by any stretch of the imagination - but is still banging on the EU's door for membership.
Turkey needs Europe - and badly
In all probability, man will land on Mars before Turkey joins the EU. Ankara needs to meet the EU's political criteria for accession. Ankara's case is not helped by free, unfair and, say some reports, fraudulent elections; the erosion of checks and balances especially with the judiciary increasingly lacking independence; a continued, perhaps indefinite, state of emergency; and purges of hundreds of thousands of state workers.
But this hasn't stopped Ankara from making demands. Erdogan recently stated that, unless new chapters are opened, Turkey has nothing to discuss. An alternative customs union is not something Ankara will accept.
Meanwhile, European countries are being taunted. Berlin is in a rage after access was denied to German politicians wishing to see their troops stationed at the Incirlik base close to Turkey's borders with Iraq and Syria. Deniz Yucel , a German journalist of Turkish origin, remains behind bars in Turkey despite numerous pleas for his release.
Turkey also insists that Europe grant visa-free travel for its citizens as part of the Syrian refugee agreement reached more than a year ago. Brussels is holding out – so Ankara is using the possibility of allowing an influx of Syrian refugees into Europe.
Europe should be more assertive and forthright in future talks with Turkish leaders. Turkey needs Europe badly. Its economy is faltering. Gone are the days of high levels of growth. Instead, unemployment continues to rise, especially among its youthful population.
The country is in a middle-income trap, its credit rating outlook remains negative and the lira continues its downward trajectory. Europe is Turkey's most important market. Almost 55 percent of Turkey's exports find their way to Europe.
It is also Europe that accounts for the lion's share of foreign direct investment in Turkey. The country's tourism industry has been wrecked by political instability and terrorism. European visitors can be a source of the industry's recovery.
Europe loses appeal for refugees
Even if Ankara were to tear up the refugee deal, it is unlikely that hordes of migrants would flood Europe. Steps have been taken to tighten border security, especially along the routes across Greece and the eastern Mediterranean.
More importantly, many of Turkey's Syrian refugees do not wish to leave the country. They feel more comfortable in Muslim Turkey and want to be in close proximity to Syria, where many still hope to return to their homes.
Ankara's prevention of German politicians from visiting their troops is an important misstep. Berlin is now seriously considering moving German forces to Jordan. If Germany manages to do this successfully, then other NATO and European nations, tired of Ankara using the base as a trump card, may follow suit.
This would diminish Turkey's standing in NATO, which has already been hit by Ankara's exclusion of Austria from partnership programs.
Turkey's military effectiveness has also been eroded by the purges which followed last July's failed coup. It is therefore doubtful that Turkey really offers Europe much in military terms. Ankara faces its own terrorism threat: it is in its interests to maintain intelligence sharing and cooperation with Europe.
Ankara needs Brussels more than Brussels needs Ankara. Perhaps a more forceful and forthright Europe will, in the long-term, earn the respect of not just Turkey, but some of its other critics from both within and outside of the union.
(Source: middleeasteye.net)