"Freedom of Palestine" poster unveiled on Quds Day
June 23, 2017 - 17:53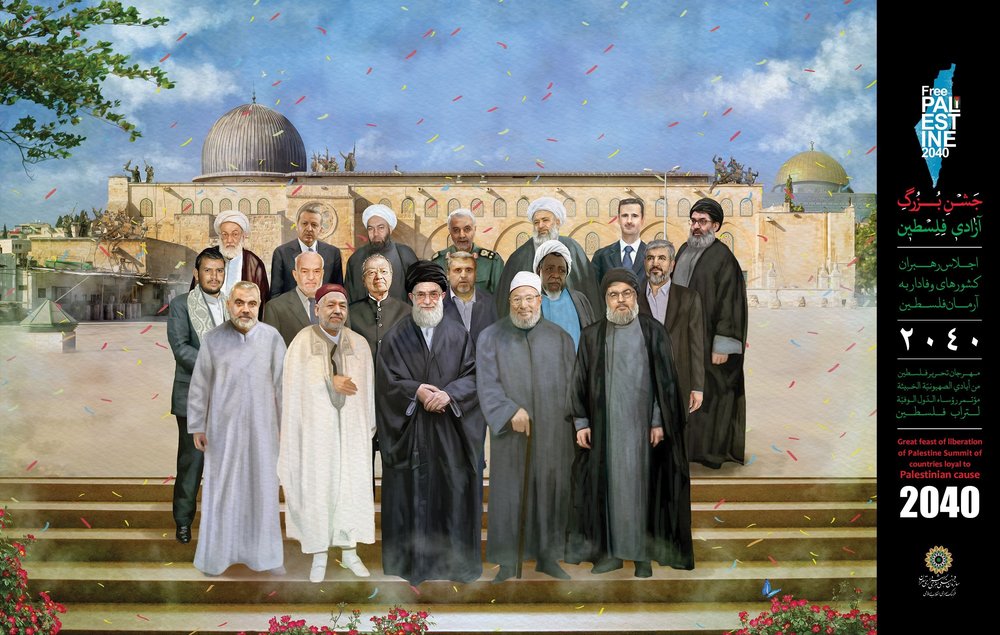 TEHRAN – The poster "Freedom of Palestine", containing images of the world leaders loyal to the freedom of Palestine, was unveiled during a ceremony at the Quds Cultural Center in Tehran on Friday.
The poster features an image of Palestine in 2040, in which 18 world leaders who have fought against the Zionist regime for the freedom of Palestine, have come together at al-Aqsa Mosque, Persian media have reported.
Supreme Leader Ayatollah Seyyed Ali Khamenei, Hezbollah Secretary General Seyyed Hassan Nasrallah, secretary general of the Palestinian Islamic Jihad Ramadan Abdullah, and Egyptian Muslim scholar Sheikh Yusuf al-Qaradawi are among the world figures who are seen in the poster.
The unveiling ceremony was concurrent with the International Quds Day rallies, which are held annually on the last Friday of the holy fasting month of Ramadan.
The International Quds Day was initiated by the founder of the Islamic Republic of Iran, Ayatollah Ruhollah Khomeini, in 1979 to express solidarity with Palestinians and oppose the Zionist regime.
Photo: A poster for "Freedom of Palestine"
RM/YAW