Sofreh: meal serving custom in Persian style
December 9, 2017 - 10:55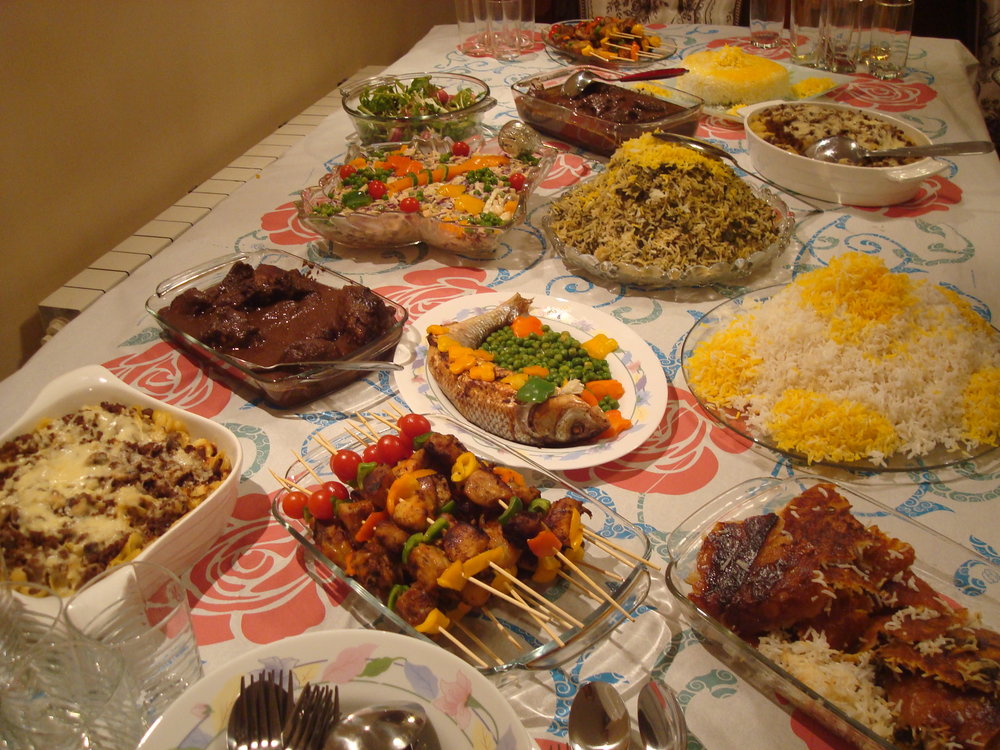 TEHRAN – In every language and culture, there are some untranslatable words and terms which do not have equivalents in other languages. 'sofreh' in Persian language is in this category.
Sofreh, traditional table cloth available in various materials and patterns, is in fact a connotation, which is far beyond a piece of cloth spread for serving meals. It is associated with meal and table manners in our culture.
In Iran, all family members gather around sofreh, which is spread either on the table or on the floor during meals.
Although Iranian lifestyle has faced many changes over the recent years, the ritual of gathering during meal time still exists in most of families.
There are several proverbs and folktales in Persian language in which, sofreh is mentioned as an element of being wellborn and polite.
Sofreh, traditional table cloth available in various materials and patterns, is in fact a connotation, which is far beyond a piece of cloth spread for serving meals.

In Iranian Islamic traditions, sofreh is respected and those who sit around a sofreh are aware of it. If two persons sit around a sofreh, they should observe this as a kind of friendship, which should be honored and kept.
People around sofreh, begin the meal with eating some salt and end the meals with praying.
Respecting elder members of family is another ritual which is considered while spreading sofreh. They sit above and the elder person is the first one who begins eating food.
No one is allowed to lie down or even stretch their legs when the sofreh is spread.
Different kinds of sofreh
Sofreh is an important element in Iranians celebration and mourning ceremonies as well as religious ceremonies. Here we pointed to some kinds of sofrehs spread in special occasions:
Spreading sofreh in Iranian traditional wedding ceremonies is very customary.
Several symbolic items are put on sofreh aqd (an engagement ceremony held before the wedding) while a young couple are tying the knots.
Every sofreh aqd design has traditional must-haves; however, design of it changes due to the beliefs and budget of bride and groom.
Mirror, candles and candelabra, Sangak bread accompanied with feta cheese, egg, almond, walnut and hazelnut, seasonal fruits, rock candy, coins, honey, rose water, Holy Quran, sweets and pastries, sugar cones, wild rue and coal brazier are some of common elements, which are put on a piece of termeh used as sofreh aqd.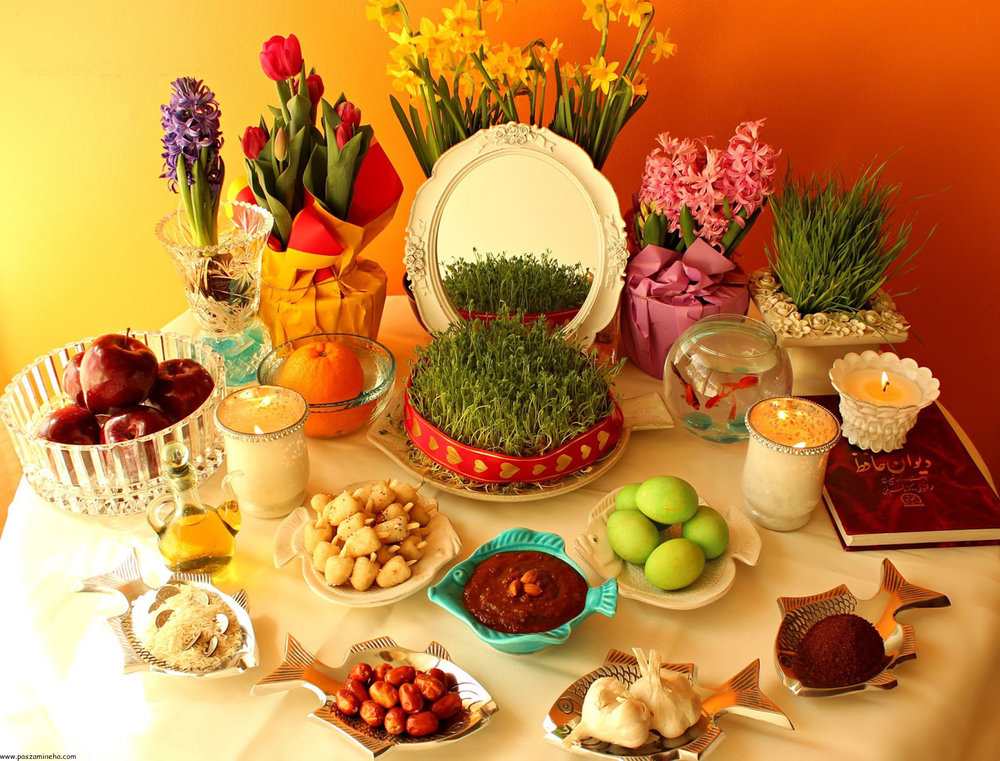 Setting a "haft-seen" table for Noruz, the Iranian new year, which starts on March 20, is a custom which is being observed by almost all Iranians worldwide.
There are seven items on the table which start with 'S' in Persian language in addition to gold fish, colorful eggs, Quran, candles, and mirror .
The seven items include sabzeh (wheat, barley, mung bean or lentil sprouts growing in a dish), samanu (sweet pudding made from wheat germ), senjed (wild olive fruit), seer (garlic), seeb (apple), sekkeh (coin) and serkeh (vinegar).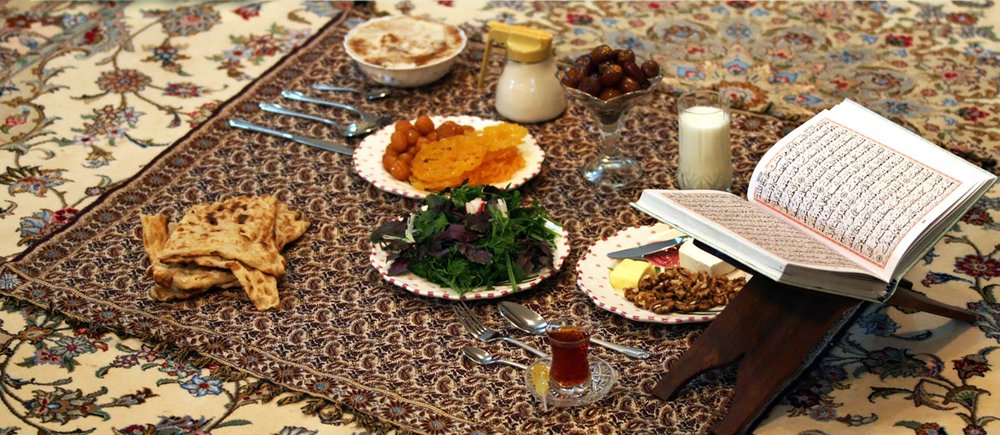 Iftar time on Persian sofreh
During holy, fasting month of Ramadan, Muslims break their fast with an evening meal, called iftar. In Iran, members of family gathered around a sofreh during time of iftar and they also host their guests on the same sofreh.
Tea, dates, halva, bread and cheese with fresh herbs, ash or soup and a kind of sweet named zulbia and bamieh.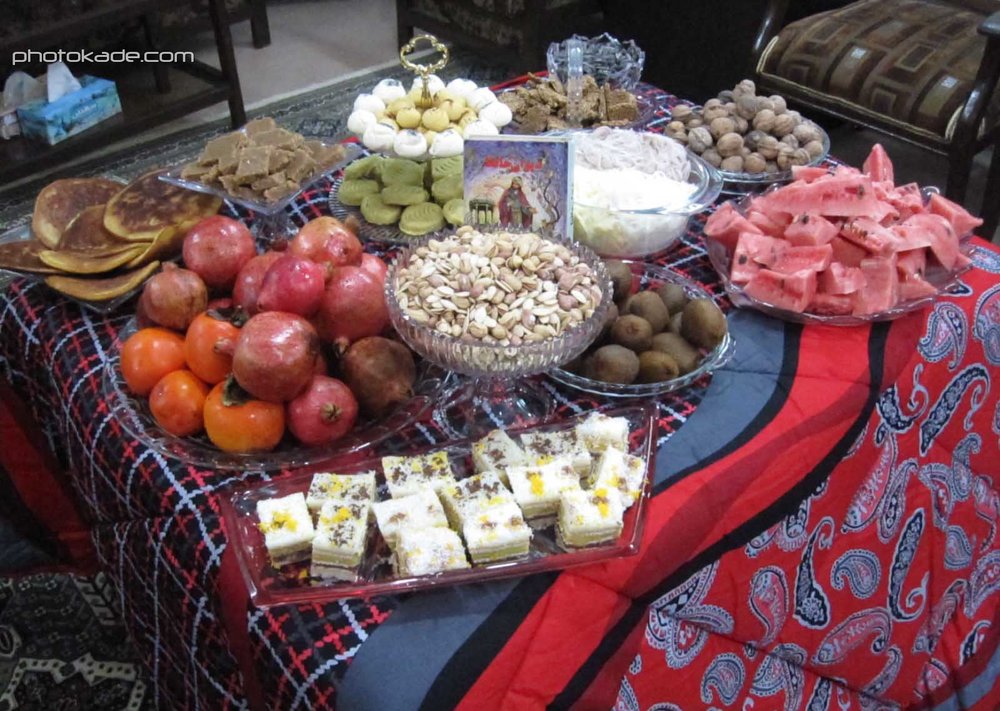 Yalda goodies on Iranian sofreh
Iranian spread their sofreh for other occasions as well like Yalda night, known as the longest and darkest night of the year, marking the last eve of autumn and the beginning of winter on December 20.
Guests are served with fresh fruits and colorful Ajil (a mixture of dry fruits, seeds and nuts) in bowls.
Watermelon and pomegranate, symbols of bounty, are the traditional fresh fruits of this night.
All food items are arranged on a sofreh usually by women of the house.
Sofreh is a manifestation of several Persian culture like togetherness, family ties and hospitality. Be sure that you are always welcome to Iranian sofreh and enjoy a good memorable meal.
SB/MQ/MG