Iran's Book of the Year Awards releases nominees in literature category
January 28, 2018 - 19:10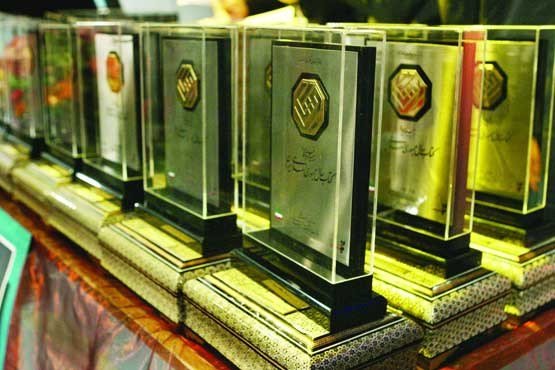 TEHRAN – The organizers of the 35th Iran's Book of the Year Awards have announced the nominees in the literature category. 
The nominees will be competing in the history and critic section, the classical text section and the literature of other languages section.
"Essays on Style and Language: Linguistic and Critical Approaches to Literary Style" by Roger Fowler and translated into Persian by Maryam Moshref, "How to Read Literature" by Terry Eagleton and translated by Mohsen Maleki and Behzad Sadeqi, as well as "Problems of Dostoevsky's Poetics" by Mikhail Bakhtin and translated by Saeid Solhju are the three nominees in the history and critic section.
The nominees for the classical text section are "Dastoor ul-Katib Fi Ta'yeen il-Maratib" by Muhammad Bin Hindu Shah Nakhjivani and translated by Ali-Akbar Ahmadi Darani, "Hayat al-Hayawan" by Kamal ud-Din al-Damiri and translated by Mohammad-Taqi Tabrizi and "New Correction of Rumi's Writings" composed by Tofiq Sobhani.
Books also competing in the classical text section are "Epic of Qiran-i Habashi" corrected by Milad Jafarpur, and "Ancient Ship of Rubaiyat" compiled by Arham Moradi and Mohammad-Afshin Vafai.
"Americanah", a novel by the Nigerian author Chimamanda Ngozi Adichie, translated into Persian by Ruhollah Sadeqi, has been nominated in the literature of other languages section.
"Four Quartets" written by T. S. Eliot and translated by Javad Danesh-Ara, "Curfew" by José Donoso and translated by Abdollah Kowsari, and "The Box: Tales from the Darkroom" by Gunter Grass and translated by Kamran Jamali are competing in this section.
Also included are "The Buried Giant", a fantasy novel by British writer Kazuo Ishiguro translated by Amir-Mehdi Haqiqat, and "White Noise" by American author Don DeLillo translated by Peyman Khaksar.
No works merited a nomination for the award in the Arabic literature section.
RM/MMS/YAW