Dakar festival displays photos of historical Iranian mosques 
March 2, 2018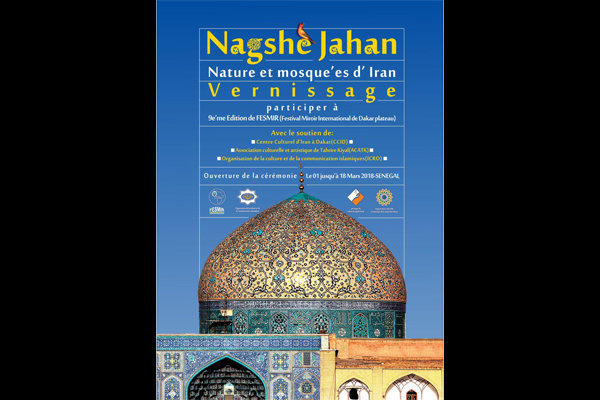 TEHRAN – A collection of photos of Iranian mosques illustrating the astonishing architecture of the structures is currently on display in an exhibition at the FESMIR - International Artistic Mirror Festival of Dakar in Senegal.
Entitled "Naqsh-e Jahan", the collection takes its name from the Naqsh-e Jahan Square, which embraces Imam Mosque and Sheikh Lofollah Mosque in Isfahan.
The 100-collection also includes photos of beautiful Iranian landscapes, historical sites and nature.
Mahnaz Shafiei, Aiin Shahrudi, Siavash Eskandari, Behrad Montazeri, Amin Dehqan, Hirad Rahmani, Tahmineh Rahmani and Farima Mahmudi are among the photographers whose photos have been showcased at the exhibit.
Dariush Mohammadkhani is the representative of the photographers taking part in the event.
The weeklong exhibition, which has been organized in collaboration with the Islamic Culture and Relations Organization and the Kargah-e Tahrir Khial Institute, will run until March 7.
Photo: A poster for the Naqsh-e Jahan photo exhibition
RM/MMS/YAW