No drop in Iran's oil exports if EU supports nuclear deal: Zanganeh
May 19, 2018 - 20:13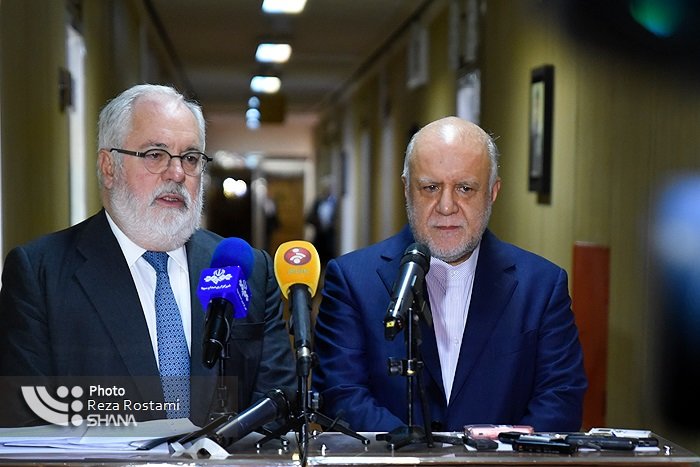 TEHRAN-Iranian Oil Minister Bijan Namdar Zanganeh said that the U.S. president's withdrawal from Iran's nuclear deal will not affect Iran's oil exports if the EU supports the deal.
"Every new decision in OPEC needs unanimity... I believe that the help of the European Union helps us... the level of our oil exports will not change," Zanganeh told reporters after a meeting with EU Energy Commissioner Miguel Arias Canete in Tehran on Saturday, Reuters reported.
Following Trump's decision on May 8, the U.S. Treasury said Washington would reimpose a wide array of Iran-related sanctions after the expiry of 90- and 180-day wind-down periods, including sanctions aimed at Iran's oil sector and transactions with its central bank.
The EU wants to salvage the 2015 nuclear deal, which offers the Islamic Republic relief from economic sanctions in exchange for curbs on its nuclear program. Europe sees the agreement as an important element of international security.
Ahead of his visit to Tehran, the EU energy commissioner said: "The objective of my visit is to continue to strengthen energy relations with Iran, most importantly now against this new challenging background of President Trump's announcement. The lifting of nuclear related sanctions is an essential part of the nuclear deal. The European Union has repeatedly stressed that the lifting of nuclear related sanctions has not only a positive impact on trade and economic relations with Iran, but also and mainly crucial benefits for the Iranian people. Since the Iran nuclear deal has been signed in January 2016, it is delivering. In 2017, Iran's trade with the EU stood at close to €20 billion, registering a 60% increase compared with the previous year. The European Union is fully committed to ensuring that this continues to be delivered on. The EU is also determined to act in accordance with its security interests and to protect its economic investments."
MA
CAP: Iranian Oil Minister Bijan Namdar Zanganeh (R) and EU Energy Commissioner Miguel Arias Canete met in Tehran on Saturday