By Seyyed Mostafa Mousavi Sabet
Iran's Russian concerts, carrying coals to Newcastle
June 20, 2018 - 19:56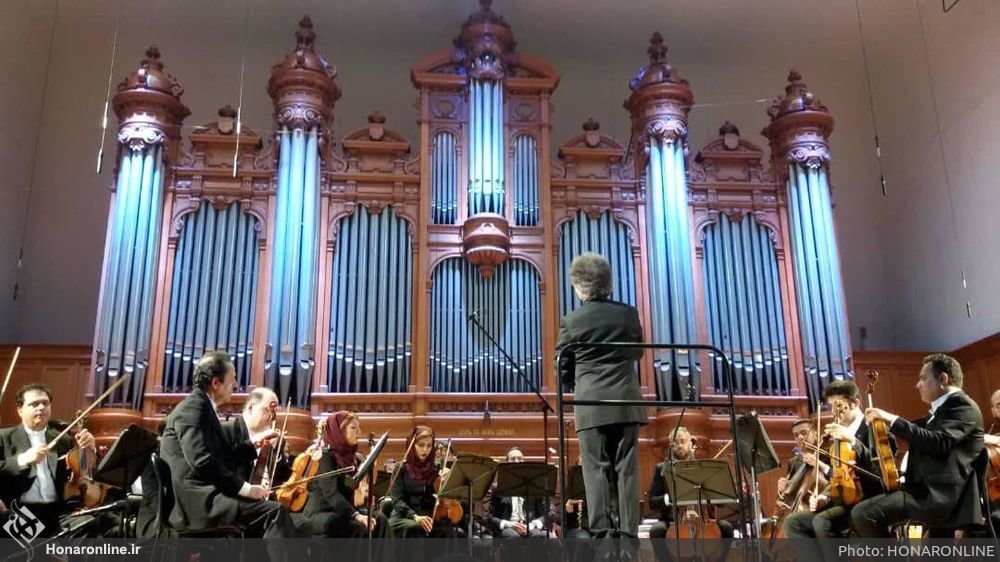 An ensemble composed of musicians from the Tehran Symphony Orchestra and National Orchestra put on two concerts last Thursday and Sunday in Saint Petersburg, Moscow and Kazan.
Ali Torabi, the director of the Music Office of Iran's Ministry Culture and Islamic Guidance, and Ali-Akbar Safipur, the director of Rudaki Foundation, the main organizers of the concerts, also accompanied the orchestra during the concerts.
They held a meeting with Margarita Karatygina, the director of the International Cooperation Department of the Moscow State Tchaikovsky Conservatory, who made sharp, dismissive remarks suggesting that the performances seemed like carrying coals to Newcastle.
"In symphonic music, Iran is following the path that Russia took during the eighteenth century," she said.
"We understand this fact that Iranians want to apprehend symphonic music and acquire it," she added.
"It is difficult for Iranians mentally and physiologically to learn this type of music and how to use it, but if they learn do it, they will be able to perform easily European symphonic music," Karatygina noted.
Tehran Symphony Orchestra conductor Shahrdad Rohani had previously said that the concerts were designed to show off the ability of the selection of musicians from two major Iranian orchestras in performing pieces by Russian composers in Russia.
However, he and his colleagues preferred to keep mum about Karatygina's remarks, enjoying their journey to Russia, which is currently hosting the FIFA World Cup with its colorful visitors.
In an open letter sent to Persian media earlier in April, former Tehran Symphony Orchestra conductor Ali Rahbari, who has worked with over 100 European orchestras, warned Iran's cultural officials about their plan to perform the concerts in Russia.
He described the decision as taking coal to Newcastle and said that the performance would not receive any public welcome in the country, which is home to numerous professional orchestras.
Rahbari also called the musical program costly for Iran and asked the cultural officials to spend the sums allocated for travel to Russia to improve the orchestras instead.
"These showoff exercises are unnecessary and unproductive for Iran that enjoys a century-long history of orchestral music, which has dropped off to sleep as a result of mismanagement and the misappropriation of public funds," noted Rahbari who is the conductor of the Antalya State Symphony Orchestra.

"Why don't you take a group of prominent Persian traditional musicians such Hossein Alizadeh and Keyhan Kalhor to Russia if you insist upon giving performances in the country?" he asked.
All these words, which are almost identical to those uttered later by Karatygina, fell on deaf ears and the selection of musicians from the Tehran Symphony Orchestra and National Orchestra along with a number of officials with a mania for foreign travel embarked on the Russian tour.
Photo: Shahrdad Rohani conducts a selection of musicians from the Tehran Symphony Orchestra and National Orchestra during a concert at the Moscow State Tchaikovsky Conservatory on 17, 2018. (Honaronline)
MMS/YAW