By Farnaz Heidari
White-headed ducks victims of steep decline
July 14, 2018 - 9:34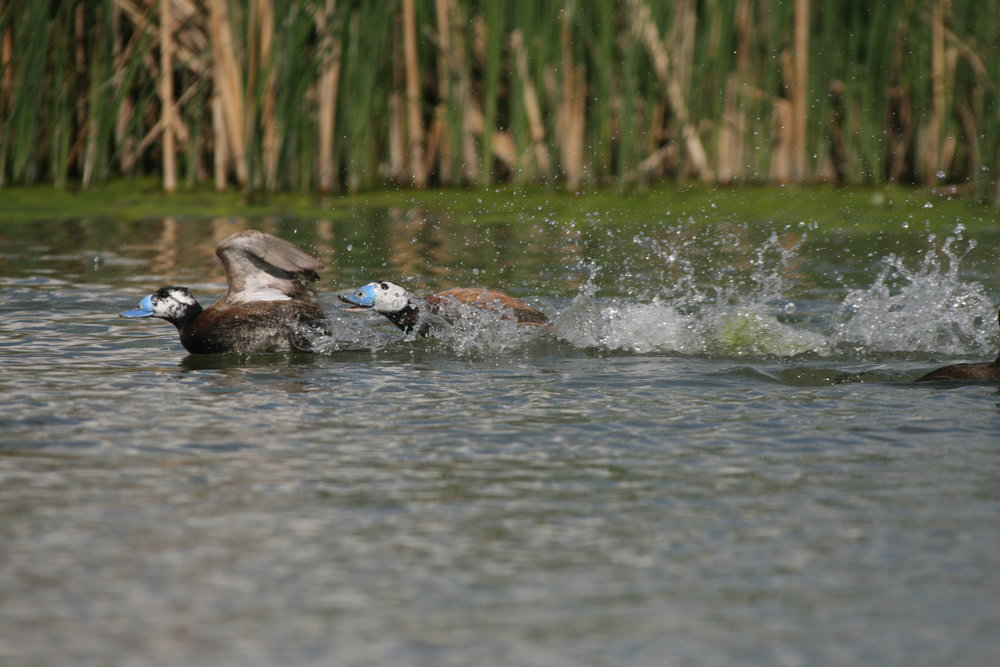 White-headed duck has endured high levels of habitat loss in Iran. Long-term population declines have intensified as a result of wetlands' changes and also droughts. Iran's dying wetlands were once breeding habitats of white-headed ducks and now are vulnerable to drainage, pollution, and other disturbances.
The problem of habitat loss is an extension of one of the oldest battles in nature: the competition between species for space. It is not surprising that some valuable species such as white-headed ducks (Oxyura leucocephala) are losing out because of habitat over-exploitation. International Union for Conservation of Nature and Natural Resources (IUCN) categorized white-headed duck as an Endangered species in 2017.
Amy-Jane Beer and her colleagues in the encyclopedia of endangered animals, have explained that destruction of white-headed ducks breeding habitats during the 20th century, will all end up in large historical declines.
Relentless decline in Iran
Disturbances are specific to each population, so that conservationists need to study the situation of different populations in the field to understand the role of particular disturbances. Endangered species such as white-headed ducks are strongly affected by drought and wetlands' dryness especially in the hot countries like Iran and so are continuously declining.
The optimism has faded in habitats of Fars and Sistan Provinces while Ghourigol, East Azarbaijan province, and Kanibarazan in Mahabad, West Azarbaijan province, are considered as main habitats for smaller populations of white-headed ducks in Iran.
But in general numbers seem to have climbed down during the last decades. The decline has been most severe at sites like Yanigh wetland number 1 and 2, also known as burnt wetland, (35 kilometers south-west of Hashtroud, East Azarbaijan province) and Zolbin wetland (24 kilometers west of Hashtroud).
Smaller populations of these wetlands have simply scattered to other sites like Ghourigol, and Kanibarazan. Despite the small size, Zolbin was one of the fantastic breeding sites of this species in Iran and now it is dead as the result of extensive drainage.
Some small populations have also been spotted in northern wetlands of the country and are subject to a variety of threats such as lower water levels, disturbances associated with fisheries, drowning in fishing nets, illegal hunting, and ingestion of lead shots.
The impact of rational decision-making on conservation
It is not surprising to find that the number of threats are more extensive for white-headed ducks. The range of threats differs but major problems include industrial, domestic, and agricultural pollutions; while sedimentation and water extraction are documented as threats too. The most widespread documentation refers to hybridization and competition but hybrids are never recorded in Iran's populations.
Conservationists say the effective protection of wetlands is a high priority in Iran because without such protection it is almost certain that the white-headed duck populations will continue to drop in the country. Basic conservation initiatives have been launched to assure the future of white-headed ducks in Iran but these steps are not sufficient.
Lack of preventive laws over the past decades resulted in large gathering of cows and water buffalos in habitats of white-headed ducks. The birds, their eggs and chicks were taken from their few breeding grounds by people or by an invasion of predators, reducing numbers to low levels.
Many nests were destroyed by cattle and disturbances also changed the physical attributes of habitat for breeding populations. Cattle normally wallow in the cool marshes by day, and they prefer dense, heap and reedy marshes that are suitable for ducks too.
When a water buffalo passes through reedy marshes, it makes numerous canals and these empty spaces are suitable for carrion crow (Corvus corone), rook (Corvus frugilegus), and marsh harrier (Circus aeruginosus) to invade nests and eggs of ducks. During breeding season, white-headed ducks undergo a lot more stressors so they are much more vulnerable to those predators especially during nesting season.
Attempts to sidetrack the attacks seemed the only real and functional solution and that's why fences were constructed by Department of the Environment (DoE). Over the first year desirable result was not delivered and things were getting worse in the next years. The ducks apparently retreated from fenced areas and went to lands were used by cattle for grazing.
At that point, conservationists realized the value of grazing cattle to maintain the ecological balance of wetlands. Cows and water buffalos prove to be a wetlands cure.
This experience in Iran showed how much blanket bans are ineffective in preventing and conserving endangered species. Sustainable management seems to be the better solution because we will never know for sure what happened to the white-headed ducks in fenced areas. It is thought that the ducks prefer natural and pristine conditions. This experience also showed the importance of practical solutions. Though little information is available about white-headed ducks in Iran but regarding the grave pressures on the wetlands, the best thing to do is to adopt sustainable management strategies.