Telling people the truth about water problem a must: DOE chief
August 11, 2018 - 9:6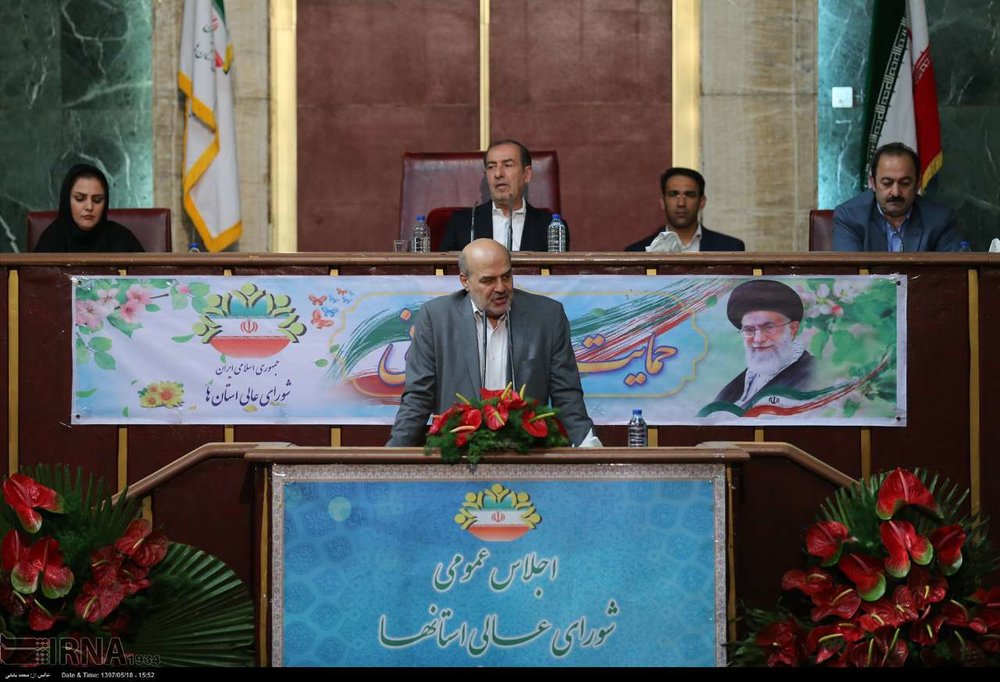 TEHRAN – The chief of the Department of Environment Issa Kalantari has said that the government must tell the people the truth about water shortage as a serious challenge the country is facing.
"People need to know the truth about the environmental issues, as if they know, their actions will be hundreds more efficient than the government," he said, Tasnim reported on Thursday.
Water shortage a serious problem
Using water more sensibly is one of the most effective factors in preventing environmental degradation, he added.
Touching on the fact that water consumption patterns must change among the residents in the country, Kalantari went on to say that consuming 90 billion cubic meters of water per year in Iran is a high amount, which must reach 40 billion cubic meters, to do so, all residents should do their fair share in curbing their consumption.
"In other words, we need to reduce water consumption by 40 to 50 billion cubic meters, and if this does not happen, the whole country will face a serious problem," he highlighted.
We have to tell the truth to the people to wipe out the misconception of only a few cities facing water shortage, but the whole country is under pressure, he regretted.
In this case, all people's help required to tackle the water scarcity across the country, he stated.
Iran, located in an arid and semi-arid area, is facing water shortage due to low precipitation amounts and climate change coupled with shortsighted managerial decisions.
Earlier in July, environmental official Mohammad Mojabi said that while renewable water resources measured at 132 billion cubic meters 50 years ago it decreased to 116 billion cubic meters and even now over the past 5 years it diminished to less than 100 billion cubic meters.
He also said that mean precipitation has dropped from 250 millimeters to 205 millimeters over the same period, moreover, temperature has increased by 1.1 degrees on the Celsius scale over the past 15 years.
Groundwater resources are also in a bad condition, as out of 609 aquifers in the country 309 are depleted and water withdrawal is not allowed anymore in these aquifers, he added.
Hour al-Azim wildfire 'deliberately started'
While fire sweeping through Hour al-Azim wetland has been started deliberately, the southwestern province of Khuzestan was a victim of smoke rising from the fire, Kalantari said, IRNA reported on Thursday.
The wildfire belching out choking smoke affected many cities, including Ahvaz, Howeyzeh, Mahshahr, Susangerd, Bostan and even Shadegan in the province, he added.
He also explained that Iran's Foreign Ministry has formally asked the government of Iraq to dispatch helicopters to the region affected by the fire since the second day the fire occurred, however, the permit was issued 13 days after the fire first broke out.
The fire erupted in Iraqi part of Hour al-Azim, a transboundary body of water shared between Iran and Iraq, on July 2, in addition to air pollution has caused breathing difficulties for people of Khuzestan province in southwestern Iran. While the fire was contained to some extent by Iranian helicopters and hours of aerial firefighting, it ignites every now and then deliberately on purpose.
DOE not able to miraculously solve the problem
Elsewhere in his remarks Kalantari noted that although the Department of Environment is the responsible body for environmental issues, the [city and village] councils should join hands to eradicate environmental issues, as DOE cannot tackle all the challenges unaccompanied.
If environment is not managed properly in the country, undoubtedly, no natural resources will remain within the next few years, he regretted.
Saeed Pourali, Iranian professor of cross-cultural environment management at the Phoenix University Excessive, told Khabaronline in July that in addition to climate change, lack of proper use of modern sciences coupled with lack of attention to warnings by officials about water shortage have aggravated the situation.
If water scarcity is not resolved urgently, its impacts will soon bring heavier and irreparable damage to all sectors in the country, he stated, warning the harmful consequences caused by lack of proper planning would gradually affect the entire country.
FB/MG