Asian Games Day 9: Bahman Asgari takes Iran's 15th gold
August 27, 2018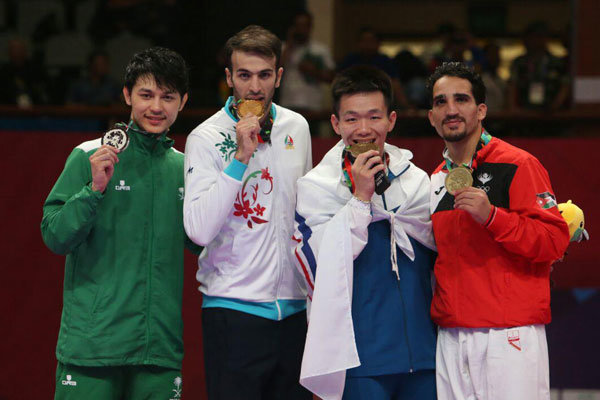 TEHRAN – Karate practitioner Bahman Asgari took Iran's 15th gold medal in the 2018 Asian Games on Monday.
Asgari beat Raef Adel Alturkestani from Saudi Arabia 5-0 in the men's -75kg final contest at the JCC - Plenary Hall in Jakarta, Indonesia.
Bronze medal was jointly won by Hsu Weichun from Chinese Taipei and Jordanian Bashar Alnajjar.
Iran had previously won 14 gold medals in the Games.
Freestyle wrestlers Hassan Yazdani (86kg), Alireza Karimi (97kg) and Parviz Hadi (125kg) had also snatched three gold medals.
Greco-Roman wrestlers Mohammadali Geraei and Hossein Nouri won two gold medals in the 77kg and 87kg.
Taekwondo practitioner Saeid Rajabi also claimed a gold medal in the 80kg.
Mirhashem Hosseini also won a gold medal in the 63kg.
Erfan Ahangarian bagged a gold medal in wushu after defeating Wang Xuetao from China 2-1 in the final match of the Men's Sanda -60kg.
Another wushu practitioner Mohsen Mohammadseifi claimed his third successive gold medal in the Asian Games after beating his Chinese rival Shi Zhanwei 2-0.
Climber Reza Alipour also gained Iran's third gold medal on Day 5.
Women's and men's kabaddi teams won two gold medals in the Games.
Weightlifter Sohrab Moradi won gold in the men's 94kg class.
Karate practitioner Sajad Ganjzadeh claimed a gold medal in the men's +84kg final contest.
The 18th Asian Games stage 465 events out of 40 sports, among which 330 events from 32 sports will feature in the 2020 Tokyo Olympics.
The Games, attracting more than 10,000 athletes, will run through Sept. 2.
Reporting by Masoud Hossein