Water solicitation for drought-ridden Sistan-Baluchestan to ease water stress
September 1, 2018 - 8:51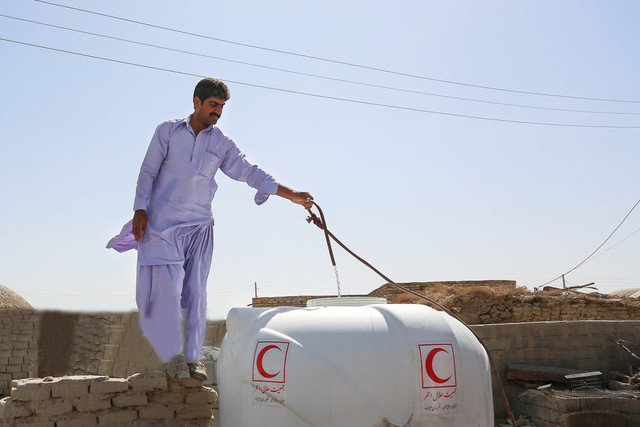 TEHRAN — With Hamoun wetland drained of water and the rainless sky in southeastern province of Sistan-Baluchestan many are in dire need of drinking water.
The long standing 20-year-old drought in the region is forcing many to have to provide their water from tank trucks delivering water to the areas.
Nasrollah Chari, an official with the provincial water and wastewater company, has said that Sistan-Baluchestan is short of rainfalls by 75 percent over the past eleven months (September 23, 2017 to August 21, 2018) compared to long-term averages and now some 40 villages in Hirmand county are suffering from water stress.
For many years water was delivered to 1,257 villages by 120 tank trucks only during the daytime, ISNA news agency quoted Chari as saying on Friday.
But now, as Hirmand governor Mohammad Ali Piri explained, [due to low precipitation amounts] some of the other villages which would normally access water using shallow wells, rivers and water pipes are now suffering water shortages and water should be delivered to these areas as well.
And that's why the Iranian Red Crescent Society (IRCS) launched a campaign called Nazr-e Ab (literally meaning water donation) on August 5 in Sistan-Baluchestan province aiming at soliciting water donations for the regions suffering severe water scarcity and people can participate with donating bottled water, water tanks or cash, nationwide.
Rasoul Rasheki, head of Sistan-Baluchestan Red Crescent Society, has said that within the framework of the aforesaid campaign some water tanks will be installed in 502 villages struggling with water shortages and Water and Wastewater Company is tasked with filling these tanks with water so that villagers can access clean drinking water day and night.
So some 1,260 tanks will be installed in 502 villages which will speed up water transfer to these areas and also help store water, Rasheki highlighted.
He went on to say that so far some 1,053 water tanks are delivered to rural water and wastewater companies and 1,002 of them are already installed.
Doing so has saved many of the dwellers from taking long walks to bring water back to the village.
Meanwhile, Mahmoud Mohammadi Nasab, Sistan-Baluchestan Red Crescent Society's secretary general, noted that so far IRCS has spent 50 billion rials (about $1.2 million) and some additional 300 billion rials (nearly $7 million) is needed to complete the project and that's the reason behind launching the campaign.
MQ/MG