U.S. returns exquisite Achaemenid relief to Iran
September 5, 2018 - 18:46
TEHRAN – On Tuesday, an exquisite Achaemenid-era relief, which is estimated to be worth $1.2-million, was handed back to Iran under a rule laid down by a U.S. court back in June.
The bas-relief is an eight-inch-square piece of carved limestone that was part of a long line of soldiers depicted on a balustrade at the central building on the Persepolis site. It dates to the Achaemenid dynasty — or the First Persian Empire — and experts said it was made sometime between 510 and 330 BC, when Persepolis was sacked by Alexander the Great.
The object, valued at $1.2 million, was reported stolen from Iran in 1936 and stolen later in 2011 from the Montreal Museum of Fine Arts, to which it had been donated decades earlier. It was confiscated in October from the Park Avenue Armory in New York, where it was being offered for sale at an art fair.
The artifact was handed to Gholamali Khoshroo, Iran's ambassador to the UN, following some 80 years of being in exile changing hands among smugglers.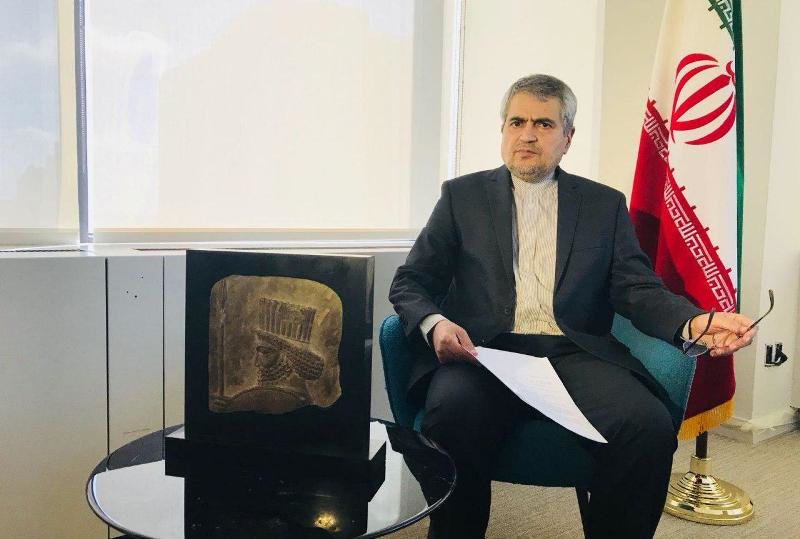 Iran's ambassador to the UN, Gholamali Khoshroo, is seen sitting beside the Persian artifact at the Islamic Republic's diplomatic office in New York, September 4, 2018.
"I'm very pleased that today, a very important cultural item that was smuggled from Iran was delivered to me by the District Attorney of New York County," Khoshroo told Press TV.
He said the artifact -- which depicts a Persian imperial guard holding a spear -- would be transferred to Iran "soon," according to IRNA.
The Iranian envoy said the country presented documents pointing to its ownership of the work in order to stop its sale, adding that it took investigators 11 months to disprove the ownership allegations by the artifact's self-proclaimed owners.
Khoshroo expressed gratitude towards both the judge and the district attorney for their cooperation leading to the repatriation of the artifact.
"The humanity's general heritage is comprised of these very cultural and historical works. There should be vast cooperation on the international scale to confront smuggling of cultural artifacts and items, and the institutions active in the endeavor should be reinforced," he explained.
AFM/MG