Iran, India, Afghanistan to start development work within two weeks
Chabahar Transit Agreement signed
October 23, 2018 - 20:35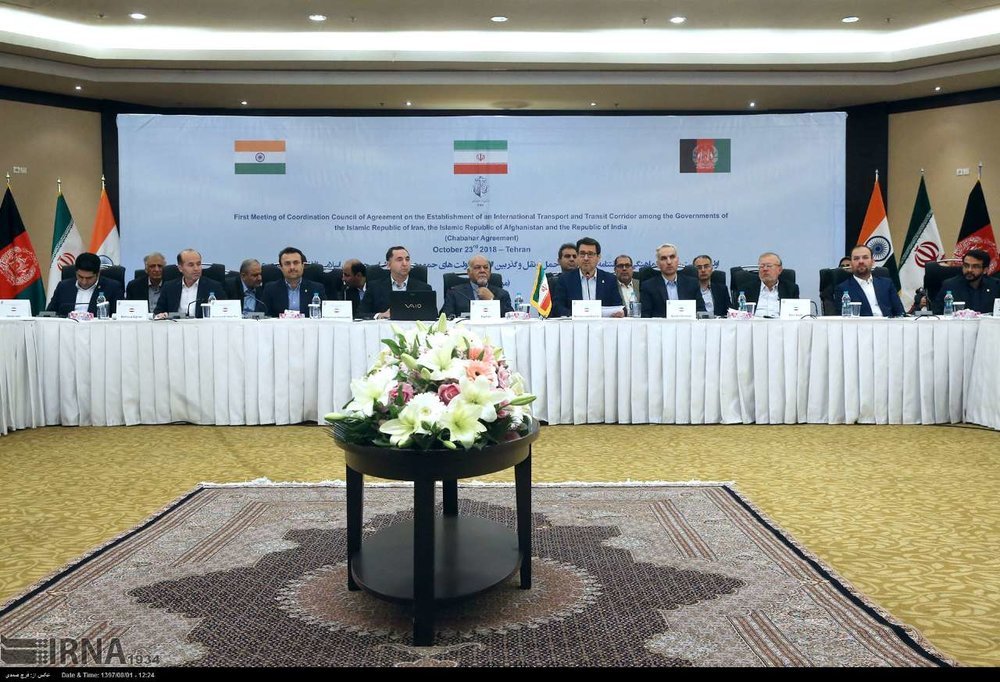 TEHRAN- Iran, India and Afghanistan inked an agreement on transit of goods via Iran's southeastern port of Chabahar in Tehran on Tuesday, IRIB reported.
The agreement was signed by Mohammad Rastad, the head of Iran's Ports and Maritime Organization (PMO), T.S. Tirumurti, the secretary of economic relations in India's Ministry of External Affairs, and Imammohammad Warymoch, Afghanistan's deputy minister of transport, during the first meeting of coordination council of agreement on the establishment of an international transport and transit corridor among Iran, India and Afghanistan (Chabahar Agreement).
Iran, India and Afghanistan signed a trilateral transit agreement in Tehran in May 2016, which allows the three countries open new routes to connect among themselves via converting Chabahar Port into a transit hub bypassing Pakistan.
Accordingly, through Chabahar Port India can bypass Pakistan and transport goods to Afghanistan and Central Asia, while Afghanistan can get linked to India via sea.
The document was signed in the presence of Iranian President Hassan Rouhani, Indian Prime Minister Narendra Modi, and Afghan President Ashraf Ghani.
At the time, Modi announced that New Delhi would be investing $500 million in the strategic port.
Then during the visit of the Iranian president to India in mid-February, the lease contract for Shahid Beheshti Port-Phase 1 of Chabahar was signed between Iran's PMO and India's Ports Global Limited (IPGL).
Addressing the reporters and journalists on the sidelines of the first meeting of coordination council of agreement, Rastad announced that IPGL has made some investment for installation of equipment in the port and will start the task of equipping and operating in Chabahar by the next two weeks.
He also said that the next meeting of the coordination council of Chabahar Agreement will be held by the next two months.
Implementing the trilateral agreement, the three countries' potential will be used for exports to the Central Asian countries, the PMO head noted.
"We are seeking more share of India's cargo transport via Chabahar in a bid to promote competitive advantage of this port in the north-south corridor," Rastad underscored.
'A trilateral transport union necessary'
Addressing the Tuesday gathering, PMO Head Mohammad Rastad said establishment of a regional transport union between Iran, India and Afghanistan is necessary for the implementation of Chabahar Agreement and it will pave the way for development of multilateral transit in the region.
He mentioned multilateral investment making and contribution to development of transit infrastructures in the region and supporting private sector for the expansion of cooperation as some major suggestions by Iran for the better implementation of Chabahar Agreement.
Reducing transit tariffs and setting the same insurance and banking regulations for the tree parties will help economic and transit development in the three regional countries, the official opined.
'Chabahar is transit hub of region'
Addressing the same gathering, T.S. Tirumurti, the secretary of economic relations in India's Ministry of External Affairs, said Chabahar is the transit hub of region.
Chabahar Port is in the road that links India to Central Asia; so we can make this port a hub of our transit activities and we are eagerly waiting for the inauguration of Chabahar-Zahedan and Khaf-Herat railway projects.
Trilateral transit cooperation will lead to flourishing the region, he noted and said that India believes that Iran's suggestions for facilitating and improving transit via Chabahar are acceptable and can be carried out.
At the end of his speech, the Indian official announced his country's full commitment to the Chabahar Agreement.
Answering the reporters on the sidelines of the event, he referred to the strategic status of Chabahar and said: "Through development of railways, we can transit millions of tons of commodities from Mumbai to Chabahar every year and then from this port to the Central Asian countries and European ones via railways."
'Chabahar a priority for Afghanistan'
Afghanistan's Deputy Minister of Transport Imammohammad Warymoch, for his part, said promotion of transit via Chabahar Port is a priority for his country and it requires cooperation and investment making by Iran, India and Afghanistan.
"We see development projects in this due necessary and our focus is on cooperation for implementing them", he underlined.
Everybody knows that economic cooperation brings sustainable development for the region and it is why Afghanistan has brought regional economic cooperation under the spotlight over the past 16 years, the Afghan official noted.
MA/MA