By Syed Zafar Mehdi
Iran, a torch-bearer of Islamic unity
November 26, 2018 - 22:47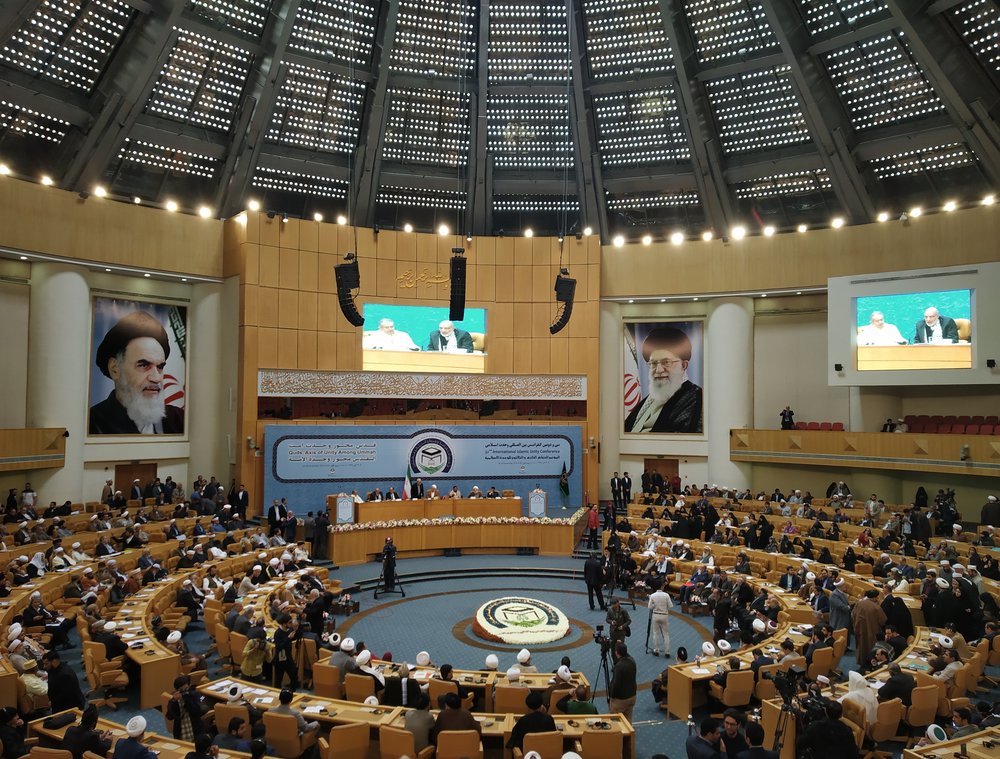 TEHRAN _ At a time when many countries in the Muslim world have brazenly become facilitators and enablers of America's neo-imperialism, helping to advance its political and economic hegemony, there is one country that clearly and categorically says 'no' to Washington and its allies.
Why does Iran refuse to pledge allegiance to America? Why is the Iranian government willing to face crippling sanctions than accept diktats from Washington? The answer lies in the pages of history.
The idea of the Islamic Republic of Iran, as envisaged by its founder, was based on the pristine principles of truth and justice that were exemplified by a group of righteous men in Karbala centuries ago. As we saw in Karbala, right always prevails over might, truth always prevails over falsehood. Humiliation is unacceptable to those who belong to the Karbala school of thought.
For the record, Iran has not invaded or attacked any country in its modern history. And there is still no credible evidence confirming the presence of nuclear weapons in Iran. On the other hand, the history of American imperialism is replete with horrific stories of military invasions, gory massacres and socio-cultural aggression, especially in the Middle East and South Asia. Its obligation as the signatory of Non Proliferation Treaty (NPT) to work towards total disarmament has turned out hogwash.
Iran is perhaps the only country that has maintained consistent and uncompromising stand on America's hegemonic policies since the Islamic revolution in 1979. While Washington has used many arm-twisting tactics and bullying methods to coerce Iran into toeing its line, Tehran has refused to play along.
America, however, has to some extent managed to fan the flames of sectarianism and Takfirism to divide Muslims, because the united Muslim Ummah can prove its nemesis. It has been overly and covertly promoting radical Takfiri groups like ISIS, Taliban and Boko Haram to pit Muslims against each other. The divided Muslim Ummah only benefits the neo-imperialists and Zionists.
Quite regrettably, many of the powerful Muslim-Arab states have become its pawns in this sinister game. Today, Muslims are getting killed in Palestine, Syria, Yemen, Afghanistan, Nigeria, Pakistan, Iraq, Myanmar etc and the Muslim leaders are silently watching the spectacle. Zionists, supported by the Americans, have occupied Palestine because some Arab countries are sleeping with the enemies.
In this scenario of despair and hopelessness, Iran presents a glimmer of hope. It has emerged as a powerful torchbearer of Islamic unity, and a potent threat to the designs of Americans and Zionists.
To mark the birth anniversary of Holy Prophet (pbuh), who was sent as a 'mercy' to mankind, Iran hosts an annual conference that focuses on Islamic unity and its significance in present times. This week, the 32nd edition of the conference was held in Tehran which saw participation of Islamic scholars from across the world.
The three-day conference takes places in the 'week of unity' (hafte wahdat), the idea of which was born in mid-1980s, when Imam Khomeini suggested that Muslims, cutting across sects, should come together to honor the memory of Holy Prophet (pbuh), who championed the cause of Islamic unity and brotherhood all his life.
"The origin of this question concerning Shia and Sunni, the one on one side and the other on the other side, is caused by ignorance and by the propaganda spread by enemies," said the architect of the Islamic revolution. He would often quote the Quranic verse pertaining to unity: "And hold firmly to the rope of Allah all together and do not become divided" (Surah Aali Imran).
In 1990, a year after Imam's death, The World Forum for Proximity of Islamic Schools of Thought was established by his successor Ayatollah Syed Ali Khamenie, which organizes the International Islamic Unity Conference in Tehran every year in the month of Rabiul Awwal.
This year, high-profile speakers included President Hassan Rouhani, former Afghan President Hamid Karzai, former Iraqi Prime Minister Nour al-Maliki, Hamas leader Ismail Haniyeh, Hezbollah Deputy General Secretary Sheikh Naim Qassem among others.
The conference was thrown open on Saturday morning by Ayatollah Mohsen Araqi, who heads the World Forum for Proximity of Islamic Schools of Thought, which was followed by speeches by guests, press conference and panel discussions. The other two days were dedicated to commissions and cultural activities with emphasis on the element of Islamic unity, solidarity and brotherhood.
In his inaugural address on day one, President Hassan Rouhani called on Muslims around the world to close ranks against the U.S. "Submitting to the West led by U.S. would be treason against our religion and against the future generations of this region," he said to the loud applause of audience.
President Rouhani lambasted the policies of successive regimes in Washington and said Iran will never accept humiliation. He also denounced the illegal occupation of Palestine by the 'illegitimate' Zionist regime, which he called a "cancerous tumor" of the Middle East. Pertinently, the main focus of the conference this year was Palestine and Al-Quds occupied by the illegitimate Israeli regime.
In a significant but subtle overture to rulers in Riyadh, President Rouhani called Saudi Arabia "a brother". "We do consider you a brother," he said. "We do consider the people of Mecca and Medina our brothers," he hastened to add. Commenting on the cozy relationship Saudi Arabia and other Gulf states have with the U.S. he said it was harming the interests of Muslim Ummah.
"We have a choice to either roll out red carpets for criminals or to powerfully stand against injustice and remain faithful to our Prophet (pbuh), our Quran and our Islam," he said. "Iran is ready to defend the interests of Saudi people against terrorism, aggression and the superpowers... and we don't ask for $450 billion to do it," President Rouhani said, referring to recent lucrative deals signed between Riyadh and Washington.
He said the Muslim world was "alone" today and Muslims needed to join hands. "Relying on outsiders is the biggest historical mistake," he said. "Today, there is no way for Muslims except unity and solidarity and if we unite, we can undoubtedly score a victory against Zionists and Americans," he added.
Ismail Haniyeh addressed the conference from Palestine through video, urging the Muslim world to speak in one voice against the oppressors and aggressors of the world, including the regime in Tel Aviv. He said the people of Palestine were bravely struggling for the liberation of Palestinian occupied territories and called on Muslim rulers to unite against forces that seek to sow seeds of discord among Muslims.
Hamid Karzai, addressing the gathering, praised the efforts of Iran to advance the narrative of unity in the Muslim world and urged Muslim rulers to support peace efforts in Afghanistan while referring to last week's attack on a Mawlid conference in Kabul that killed more than 60 people. He said Islamic unity is the need of an hour and it has become even more relevant today with the emergence of Takfiri groups like ISIS.
Nour al-Maliki, in his speech, said the people of Iraq were strong advocates of unity and brotherhood which was instrumental in the defeat of ISIS in his country. He also strongly denounced the occupation of Palestine by the Zionist regime and called for the liberation of Al-Aqsa.
"Muslim nations must rise up against the Zionist regime, stand up to them and pave the ground for a mass movement," said the former Iraqi prime minister. He said more countries must come forward and organize such conferences to create unity and solve problems of the Islamic world.
Sheikh Naim Qassem, who represented Hezbollah at the conference, said Islamic unity for Al-Quds cause requires supporting the resistance movements across the region, like Hezbollah in Lebanon, Bashar Assad in Syria, Iraq's popular mobilization forces, Yemen's Houthis and the Bahrainis. He said Muslims need to unite to collectively resist the forces of evil.
The Leader of the Islamic Revolution Ayatollah Khamenei, during his meeting with the conference participants, said the Iranian people have stood against sinister plots hatched by enemies "like a mountain", and today the Islamic system and the Iranian nation were "increasingly making progress".
In an oblique reference to some U.S. allies in the Arab world, the Leader said they were complicit in war crimes in Palestine and Yemen. But hastened to add that Yemenis and Palestinians would gain victory and the U.S. and its allies would be brought to knees.
The Leader said the Islamic awakening was the "only way to rescue the region" and this Islamic unity conference was an endeavor to awaken the Muslim Ummah to the challenges facing it.
In contemporary times, Ayatollah Khamenei along with Ayatollah Sistani has played an instrumental role in espousing the cause of Islamic unity. Both of them have regularly issued statements calling for unity between Shias and Sunnis and denouncing attempts to sow seeds of discord between them.
Before them, Islamic luminaries who made untiring efforts to bridge the chasm between Shias and Sunnis included Sheikh Mahmoud Shaltut, who served as the grand Imam of Al-Azhar Egypt between 1958 and 1963 and issued a famous fatwa (religious edict) in 1959 pertaining to faith and beliefs of Shias.
Ayatollah Syed Hussain Borojerdi, who was a leading Shia religious authority in 1950s, also worked untiringly to foster unity among Muslims and established close contact with Dar ul-Taqrib Center in Egypt.
The need of the hour is unity and rapprochement, and what better time to shun antagonism and embrace the spirit of camaraderie than the birth anniversary of Holy Prophet (pbuh). That was the main takeaway from this year's conference.