Isfahan hosting UIC 22nd regional assembly for Middle East
November 27, 2018 - 21:6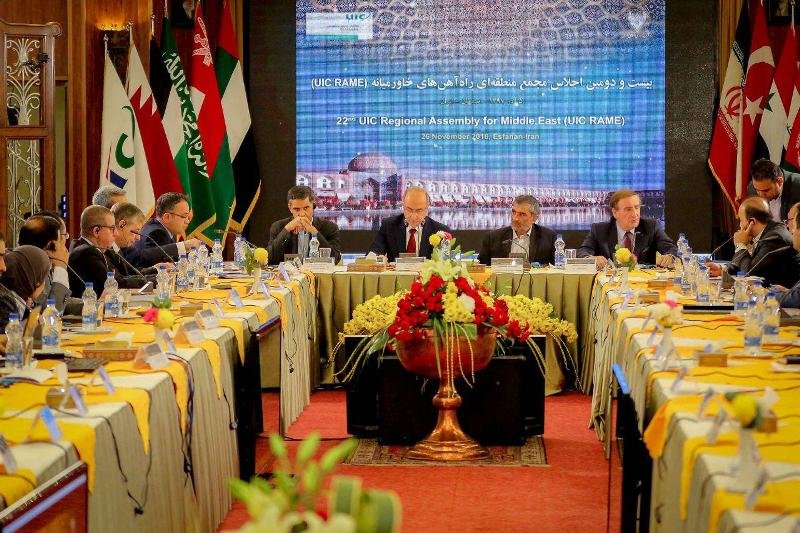 TEHRAN – Aiming for developing cooperation among the member countries, the 22nd International Union of Railways (UIC) regional assembly for Middle East (UIC RAME) kicked off in Iran's city of Isfahan on Monday, the portal of Iranian Roads and Urban Development ministry reported.
Addressing the assembly, the Managing Director of Islamic Republic of Iran Railways (known as RAI) Saied Mohammadzadeh called for establishment of an integrated railway network in the region saying, "Iran expects this regional assembly meeting to focus on establishing an integrated network and a coordinated management in order to achieve higher efficiency."
The official further praised UIC's supports for Middle East railway activities stressing the needs for acceleration of cooperation and strong support for regional programs and projects.
According to Mohammadzadeh, due to its strategic location, Iran has a privileged position which makes it potent for becoming a transit hub in the region.
Having several free trade zones, especially in the Persian Gulf region, the existence of a wide network of roads in the country, low prices for fuel and energy carriers in Iran, and a suitable rail transport network in the country, are some of the country's advantages.
Iran, Turkey, Iraq, Afghanistan, Saudi Arabia, Syria, Jordan, Oman, Qatar, and the UAE are members of UIC regional assembly for Middle East. The 22th assembly will wrap up on Wednesday.
EF/MA