Blame-shifting keeps air pollution continuing: councilor
December 1, 2018 - 22:34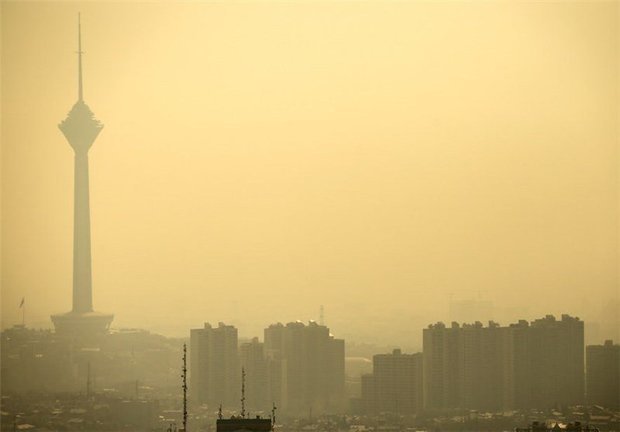 TEHRAN – Different bodies and organizations constantly try to shift the blame for the country's severe air pollution to each other, keeping the current situation of air pollution alive, Tehran city councilor has said.
Some say that the Oil Ministry must supply proper fuel, another group believes that automakers must produce standard cars, others say the government should sponsor, while some other say that only a two-billion-dollar budget can resolve the issue, YJC quoted Zahra Sadr-Azam Nouri as saying on Saturday.
"Air pollution, annually afflicting a large number of citizens and causing serious damage to them, is one of the major challenges facing Tehran and metropolitan areas, which must be considered seriously".
She went on to say that air pollution impacts and finding solutions to resolve it are related to the Tehran City Council.
"There are two main types of air pollution sources, mobile sources including cars, buses, planes, trucks, and trains, and stationary sources such as oil refineries, industrial facilities, and factories," she noted.
Some 20-30 percent of the emission is produced by stationary sources, while 70-80 percent of the pollution is generated from mobile sources, so to eliminate pollution, containing emissions produced by vehicles must be the priority, she further highlighted.
Elsewhere in her remarks, she explained that carbureted vehicles and diesel cars are the major contributors to air pollution, while the existence of a variety of vehicles not meeting the required Euro 5 standards also exacerbates air pollution.
"Electric motorcycles must supersede carbureted ones, which emits 15 grams of pollutants per kilometer," Sadr-Azam Nouri added.
Pointing out that heavy-duty diesel vehicles are the main sources contributing to air pollution, she said that when the air pollutants were measured, the highest amount of pollutants were reported at 9 p.m. to 5 a.m., when heavy vehicles commonly move around the cities.
Over 80 percent of Tehran's air pollution is due to cars and vehicles traveling across the capital, among those, clunker buses running in public transport fleet produce the highest amount of sulfate contamination, she lamented.
She further noted that equipping the public transport fleet with diesel particulate filters, especially the buses, is the first step in mitigating an important part of the issue, adding, unfortunately, over the past years, the issue has not been taken seriously and only less than 100 buses are equipped with the filter.
"Based on clean air bill, all buses aging 8 years or above must be removed from the public transport fleet, however, there are no signs of enforcement of this legal decree or fleet renewal, and currently more than 3,000 clunker buses are running in the country's metropolis," she also explained.
Given the persistent and choking air pollution causing great discomfort to the city dwellers, the Department of Environment has put forward the clean air bill, which have been approved on October 23, 2016 by Majlis (the Iranian parliament), and assigned responsible organizations and executive bodies tasks to combating and eliminating air pollution.
Providing water right of the wetlands, supplying high quality fuel, developing renewable resources, setting up early warning systems for dust storms, fighting desertification by land-use planning, seeking and fostering regional and international cooperation, and developing monitoring equipment and to fight air pollution are some of the articles of the law.
Although many related organizations are shifting the blame for air pollution elsewhere, referring to Ministry of Petroleum for standard fuel production, automakers for standard cars, as well as a budget amounting to 80 trillion rials (nearly $2 billion), the issue stands unsolved yet, Sadr-Azam Nouri stated.
The fact is that each of these different organizations play a significant role in curbing air pollution, and if any one does its duty properly, then the problem will definitely be overcomed, she added.
She went on to explain that, if the Petroleum Ministry fulfills its obligations regarding standard fuel and Euro 5 petrol production, and car companies commit themselves to standardizing their products, or city officials also develop public transport infrastructure, and make green spaces with the country's climate, the emissions will be restricted.
Meanwhile, among the aforesaid officials, Tehran's Municipality is at the forefront of reducing air pollution, as it is capable of taking urgent measure to contain pollution, while standardization of fuel and vehicles might need longer period, she highlighted.
The municipality can promptly reform urban infrastructure in favor of public transport, in addition to facilitating it, as a way to encourage public to use the fleet, she stated, adding, increasing the number of public transport fleet vehicles along with the development of subway network is the best reason to persuade citizens not to use a private car, in addition to reduce air pollution.
"It is planned to add 2 thousand trains to the metropolises' subway networks, of which 1,000 trains will be granted to the capital," she stated, adding that buses as a public transportation vehicle must be equipped and standard, so electric buses will be very efficient.
Elsewhere in her remarks, Sadr-Azam Nouri said that trees from long ago have been a major source of oxygen production combating air pollution, provided that the plant species to be compatible with the region's ecosystem, for instance not requiring much irrigation.
She further added that many plants, such as grass are not well situated in our country, due to the high consumption of water and no significant effect on the cleanliness of the city.
"Another approach to the City Council is conservation and protection of gardens, many of which have been destroyed and placed with offices or residential buildings," she regretted.
Although, the municipality prepared useful plans if goes into effect, the members of the council are aware that eradicating air pollution requires inter-sectoral cooperation, she concluded.
FB/MQ/MG